A new range of iCON DAW controllers and a console-style interface
An entire range of new iCON DAW controllers has been launched at NAMM 2023. Besides the V1-M, V1-X, P1-M, P1-X, and P1 Nano controllers, they also showcased the new iCON Harrison 32 CI USB-C audio interface with Harrison preamps.
iCON DAW controllers V1-M, V1-X, P1M, P1X and P1 Nano
While some of the new controllers break new ground in terms of the features they offer, others will serve as direct replacements for some of the current models.
Designs such as the V1-M and V1-X use a touchscreen control system with five layers which can be configured with the iMAP software. This allows you to switch quickly between up to three DAWs. Meanwhile, you get motorized faders running at 12-bit resolution and a nicely visible metering display.
The larger V1-M is equipped with a jog wheel and timecode display, while the V1-X can also expand existing controller setups.
As a new replacement for the QCon Pro G2, the P1-M, and P1-X are compact solutions that are designed to suit any studio setup, regardless of spatial restrictions.
Once more, you get touchscreen control and five layers, motorized faders, timecode display, and control of up to three DAW systems at the same time.
In addition, the P1-X has the option to connect an external display, while providing an expansion of up to 64 channels with the P1-X.
The smaller P1 Nano is an excellent compact or even portable solution with most of the same features at the larger models. So you still get touchscreen control, five layers, and support for three DAWs. What's more, you can expand the P1 Nano with an optional OLED.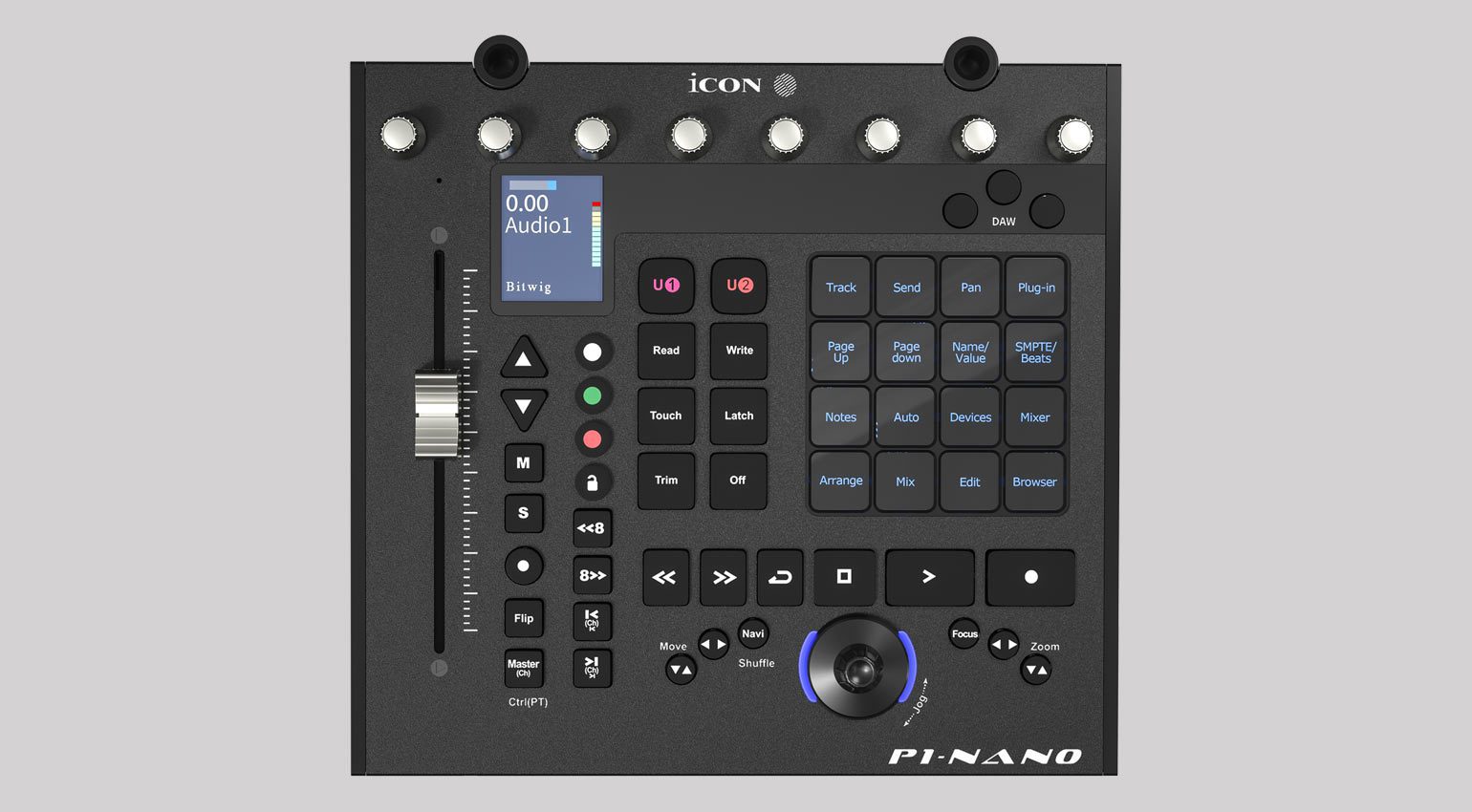 iCON Harrison 32 CI audio interface
The 32 CI is a compact new interface from iCON and Harrison with some neat features on the input stage. These include Harrison preamps in the form of two XLR combo inputs with Hi-Z switches, as well as HP and LP filters.
In addition, the HP filters have a resonance boost button that adds an extra bump at the cutoff point. You also get zero-latency monitoring with two individual headphones outs with level and mix controls.
What's more, there are two sets of monitor outs and 8 channels of ADAT I/O which makes this a very versatile interface overall. As the 32 CI requires plenty of current for the internal analogue circuitry, it isn't bus-powered. However, it can run in standalone mode, which is useful.
Pricing and availability:
Pricing info for all products will follow from the manufacturer soon and they will be available from your favourite retailer in due time.
More about the iCON DAW controllers:
Videos:
*Note: This article contains promotional links that help us fund our site. Don't worry: the price for you always stays the same! If you buy something through these links, we will receive a small commission. Thank you for your support!
Image Sources:
iCON V1-M: iCON
iCON V1-X: iCON
iCON P1-M: iCON
iCON P1-X: iCON
icon-p1-nano: iCON
iCON Harrison 32 CI: Harrison Consoles