1010music Nanobox Razzmatazz: Gooves, beats and juicy crisps
It's shocking pink and rocking your beat-making world with planet-sized beats in the adorably small and portable Nanobox Razzmatazz.
Razzmatazz
This looks like a load of fun! Lemondrop and Fireball now have a beat-making companion in the gorgeous form of the Nanobox Razzmatazz with percussion, samples, FM sounds and sequencing.
Razzmatazz is an 8-pad drum machine with a huge range of percussion sounds. Each sound is built using any combination or variation of two FM oscillators and a sample. From there, you route it through a couple of filters, apply a couple of envelopes, pump it through a resonator, a snap generator (I think that's the crispy bit) and up to three effects. So you can combine your own samples with a bit of FM craziness, glitch and fizz. You can also record directly in for some instant sampling.
You can create beats with the 8 sound loaded onto the pads that you stab at with your fingers on the touch-screen. That doesn't sound like it's going to be a particularly awesome way to create beats. But you can always attach a MIDI controller for a bit more velocity control and feel. The sequencer is very visual, with all 8 tracks on the screen at once, and you can run each one up to 64 steps.
On the effects side, you can choose from delay, reverb and four unique types of distortion and bit and rate crushing. So there are a lot of things to play with in here. Parameters can also be mapped to macros for a much easier and more immediately "live" tweaking experience.
Razzmatazz fits brilliantly into the Nanobox series, although without a melodic sequencer, it doesn't feel complete yet. But who knows what might be around the corner? At $399, the price still feels very premium for such a fun-looking device, but that hasn't stopped the Lemondrop or Fireball from being very popular. The reality is that 1010music make great devices.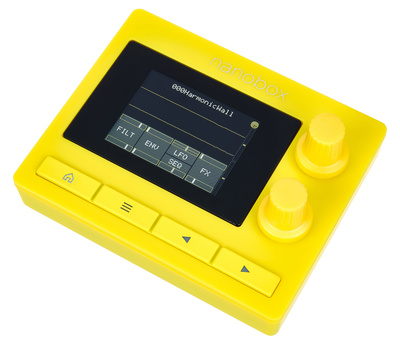 1010music nanobox lemondrop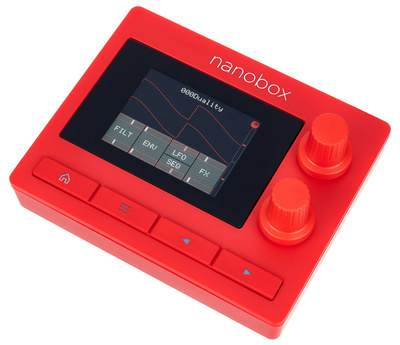 1010music nanobox fireball
Image Sources:
1010music Razzmatazz: 1010music
1010music Nanobox: 1010music
1010music Razzmatazz: 1010music