Zoom set to release flagship G11 Multi-Effects Processor
Looks like the new Zoom G11 Multi-Effects Processor that we saw earlier this year during Winter NAMM is finally being released! The main product page on Zoom's site has now been updated with more details, and the demo video shows this to be a great looking floor pedal unit.
Zoom G11 Multi-Effects Processor
The new, feature-packed Zoom G11 looks like it could be the perfect solution for the gigging guitarist. It has single dedicated foot switches for both patch and bank up/down, and scroll left and right. Real knobs with led position markers control the amp settings, while a separate lcd screen displays the amp model. The 5 footswitches turn effects on and off. There's a nice 5″ colour touch screen, and a further 5 dedicated mini effect parameter screens, which should make navigating your way around the unit fairly simple.
All the amps?
The unit comes with 48 amp & cab models, and Impulse Response capability. It comes factory loaded with 70 built in IR emulations, with 130 available slots for user uploaded IR's, an expression pedal, 240 patches, 68 rhythms, a 5 minute looper, and loads of connectivity. This includes 2 FX loops, MIDI in/out, USB audio, and a dedicated headphone socket.
Listed Features
Zoom G5n on steroids?
It appears to be similar to the previous Zoom G5n* and the GCE-3 mini effects unit, as you can still manually tweak effect parameters with real knobs for fast on stage adjustments. However, with the G11's lit switches and colour coded LED, it should be much easier to see what effect type has been chosen, especially on darker stages. And unlike the G5n, you can have up to 9 effects in a signal chain, as well as an amp. An amp model in the G5n took up 2 of its 9 effect chain slots, so this is a vast improvement.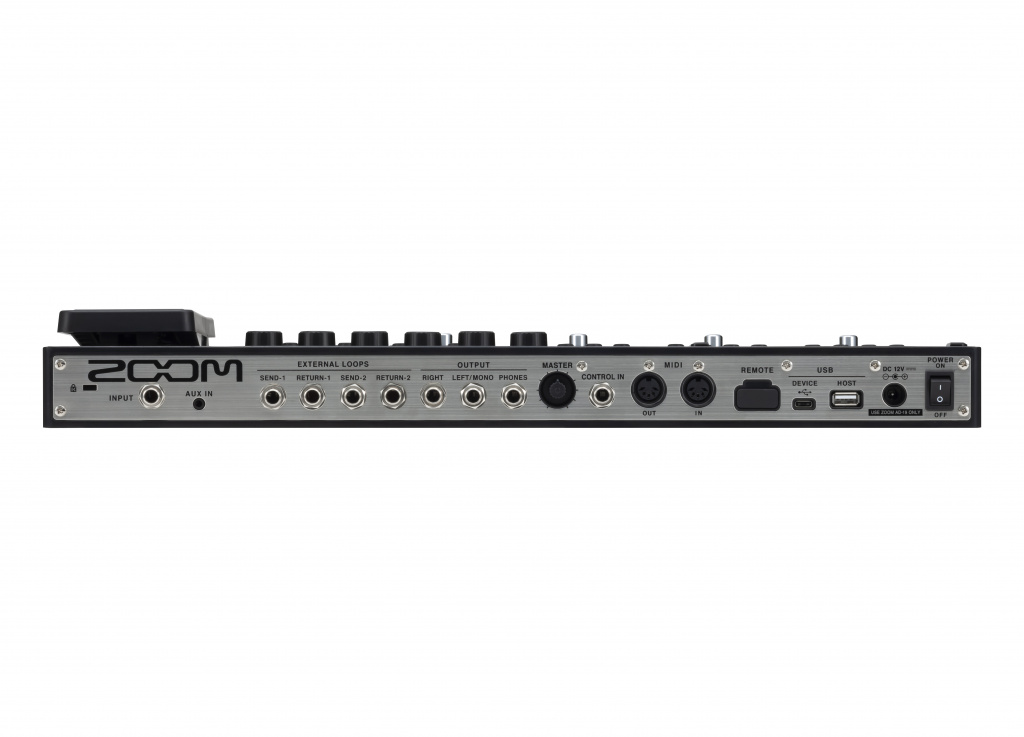 Zoom G11 rear panel
Guitar Lab
Connectivity includes both USB, so that you can attach a flash drive to import IR data or update the firmware, and a dedicated USB-C port for connecting to the Zoom's Guitar Lab software. This will allow further editing and integration into your system, and it looks simple enough to update and modify with your favourite Impulse Responses. There is also mention of iOS integration via Bluetooth, which sounds interesting.
The official price point has not yet been revealed, but this could be a serious competitor for Line 6 and its Helix range, Headrush, Kemper and the Mooer multi-effects units, which are currently the favourites with many players.
RRP – TBC
More Information
Video
* Affiliate link
Image Sources:
Zoom G11 with 5" touch screen : Zoom
Zoom G11 rear panel : Zoom