Walrus Audio 385 Overdrive pedal: Vintage film sound amp for guitar?
A boutique guitar pedal based on a clever conversion of a vintage Bell & Howell Filmosound 385 projector
Approximate reading time: 2 Minutes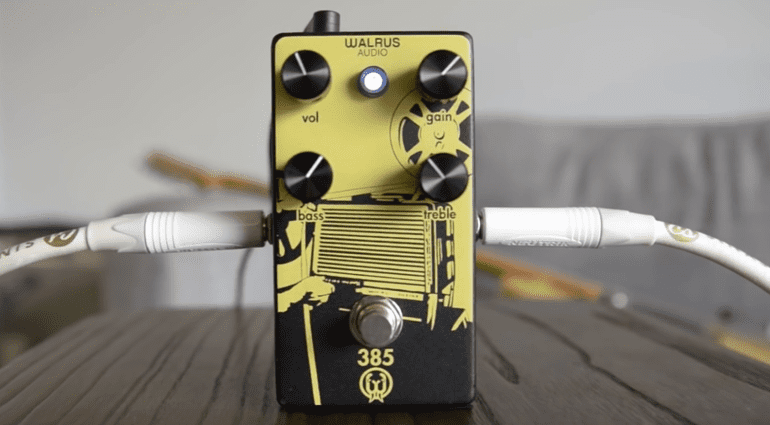 Walrus Audio 385 Overdrive pedal. Based on the amp section of a Bell & Howell 385 film projector. · Source: https://www.youtube.com/watch?v=4-NwoKDOjnY
Walrus Audio have just announced their new 385 Overdrive pedal for pre-order via their website. This new overdrive pedal is apparently based upon vintage Bell & Howell 385 film sound projectors.
Filmosound
The tonal characteristics of the 385 Overdrive is based upon a vintage film projector. The audio on the Bell & Howell 385 was powered by dual 6V6 output valves and was apparently a popular choice as a guitar amp, with some slight conversion of course. See the video below for details on that.
Pedal Power
Walrus state that the 385 Overdrive has an internal 18V circuit and prefers its own isolated power supply and prefers not to share a daisy chained power supply chain. This could be little inconvenient if you have a lot of pedals on your board, so bear this in mind if you decide to pre-order one.
Tone
Four simple controls allow you to dial in your tones – Volume, Gain, Bass and Treble. No steep learning curve here, then. The tonal qualities the makers are aiming for are simple, responsive and compressed overdrive mimics the sound of the old Bell & Howell 385 projectors.
I have not tried a film projector as a guitar amp (although now I really want to). But I have plugged my electric guitars into all different types of old valve radios and bits of Hi-Fi that were never designed for guitar amplification. I'm quite intrigued to hear how these new 385 Overdrives will sound now in the flesh, so look forward to hearing some reviews from players soon.
See the two videos below, one of the 385 Overdrive pedal itself and the other of a converted Bell & Howell 385 Filmosound projector!
RRP USD $199.00 plus shipping and taxes – Pre-orders start 16th August 
Walrus Audio 385 Overdrive pedal details here