This Fender 1969 Ford Mustang is fitted with a Tone Master Deluxe Reverb Amp
This beautiful Ford '69 Mustang comes complete with a Tone Master Deluxe Reverb and is paired with a special hot-rodded Stratocaster
If you're into vintage US muscle cars, amps and guitars, this package is for you: the Tone Master Deluxe 1969 Mustang Fastback! This one-off retro-mod car has been fitted with a Tone Master Deluxe Reverb in the trunk (or boot if you're from the UK) by custom car builder Barrett-Jackson Builds. A tribute to retro Americana, this bundle is paired with a matching Fender Custom '69 Stratocaster. And it's up for auction in March…
Fender Ford 1969 Mustang Fastback
This one-off car is a collaboration between Fender and Barrett-Jackson Builds – what a sweet-looking ride! Not only is the trunk fitted with a Tone Master Deluxe Reverb but Ron Thorn of Fender's Custom Shop has made a matching '69 Stratocaster with some unique styling and cool components to go with the car.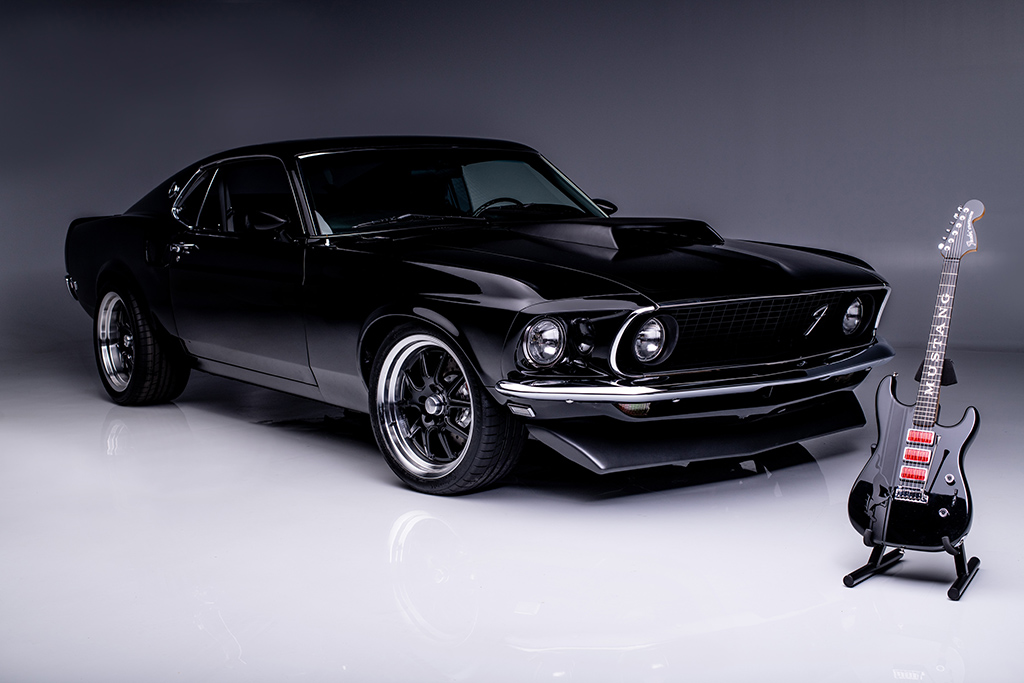 Resto-Mod
The 1969 Ford Mustang Resto-Mod is being documented in a new 10-episode YouTube series, so you can watch the car being created by the team. I'm going to enjoy watching that. With Fender contributing to the proceedings, it's a perfect way to while some time in lockdown. The Fender influence includes a Tone Master Deluxe Reverb amp and the classic "F" logo on the front grille. The Mustang is visually impressive and with the built-in amp and associated Strat, all your guitar and motoring needs are covered.
Ron Thorn
The matching Stratocaster is the work of Fender's Principal Master Builder Ron Thorn. It's based on a 1969 model, but it's been hot-rodded and the traditional pickguard removed. This blacked-out Strat has three EVH high-output humbuckers in custom covers made from real 1969 Mustang side marker lights. The controls are mounted on a cavity in the rear, so there is no need for the standard pickguard. Another nice touch is the push-button switching like the AM/FM radio-station selector you would find in a Mustang.
This sleek guitar has a Raven Black finish over an alder '69 style Strat body with flat-black competition-stripes and a Pony emblem. Fitted with chrome hardware, this guitar also has custom back plates and some subtle red accents.
The maple neck has 'MUSTANG' emblazoned across its ebony fretboard to make sure you know it's paired with the 1969 car. Ron has given it a modern 2-point trem system, Sperzel locking tuners and a graphite nut – this is a high-performance hot-rodded instrument. Ron says:
"This collaboration combines my top two passions in life – Fender guitars and high-performance cars. Stratocasters and fastbacks have long been two iconic symbols of high performance. They are loud, but also classic icons with beautiful lines."  
I'm immensely impressed by Ron Thorn's work and this model is a nice follow on from last years Saleen 1 sports car model he helped create. Ron's love of cars shows in this design, which is mirrored in a lot of nice touches. I think it looks badass! This one-off custom Ron Thorn Fender Custom '69 Stratocaster will be unveiled prior to Barrett-Jackson's flagship Scottsdale Auction on March 20-27 at WestWorld of Scottsdale.
More Information
For more Fender articles click here
Video
Image Sources:
Custom Fender Tone Master Deluxe Reverb mounted in the trunk : Fender