The new Ibanez Paul Gilbert PGM FRM300 is a luscious purple shredder with style
A royal looking purple finish for the new year
Ibanez has announced several new models for 2021. Amongst these, one of the standout guitars is the new Paul Gilbert PGM FRM300 signature model, with three mini humbuckers and a hardtail, and finished in a striking purple.
Ibanez Paul Gilbert PGM FRM300
The new PGM FRM300 is the latest incarnation of the Ibanez Paul Gilbert signature model. With its purple finish, black pickguard and chrome hardware, it certainly is an eye-catching instrument. The model features three DiMarzio PG-13 mini humbuckers in chrome covers, wired via a 5-way blade switch, and a single volume and tone control. So bags of tonal options available to the player.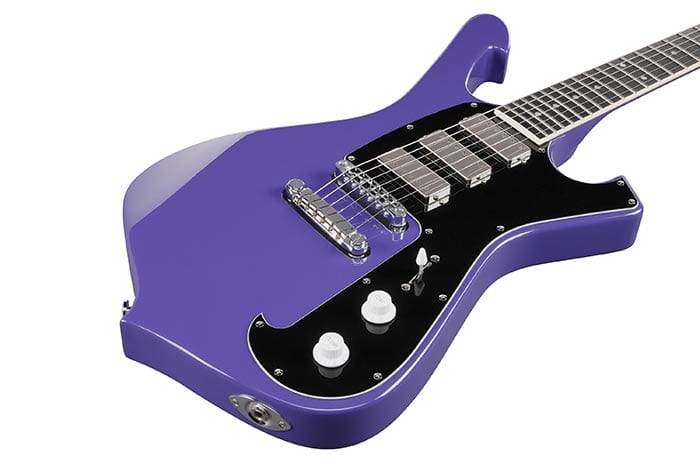 Set Neck
The guitar has an Okoume body, which is a species of mahogany, and comes with a three piece Okoume/Maple set neck construction. This is then finished with a bound ebony fretboard with 22 tall/narrow frets, which should be great for vibrato and good intonation. Other hardware includes an Ibanez Gibraltar Performer bridge and a Quick Change III tailpiece, plus a Graphtech nut.
Oddball Goodness
I like Paul's design for these signature models, and we have seen a few in this unique body shape over the last few years. But this new one in an all over purple finish is really striking and possibly my favourite of the lot. The purple/black/chrome finish has some minimal white flourishes with the control knobs, which to me, looks really good. The specifications are also pretty impressive. I look forward to trying one out when they hit the dealers sometime this year.
You can read the full specifications on the Ibanez website below. I also found a little demo of this new model in action, and I think it sounds great. I kind of want one now.
RRP – TBC
More Information
Video
Image Sources:
Ibanez FRM 300 the all new Paul Gilbert signature model: Ibanez
Ibanez Paul Gilbert PGM FRM300 a luscious purple shredder with style: Ibanez