Superbooth 22: Polyend Play sample-based groovebox and sequencer
The long-awaited, teased and semi-leaked Polyend Play is here! 8 sample-based audio tracks and 8 polyphonic MIDI tracks with an awesome button grid interface. Let's Play!
UPDATE: Now with an awesome video (at the bottom) from Benn Jordan who explains everything.
Polyend Play
Polyend says that this is quite possibly the most fun groovebox ever created. To start with it has over 3,000 sounds and 30 sample drum kits. You pick your sample and place it anywhere on the grid to start building your tracks. There are familiar sample-based controls for editing and you can manipulate steps, tracks, patterns, variations and Smart Fills. Each track has 35 play modes with Chance, Randomizer, Step Repeat and Action Combos.
So, I think, you can treat each audio track as a drum machine track, so you have a kick sample on one, a snare on the other and then paint in steps on the grid to trigger them. Or perhaps each individual step can have a different sample giving you a very flexible line of rhythms. It doesn't have to be percussive, it can be notes, but then are they multi-sampled or just pitch shifting individual samples? I confess that I'm not entirely sure but these things will undoubtedly become clear.
Perform
On the performance side, there are a lot of realtime controls to make non-destructive changes like tuning, filtering, overdrive and so on. You can record automation on the fly, edit steps and also record in from a MIDI controller.
Once you have a bunch of patterns you can map them out over the grid for instant triggering. And then there are effects like Reverb, Delay, Sound Enhancer, Limiter and Saturator. It sounds brilliantly "hands-on".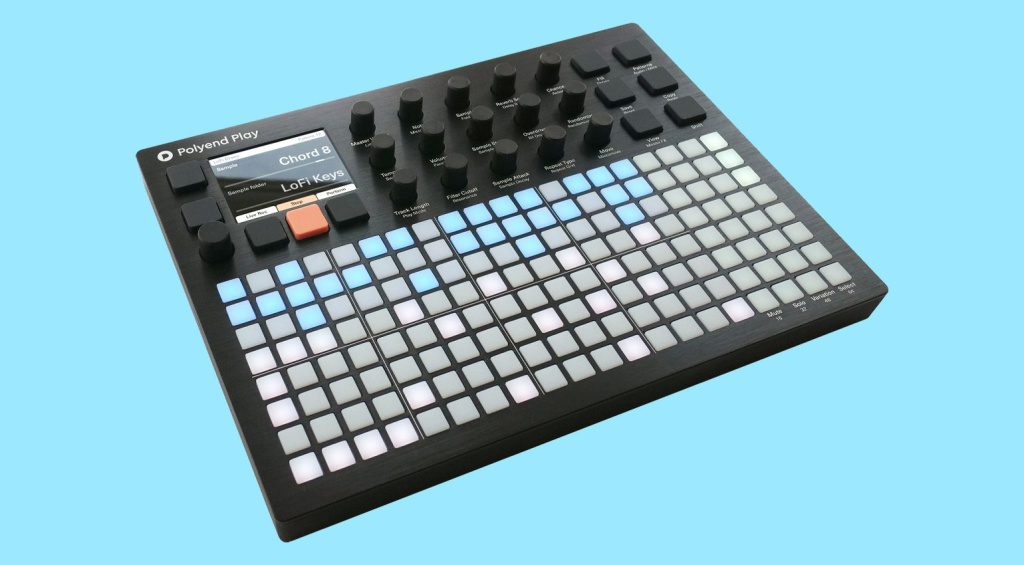 Sequencer
The 8 channel MIDI sequencer sounds interesting as you can pull in your hardware and software instruments. Apparently, you can send out different MIDI information for each track – remarkable (!) what is this magical multi-channel MIDI thing all about? Each track can have a different length and can send out all the usual MIDI messages and stuff.
There are variations aplenty with up to 128 patterns holding 16 tracks each with 16 variations. That'll be enough for a few songs I think.
Play on the Grid
The grid is where the action happens though. 16×8 step sequencing with a smaller 4×8 section to the side that deals with controls like mute, solo, variation and keyboard note input. You have MIDI In/Out on the back, a split-screen display and 15 touch-capacitive knobs. There's also a microSD card slot for samples.
Groovy
If I can get my head around exactly how the audio tracks work then this looks like a fun bit of kit. I always enjoy the visualisation of sequencing and pattern generation. I wonder if it can work as a matrix sequencer? So, I still have questions but hopefully, Superbooth has the answers.
Polyend is on booth 0116.
This will answer all your questions:
Image Sources:
Polyend Play: Polyend
polyend-play-groovebox-4: Polyend