Samples of the week: Vocalise 3, Aquatic Predators, Master Tanbur
Deal
It's samples of the week time with new releases by Heavyocity, BOOM Library, Rast Sound, and other sampling maestros. We also have an exotic-sounding freebie. You know you don't want to miss it, so here it goes!
Heavyocity Vocalise 3
Building on the content from its award-winning predecessors, Vocalise 3 homes in on the "beauty, intimacy, and profound power of the human voice". Heavyocity says this is its "most complete and cutting-edge vocal library to date" and I'd trust them with that kind of statement. Although I still prefer Damage 2's smashed car doors over vocal phrases. It's just a matter of taste. Anyway, Vocalise 3 features 7GB of expressive and cinematic vocals – organic phrases, abstract whispers, haunting soundscapes, and other styles.
The intro price for Vocalise 3 is USD 99, down from USD 119. It's good until August 22, 2022. As a "powered-by-Kontakt" instrument, Vocalise 3 is the same in either the full version of Kontakt 6 or the free Kontakt 6 Player.
Boom Library AQUATIC Predators
Aquatic Predators covers the war cries of seals, sea lions, walruses, dolphins, and other beasts lurking in the waters. It will step in when the need to design sounds for scary, blood-thirsty creatures arises and you can't get them any other way. For all its brutality, Aquatic Predators is recorded quite exemplary with all the barks, grunts, and the like captured in full 192kHz using a Sanken CO-100K microphone. The obscenely high sample rate makes it possible to get the recordings mangled, pitched, and stretched while retaining their natural, err, beauty.
Aquatic Predators weigh in at 179 WAV files and 5.8GB of content. It's on sale for USD 143.20, down from USD 179.
Free samples: FluffyAudio Khim Kontakt library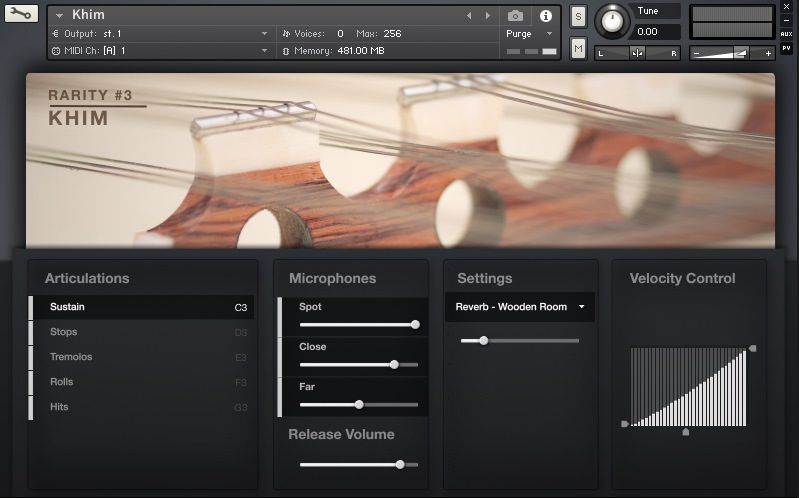 FluffyAudio released Khim as the third installment in its Rarities series of Kontakt libraries. The library delivers the sounds of a stringed musical instrument derived from the Mesopotamian and Persian Santur. The Khim is made up of fourteen string triplets, with each triplet composing a note. It's played with two flexible bamboo sticks with soft leather beaters to produce a brilliant, but engaging tone. The instrument features 5 articulations, 3 microphone positions, filter cutoff, dynamic volume, velocity control curve, and 12 reverb presets.
Khim is free to download for the full version of Kontakt 5.8.1 or higher. FluffyAudio has also launched its 2022 Summer Sale, offering up to 50% off on its products through August 31st, 2022.
Rast Sound Master Tanbur
Rast Sound introduced a new string instrument sample library called Master Tanbur. It features a massive collection of performances, patterns, phrases, and effects recorded with Tanbur masters Mirac Nalkiran and Salih Kartal in Istanbul. The instrument numbers 485 MB of audio, 224 samples, 4 natural solo styles with key switches, and tools such as patterns, phrase builders, and performances.
Master Tanbur requires the full version of Kontakt version 5.8 or higher. It is on sale for the intro price of EUR 29 EUR until August 21, 2022. The regular price is EUR 49.
Guitar samples: Sound Magic Electric Guitar T-Lite
Electric Guitar T samples a Fender Telecaster, which is the first commercially successful solid-body electric guitar. The library includes over 13GB of samples with multiple velocity layers and round robins. Playing styles include Mute, Staccato, Sustain, Vibrato, Slides, Bend, Falls, Scrapes, Screams, Hammer On, Pull Off, and pick noises. There are classic amps and cabs thrown in the mix, too.
For a limited time, the library is on sale for USD 20, down from USD 199.
Image Sources:
Fluffy Audio Khim: Fluffy Audio