Roland AIRA Compact: 3 fun-sized machines for beats, chords and voices
With shades of Korg Volcas and Behringer Minisynths Roland's AIRA Compact series introduces the T-8 Beat Machine, J-6 Chord Synthesizer and E-4 Voice Tweaker.
Roland AIRA Compact
Roland brings a new twist to the AIRA range of products with these Volca-like boxes that are probably the beginnings of a much larger range. Priced at $199 these are close to the Volcas but a lot more than the Behringer Minisynths that were recently revealed. However, the Behringer boxes have no estimated time of arrival whereas these are imminent.
The little machines seem to follow the same format and have sync in/out ports to keep them all running together. This follows through to the audio inputs and outputs where you can chain up the audio outputs through the next machine so you can listen to them all on a single unit. They also all have MIDI In/Out on minijack and USB-C which also charges the onboard lithium battery.
All the sound generation comes from Roland's Analog Circuit Behaviour (ACB) technology, making them as authentic sounding as the Boutique range of synthesizers.
It's an interesting choice of models, let's check them out.
T-8 Beat Machine
Evidently drawing on the legacy of Roland drum machines with the number 8 in them. But this is a bit more than that. Inside you'll find sounds from the TR-808 but also the 909 and 606 as well. Unexpectedly, there's also a TB-303 Bass Line designed to give you an authentic 303 bass experience – so presumably they mean it's difficult and annoying to program! Just kidding, I'm sure it's a lot of fun.
The drum machine offers 6-channels of rhythm including kick, snare, clap, tom, and open/closed hi-hat plus the bass channel. It features the TR-REC workflow with enhanced tools like step loop, pattern shift, probability and more.
Looking at the front panel it appears to be arranged into 4 channels of rhythm with the clap and toms and hi-hats doubling up. The bass line gets its own section with a filter, envelope and pitch control. The whole thing is rounded off with Delay, Reverb, Overdrive and a side chain.
J-6 Chord Synthesizer
This is based on the JUNO-60 but this is not really about the sounds, it's about generating chord progressions. You get 64 preset patches rather than much in the way of synthesis to play with. The idea is that you use the J-6 to create chord sequences. It has 100 chords built in that are accessible directly from the keyboard. You can combine styles and variations and quickly string together progressions via the step input.
There is a filter though, and an envelope control. There's also Delay and Reverb so that's something.
E-4 Voice Tweaker
For people into vocal effects then this is a cool little box. Pulling ideas from the VT-4 this has 8 effects built-in including Auto-Pitch, Harmony, Vocoder, Pitch, Formant, Scatter, Reverb and Looper. Pitch and Formant sliders are there for instant messing about and you have a bit fat knob for the Scatter function of slicing and dicing your audio. The 24-second looper is pretty awesome although it's a shame the mic input isn't XLR.
AIRA Compact – 3 mini-musical boxes
These AIRA Compact boxes do look like fun, albeit in a small scale. They've learned a lot from the Volcas and have made some good decisions on the sync, audio and MIDI connections. At this point, I haven't seen or heard them in action so it's difficult to get a sense of what these could do – videos now below! Although the combination of all 3 boxes is quite powerful as you have drums and a bassline, chords and some vocal transformations – that's an Electronic Open Mic Night right there.
Roland is not at Superbooth this year which is a shame because I would love a go on the JUNO-X.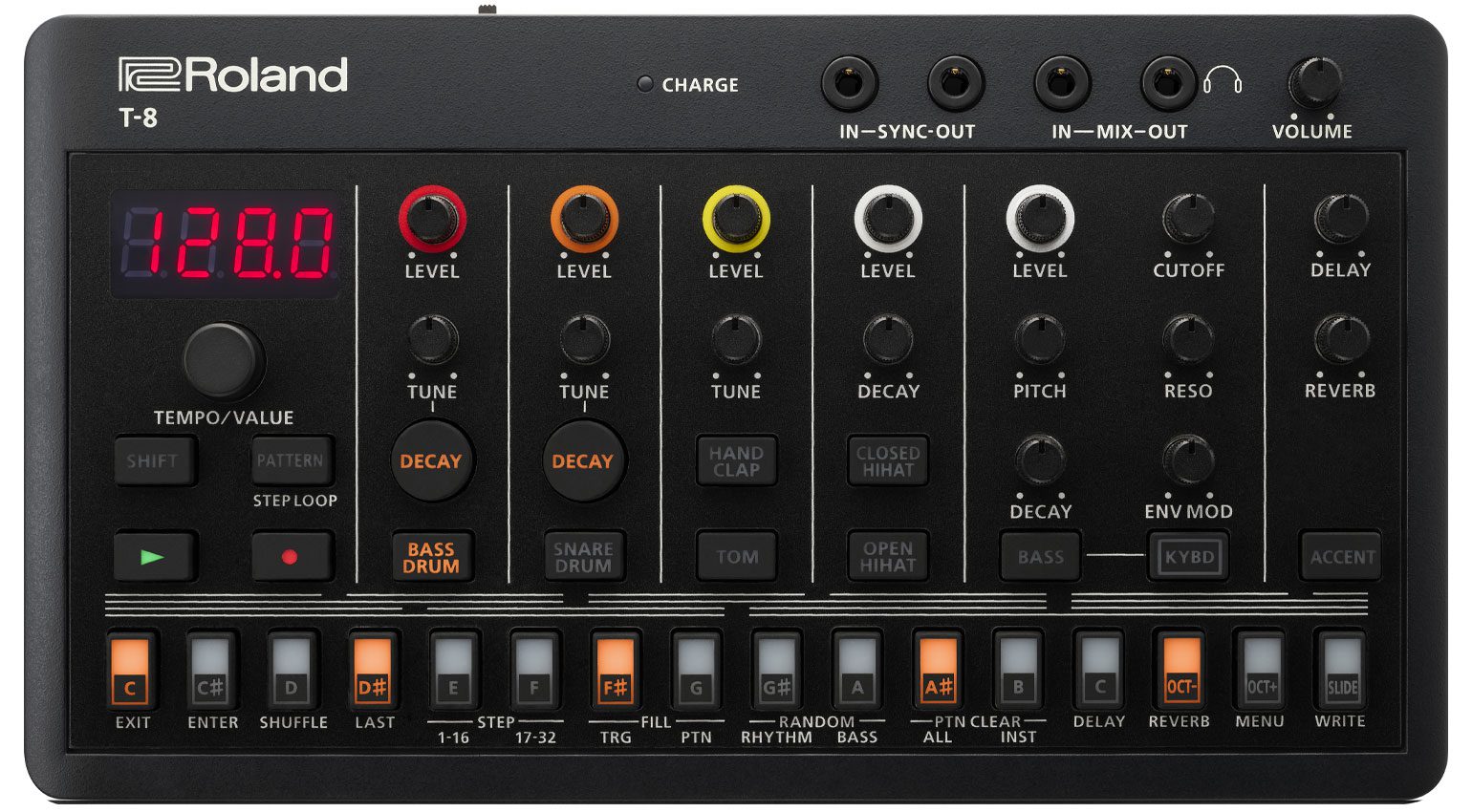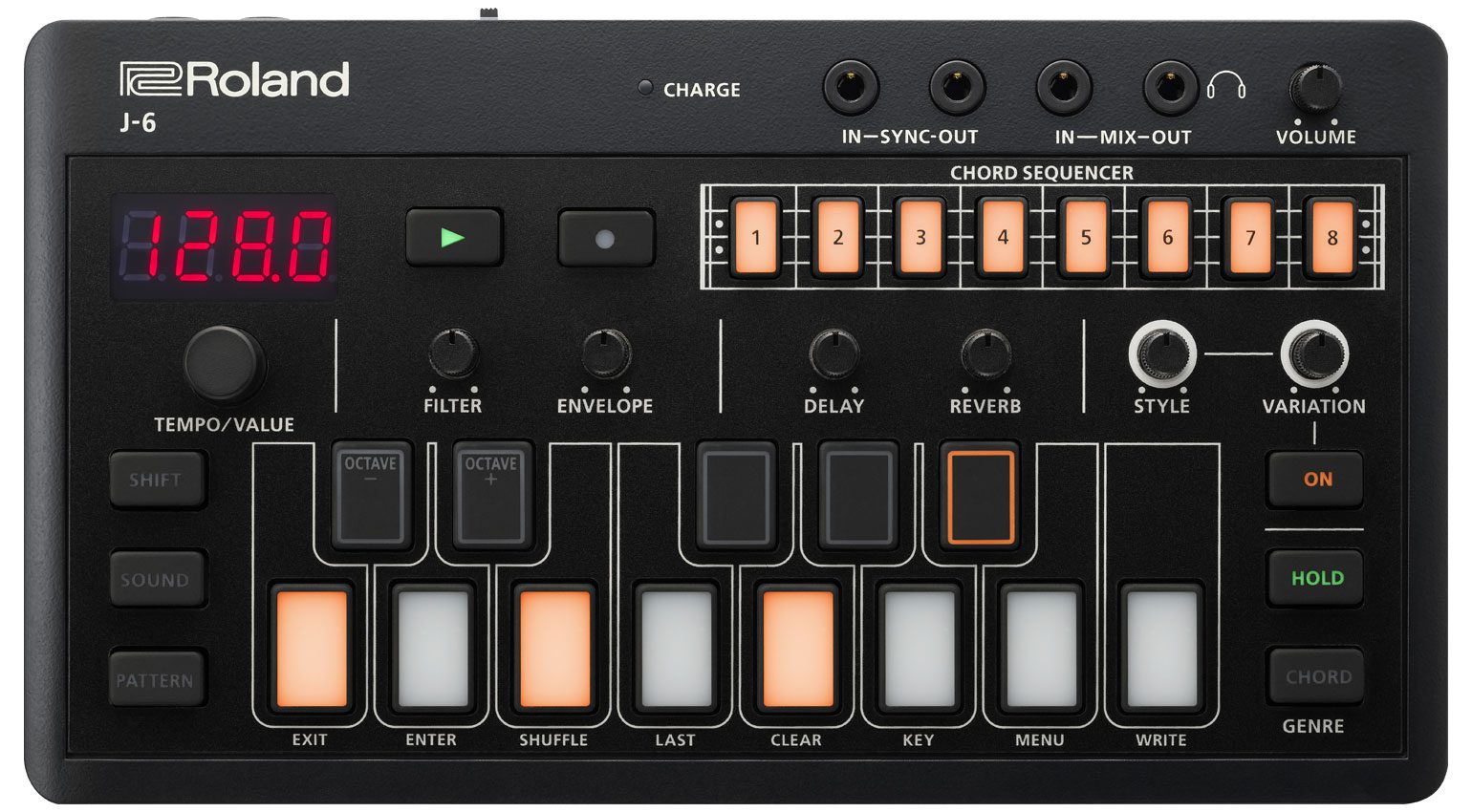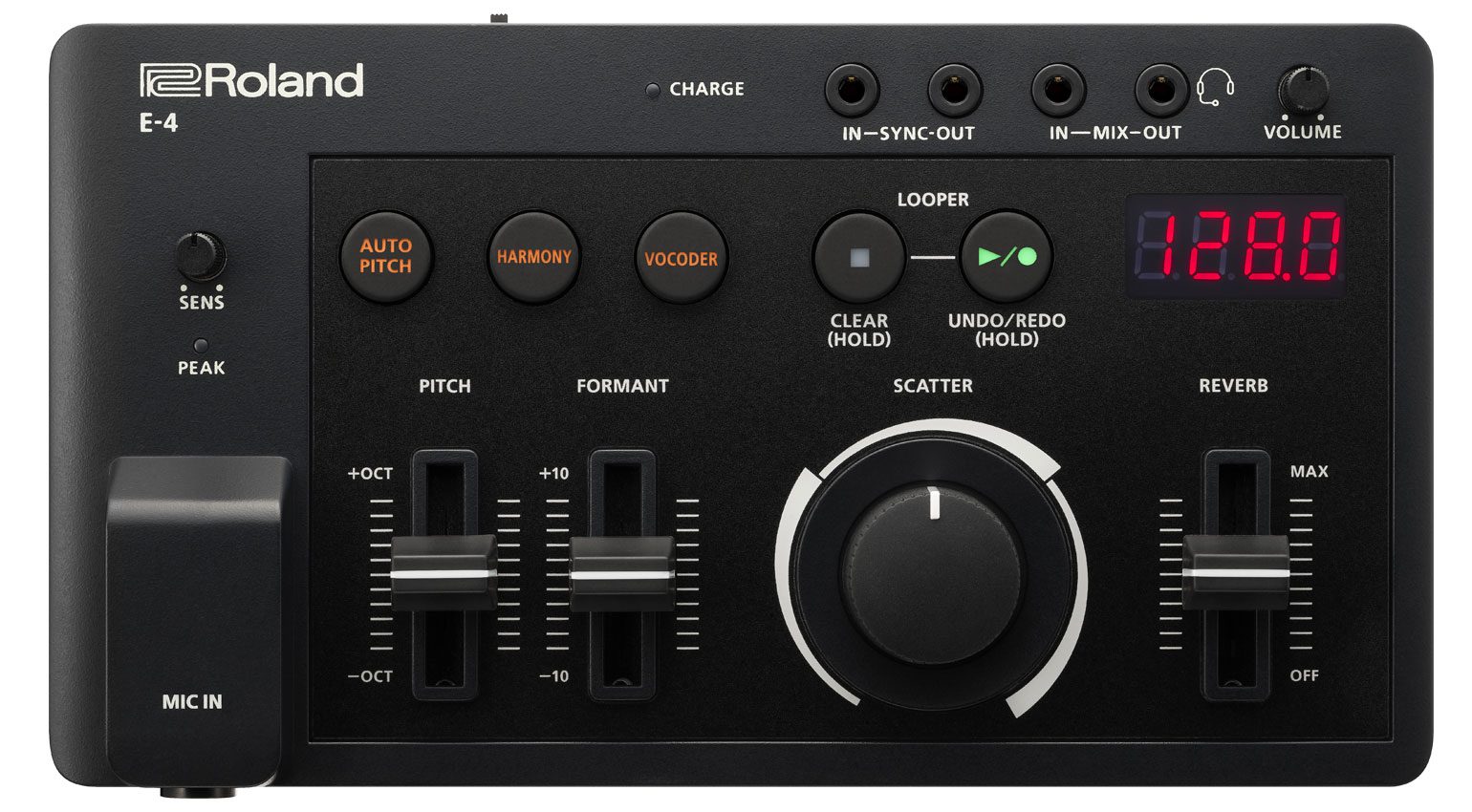 Image Sources:
Roland AIRA Compact T-8: Roland
Roland AIRA Compact J-6: Roland
Roland AIRA Compact E-4: Roland
Roland AIRA Compact T-8: Roland
Roland AIRA Compact J-6: Roland
Roland AIRA Compact E-4: Roland