Review: Casio CT-S1000V Keyboard and Vocal Synthesizer
When the Casio CT-S1000V came out a few weeks ago, the manufacturer didn't skimp on superlatives. Among other things, Casio said that they'd developed a "revolutionary" vocal synthesis technique. That caught our attention and we've taken the CT-S1000V through its paces to find out what the buzz is all about.
Casio CT-S1000V Review
What comes to your mind when you think of Casio? Chances are that your brain pictures the keyboard of your childhood that your parents instantly regretted buying for you. Besides the classic Casiotone keyboards, the manufacturer has recently become a major player in the world of digital pianos with a remarkable quality leap. But synthesizers? The days when Casio made interesting synths like the CZ series are long gone.
With this in mind, it came as a surprise when Casio got none other than YouTuber Benn Jordan to review the CT-S1000V when it was introduced. Could it be that Casio has once again become a true synth maker?
Long story short, no. While the Casio CT-S1000V can do something that no other Casio keyboard could do before, that technology is hidden inside a fairly standard-looking Casiotone keyboard – including all the necessities like Rumba, Cha Cha and 8 Beat Rock. But let's take a closer look.
Keyboard with vocal synthesis
On the outside, the CT-S1000V looks exactly like Casio keyboards have been looking for decades. Velocity-sensitive keyboard, two speakers, a bunch of buttons and knobs and a small screen in the center. If anything, the number of controls is slightly lower than on most typical keyboards of this kind, which does affect the workflow, but more on that later.
A typical keyboard, you might think. But looking closely, you'll notice labels like "Vocal Type" and "Lyrics" that you won't find on other keyboards like this. That's because the CT-S1000V is a bit more than a regular Casiotone board, after all. It's got an integrated vocal synthesizer that allows you to enter your own lyrics and play them on the keyboard – fully polyphonic and with a wide variety of voices and choir sounds to choose from.
While the Casiotone shell isn't especially sexy, that functionality is something you don't see every day. Will the Casio CT-S1000V become the new lead singer for techno and EDM projects around the globe?
Vocal synthesis in practice
To take advantage of the CT-S1000V's most interesting feature, you'll also need an iOS or Android device and the Casio Lyric Creator app, which is available for free in the App Store or Play Store. Then, you need to connect the device to the keyboard via USB, for which you might need an adapter such as the Apple Lightning-to-USB adapter.
Interestingly, the CT-S1000V comes with a USB Bluetooth adapter for wireless connections to a smartphone or tablet. But that's only for MIDI and audio (e.g. for music playback through the keyboard's speakers) and for controlling the keyboard using the Casio Music Space app. The Lyric Creator app, on the other hand, always requires a wired connection. I'm no Bluetooth and USB expert, but that's a bit of a bummer.
Anyway, let's take a look at the app. Lyric Creator allows you to enter lyrics in English or Japanese. You can enter rests, separate individual syllables (the app can also do this automatically) and create syllable groups. The app also supports voice dictation.
After entering your lyrics, there's a second screen where you can specify a note value for each syllable and rest, thereby setting your lyrics to a rhythm.
Finally, all that's left to do is to transfer the data to the keyboard, for which there are 150 memory locations. After that, you can select the new vocal preset just like any other of the keyboard's 900 sounds.
Two playback modes
There are two different playback modes for vocal synthesis presets: Phrase and Note. In Phrase mode, the lyrics continue to play in the specified rhythm for as long as you continue to hold down keys on the keyboard. In Note mode, the lyrics advance one syllable at a time with each keystroke, which allows you to control the rhythm as you play. You can also trigger syllables manually using key switches in the lower octave of the keyboard, and there's a Retrigger feature that automatically triggers syllables at a selectable rate.
It takes a bit of practice to get it right, but once you get the hang of it, it's definitely possible to play rather complex vocal arrangements live on the keyboard. Speaking of live: the sustain pedal can be used to switch vocal presets, which allows for longer arrangements that don't fit into a single phrase.
Vocal sounds from choir to husky
The CT-S1000V offers a choice of 22 voice presets, and there's a single memory slot for your own favorite setting. The presets range from various choirs to children's voices to special effects like "Ghost" and even "Husky". You can also adjust the gender and age of the voice in real time using the knobs.
To summarize, the Casio CT-S1000V offers many ways to get creative with vocal synthesis, and I agree with Benn Jordan that it's great fun to play with. However, the intelligibility isn't all that great. More often than not, the lyrics are hard to understand if you don't know them. And since the results do sound rather synthetic and often resemble a vocoder, I think it might be easier to reach for a microphone and a vocoder plug-in for this type of effect. In short, I don't see the CT-S1000V replacing real-world singers anytime soon. But yes, it's fun!
Sampling on the Casio CT-S1000V
The other thing that sets the CT-S1000V apart from typical Casiotone keyboards is sampling. The sampling feature is pretty basic and a far cry from true professional performance samplers. But it is possible to sample sounds via the external audio input and play them on the keyboard. Here's a quote from the manual that illustrates the level of sampling we're talking about:
"For example, if you record the bark of a dog, you will be able to play an entire melody of dog barks."
In addition to chromatic samples, you can create your own drum kits with up to 16 samples on individual keys. It's also possible to load WAV files from a USB thumb drive. The CT-S1000V samples at 44.1 kHz / 16 bit and the maximum recording time is a measly 10 seconds. There's one memory slot for chromatic (melody) samples and one slot for a user drum kit. Looking at these numbers, it's obvious that the sampling feature is more of a gimmick than a professional feature.
Everything else
With the exception of vocal synthesis and sampling, the CT-S1000V is a typical Casiotone keyboard. It's got 900 sounds (including the vocal synthesis presets) and 243 more or less realistic rhythm patterns from Bossa to Future Disco Pop. There are split and layer functions, an arpeggiator with 150 patterns and integrated effects (chorus, reverb, delay and a DSP with 29 effect types). The keyboard also has a multi-track MIDI recorder, which allows you to record the automatic accompaniment pattern and up to five melody tracks. In addition to the internal songs, you can play MIDI files from a USB drive. To sum up, the CT-S1000V has everything you'd expect from a keyboard in its class.
Workflow
In terms of usability, however, it falls a bit short in my opinion. Compared to the Casio CT-X series, with which it shares the AiX sound engine, the CT-S1000V offers much fewer controls. Most settings are only accessible via the small screen and the five buttons below it. There's no numeric keypad for direct selection of sounds and you'll find yourself scrolling through long lists using the data wheel. And even some important features such as split/layer and assigning sounds to the various parts require some menu diving. The same goes for the arpeggiator and the recorder.
Every Casio keyboard I've had the pleasure to play so far had a set of dedicated buttons for controlling the arranger (Start/Stop, Intro, Fill-in, Ending, etc.). Not so on the CT-S1000V, where these commands are also assigned to the buttons below the display. And here's another little issue that's unnecessarily complicated. There are not one, but two ways to save your own settings: Registrations and "My Setup". They're only marginally different from each other, but they don't do exactly the same. As a result, it's easier to lose track of where you are and what you're doing than it should be on a keyboard of this kind.
Connections
Lastly, let's take a look on the back. The CT-S1000V has a connector for the included power supply and two USB connectors. The USB host port connects to a computer or a mobile device with the Lyric Creator app. The Device port allows you to connect the included Bluetooth adapter. You can also use USB drive to save your settings, MIDI songs and sampled sounds.
Along with a headphone output, the keyboard offers a stereo output. There's also a stereo input, which can be used to play music via the keyboard's speakers and for sampling. In addition to this, you can connect a sustain pedal and an expression pedal.
Casio CT-S1000V: Conclusion
Has Casio designed a revolutionary vocal synth that'll have a huge impact on electronic music? I have doubts. The keyboard's vocal synthesis feature, which allows you to enter your own lyrics and play them on the keyboard using a variety of voices, sets it apart from other keyboards in its class and is great fun to play with. At the end of the day, however, the quality of the vocal synthesis isn't good enough to use it in a professional context. If you sing for a living, you have nothing to worry about!
But if you're in the market for a decent beginner's keyboard with a huge selection of sounds and rhythms and a good set of features, there's a good chance that the CT-S1000V could be what you're looking for – and you get the vocal synthesis as a bonus.
Price and availability
The Casio CT-S1000V is available at Thomann*.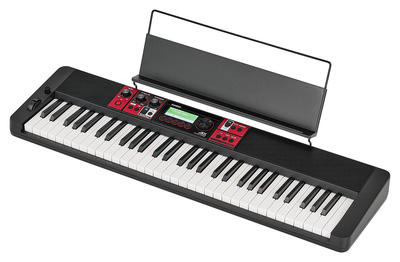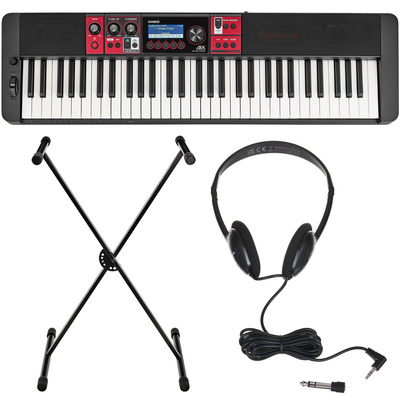 More information about the Casio CT-S1000V
Videos
* This post contains affiliate links and/or widgets. When you buy a product via our affiliate partner, we receive a small commission that helps support what we do. Don't worry, you pay the same price. Thanks for your support!
Image Sources:
The CT-S1000V contains a vocal synthesizer: Gearnews
The vocal synthesizer lets you dial in the gender and age of the voice: Gearnews
The Lyric Creator app lets you type in lyrics and set them to a rhythm: Gearnews
Apart from the vocal synthesis, the CT-S1000V is a standard keyboard: Gearnews