Superbooth 23: PWM Mantis Hybrid Analogue Synthesizer
Mantis is a duophonic hybrid synthesizer with two driftable digital oscillators, dual filters and an analogue signal path designed by the late Chris Huggett.
Mantis
The Mantis is an interesting hybrid synthesizer combining duophonic voicing with dual oscillators and dual filters. It has a modernised architecture based on the Wasp with an Oscar-style filter. This should be great!
The oscillators are digital, and there are two per voice, along with a sub-oscillator. Each oscillator can handle the usual sine, triangle, saw and square waveforms, but there's also some shape control and pulse width modulation to find the waves between the waves. Each oscillator can be independently octaved. You've also got the rather lovely Oscillator Drift function which generates random pitch variations between oscillators. All of that sounds like a solid basis for a cool little synthesizer.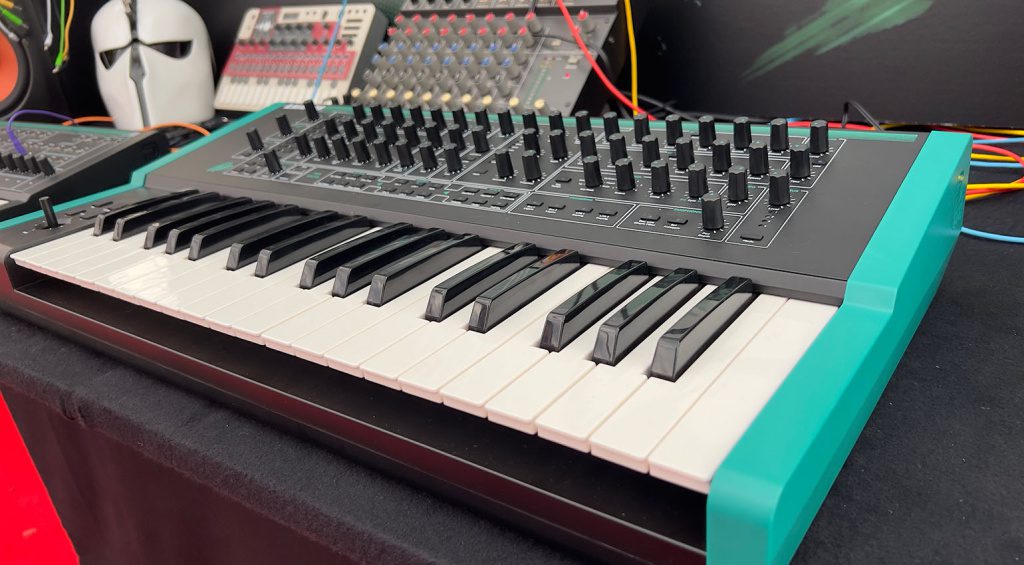 In the filter section we find two analogue filters. They are multi-mode state variable VCA filters that you can use in series or parallel. They come with lots of modulation possibilities and a good bit of overdrive.
For modulation we have two LFOs with different shapes and two independent ADSR envelopes. There's a "Sustain Fall" parameter for shaping during key-down and a "Repeat" function that can be used to create looping envelopes. There are six sources and six destinations available via Modulation Routes.
Other features include a reverb-heavy digital effects engine, Arpeggiator, Ring Modulator, multi-function joystick and a full-sized semi-weighted 37-note keyboard with velocity and channel aftertouch.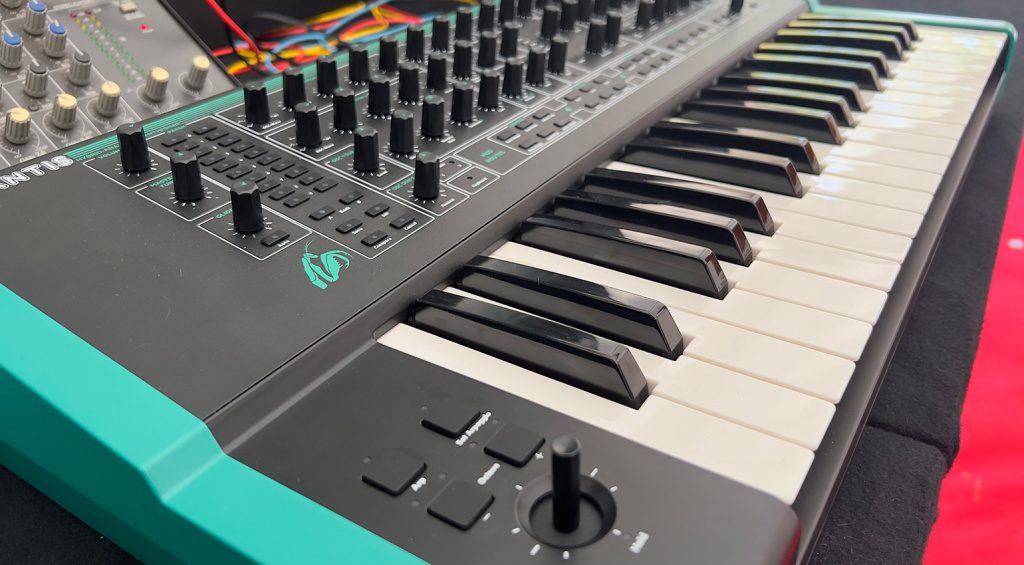 The layout looks very solid. I like the Patch interface and the ease with which you can setup the modulation. There's no screen or data encoders which is often a plus in my book.
Chris Huggett
The Mantis was designed in collaboration with the late Chris Huggett. Chris was the engineer and designer who co-founded Electronic Dream Planet (EDP) where he designed the Wasp and Gnat synthesizers and the Spider sequencer. He went on to build the OSCar synthesizer, work at Akai and eventually developed filters and other technology for Novation. Sadly, Chris died of cancer in 2020. Paul Whittington of PWM talks about their collaboration in a video on the website.
Availability
Mantis should be available in the summer for £1349. Hopefully some sound demos will be along presently.
Image Sources:
PWM Mantis: Gearnews
PWM Mantis: Gearnews