Orange Marcus King MK Ultra limited edition signature amp head
Made in the USA, British signature amp head for Marcus King
This new limited edition  Orange Marcus King MK Ultra signature amp head has a super simple control layout. One that ultimately aims to give you great tone. This built in the USA, British amplifier has been designed to get Marcus his sound, and has a pretty unique circuit.
Orange Marcus King MK Ultra
The Orange Marcus King MK Ultra is a 30 Watt all tube amp, based around a pair of 12AX7 preamp tubes, paired with two 6L6GC power tubes that are cathode-biased. Where it really stands out is the unique, and super simple control layout. This consists three controls,  a Volume knob which Orange states is as much a tone control as the Sing (treble) and Deep (bass) control. Yes, you only have three knobs on the front of this amp head, and really that is all you need.
The front panel looks pretty spare, as the only other features are the single input along with a Standby and an On/Off switch. Minimal is certainly the feel of this front panel. I'm personally more than happy with a simple amp layout and so this looks interesting.
Tone
Being a cathode-biased amp it is described by Orange as being urgent at lower volumes. Expect it to react well to volume and tone changes from your guitar. Certainly it will be an amp that will react well to your guitars volume knob, which can be a lot of fun. Plus, it should also fair very well as a platform for effects pedals. Orange has designed it so that any increase of the main amp volume knob you will lead to more saturation.  As those 6L6 power tubes start to break up, it will reward you with a very playable, spongy attack.  Again, this all sounds like my kind of amp.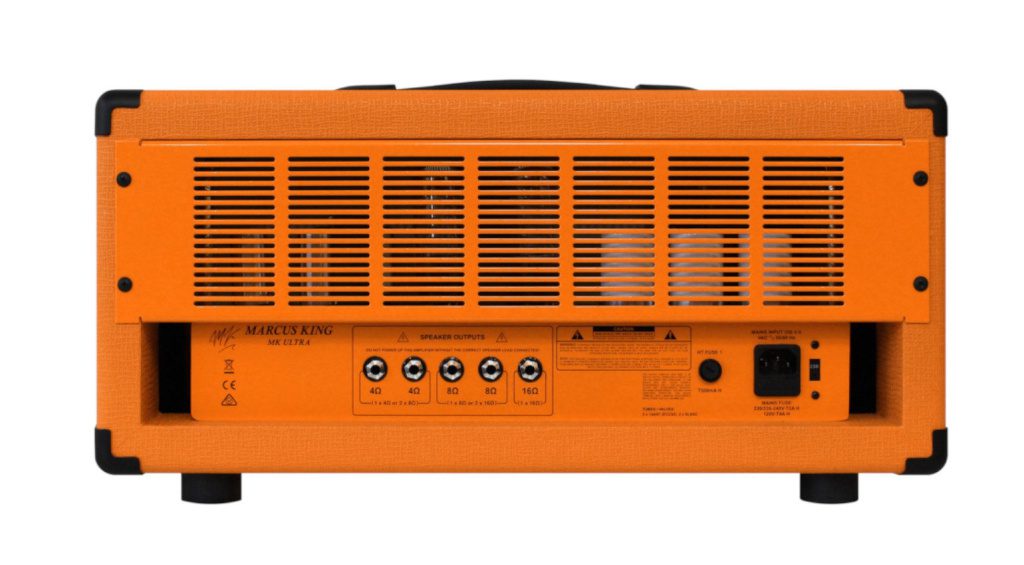 Signature Sound
Round the back you get outputs on 4, 8 and 16 Ohm, so this head will work with all your common speaker cabinet types. It is a very specific amp and was designed for Marcus King, and if you have one of his signature Gibson ES-345 models, you could try to emulate his tone. I suspect this limited edition amp will have a limited appeal, as it is very specific. That isn't to say that I think that is a bad thing. In fact, I really like the sound of it, and certainly can see its appeal.
Check out the official videos below to see and hear what this Marcus King MK Ultra amp is all about.
More Orange Information
Orange Video Demos
Image Sources:
Just three knobs for control: Orange
Rear panel: Orange