New for NAMM 2016: Music Man James Valentine Signature Model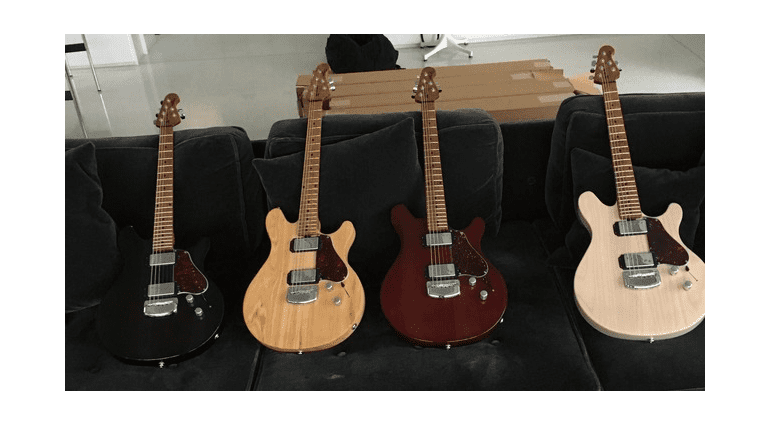 Not the most exciting guitar visually, however MusicMan have a solid reputation. · Source: http://forums.ernieball.com/music-man-guitars/61929-sneak-peak-introducing-new-music-man-valentine-james-valentine-signature-model.html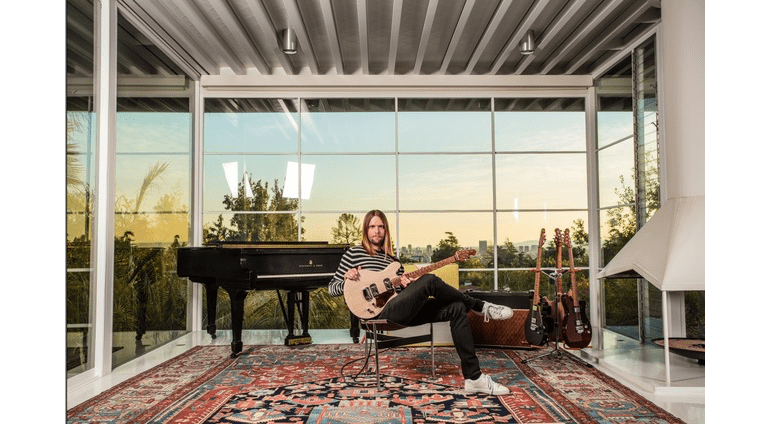 James Valentine Maroon 5 new signature model · Source: http://forums.ernieball.com/music-man-guitars/61929-sneak-peak-introducing-new-music-man-valentine-james-valentine-signature-model.html
Music Man USA have released a preview of the new James Valentine (Maroon 5) signature guitar, which so far is a series of photos of James holding the guitars and little information as to specifications. They also mention that this is only one of eight brand new models for this year's NAMM Show.
Lightweight Swamp Ash is to be used for the bodies, and there are a set of new EBMM pickups on this guitar with some fancy switching to also achieve more P90/single coil pickup tones from the humbuckers. There's also a boost circuit. No audio demos have been released as yet, so I will have to reserve judgement on how it actually sounds.
I have to say that I think this guitar is really dull looking. It's not exactly a ground breaking design and if anything it looks a bit like a 'kit guitar' that you can make yourself. However I'm a pretty opinionated guy, and that's only my view.
If you are a fan of Maroon 5 and James' playing then perhaps this new signature model will float your boat. I cannot say that I am a fan and not sure I actually remember any great guitar parts in Maroon 5 songs, but that is probably more to do with the fact that I don't really listen to them myself. What is more interesting for me is that Music Man have stated there will be eight brand new designs this NAMM show and so hopefully some of them will be a bit more exciting to look at.
I have owned a few Music Man guitars myself in the past including JP6 and a JP7, both of those guitars were very well made and played beautifully. So I personally rate them in terms of quality and design. Music Man have made a few odd looking guitars in the past, like the Albert Lee Signature model, and I have never played a bad one. Their attention to detail and finish quality is usually very high and they have a great reputation and a loyal following worldwide because of this. Just because I don't like the look of this new signature instrument, doesn't mean it won't play and sound great.
I look forward to seeing what else they announce at NAMM.
http://forums.ernieball.com/music-man-guitars/61929-sneak-peak-introducing-new-music-man-valentine-james-valentine-signature-model.html