NAMM 2021: New Mackie SRT powered 1600W PA speakers pack in the features
Announced today at NAMM 2021, the new Mackie SRT Professional Powered Speakers boast a lot of power and a lot of technology in a compact package. Mackie is well known for their ubiquitous SRM series of powered PA speakers, but is the SRT series equally worthy of praise?
Mackie SRT Professional Powered Speakers
When the original SRM450 powered speaker dropped in the early noughties, it was a genuine "game-changer". Portable, powerful, and self-contained PA it changed the way we used PA systems. Mackie's new SRT Series powered professional speaker is a high tech range of powered PA speakers with matching subwoofer. Will it prove as popular and ubiquitous as the SRM series did, though?
We don't think the SRT series is aimed as a replacement for the SRM series; Mackie's marketing undoubtedly hints at more professional aspirations. Importantly if you look at the specs of the SRT professional powered speakers,  you'll see there is a lot more power and a lot more tech "under the hood".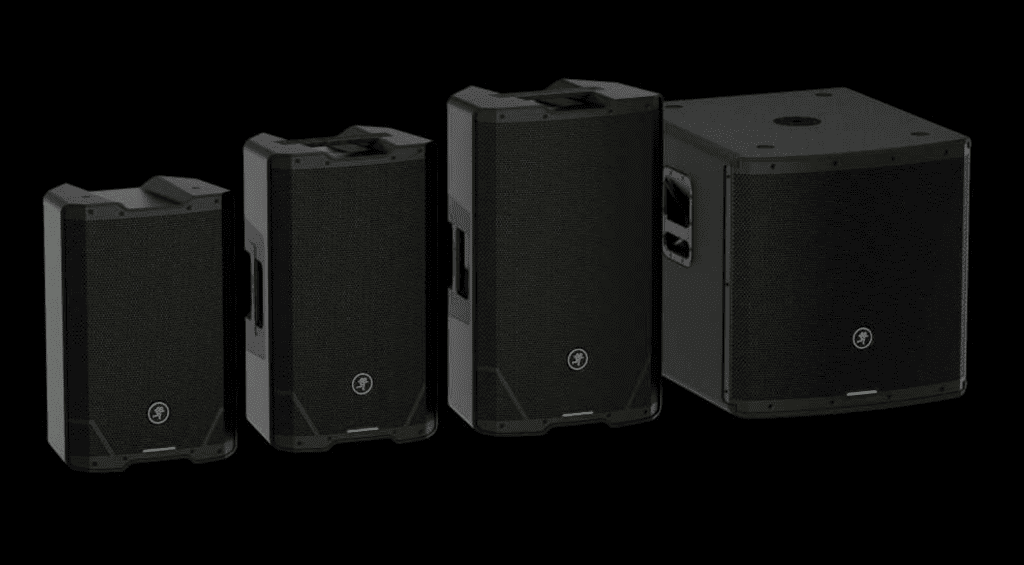 Big Power and Big Technology
Mackie claims an impressive 1600W from the in-built Class-D power amplifier used in the SRT series speakers. Equally impressive is the 133db spl level from the SRT 215! Mackie's "Advanced Impulse" DSP claims to offer you the same listening experience off-axis as on-axis. Additionally, the SYM-X HF Horn is toted to offer you a flat frequency response with smooth midrange.
Furthermore, there's smartphone app control of the built-in mixer four-channel mixer with Bluetooth streaming. Mackie has clearly thrown everything they know at the SRT series professional powered speakers.
So who, and where is the SRT series aimed at then? Well, Mackie pitches the SRT series at "DJ, Bands, Mobile, HoW, Rental" applications. We can see these being popular in small clubs, but undoubtedly, the DJ market will be a big one for the SRT series.
Another winner from Mackie? Well, the SRT series has a lot to offer but this is a challenging time for any manufacturer to be launching a product aimed at the live industry. Only time will tell if we'll see the SRT once the COVID crisis is over.
More Information
Image Sources:
Mackie's new series of powered loudspeakers: Mackie