NAMM 2020: AMS Neve reissues AMX 16, the original digital reverb
In time for NAMM 2020, AMS (Advanced Music Systems) Neve relaunched another coveted studio classic – the RMX 16 digital reverb.
Launched during the 80s digital craze, the RMX 16 was the first digital reverb around and an important development in pro audio. It has colored countless records of the era and beyond, especially the snare drums.
Anyway, retro is always en-vogue, so the RMX 16 reissue feels as welcome as anything from the neon and cocaine era of synthpop and rock. Delivered in Series 500 rack format, the RMX 16 brings all nine reverb algorithms that came standard with the original unit, in addition to nine aftermarket programs – a rare expansion that saw users unlock them over remote control with bar code reader input. Yep, that's the old timey iLok of sorts. We have it good these days, don't we?
AMS Neve RMX 16
Visually identical to a cash safe but unable to store cold, hard cash, the RMX 16 is designed to be musical rather than mathematical in nature and is an exacting replica of the original unit's analog and digital circuitry. We don't know for sure whether this happens on a hardware level or with analog modeling, but honestly, I could care less. AMS know their business and wouldn't launch some half-baked nostalgia piece for easy money.
Speaking of money, the reissue costs about USD 1295, which is very little of what you'd pay for a vintage unit.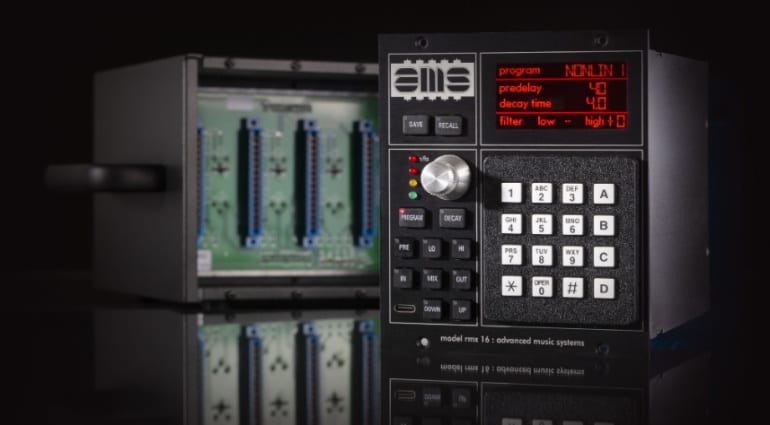 Specs
18kHz bandwidth enables use as delay line
90dB dynamic range and 0.03% distortion in delay mode
Adjustable input and output levels
Independent control of each program parameter
Nudge buttons to increase or decrease data parameters during entry
New rotary push encoder for adjusting parameters by ear
New wet/dry mix blend encoder for parallel processing
Save/recall up to 100 user presets
OLED display shows all program parameters such as pre-delay, decay time, HF and LF decay profiles
Website
Product video
Image Sources:
ams neve model mix 16 product shot: AMS Neve