NAMM 2019: Gamechanger Audio Motor Piano prototype polysynth
Gamechanger Audio, those guys that put a plasma tube in a guitar pedal, then a Eurorack module (via Erica Synths) and then a rack unit also happen to be working on a huge polysynth called the Motor Piano. Didn't see that coming.
Motor Piano
Instead of using VCOs they are using DC electro motors as the sound sources. They say that, of course, all a motor is is a voltage controlled oscillator and they wanted to see how far the could get using little motors to generate sound. And they've got pretty far – so far that they have a product to release this year that's based upon it. The Motor Piano they were showing is not ready yet but they wanted to share the concept and development with interested people like ourselves.
What they did have working was a little 3-voice module in a guitar pedal that uses the same technology. You can see the little DC motors spinning inside – motors like you would run a remote-controlled car from or some Lego Technics – it's exactly what you think it is. The finished Motor Piano will have 36 motors giving three motors per key for an octave giving 12 note polyphony. The motors are spinning optical disks that provide the standard wave-shapes that are collected via guitar pickups.
In the demo (below) he plays the keys, the motors spin and it makes a synthesizer type sound – awesome. He also blends in the motor sound(?). There's some sense of glide/portamento built-in because the motors take a finite amount of time to spin up and pin down. That's why they have some many motors to move across the octaves. They are working on minimising that.
It sounds very interesting, very physical, visceral even. They talk about it in terms of something like a Hammond Organ which is a great comparison. The rest of the synth has all the usual controls of envelope, a couple of filters, modulation and assignments but it's the physicality behind the sound generation that really blows your mind. The controls for the motors include things such as "Acceleration" and "Brake". Each of the 3 voices per key has a separate send to the amp or filter envelope and modulation block.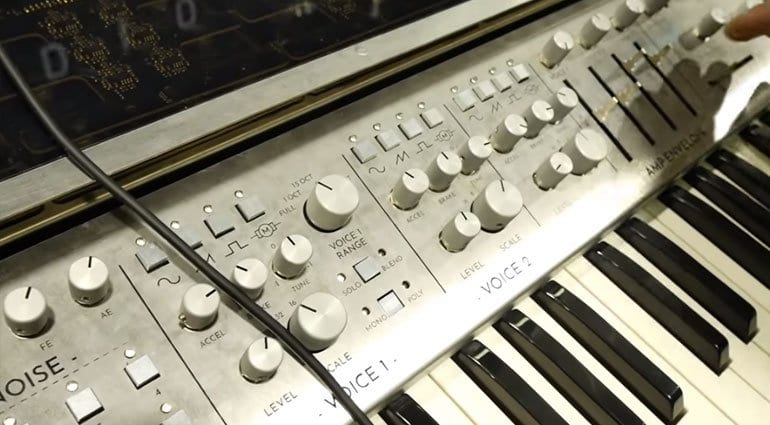 It's a completely fascinating device that seemed to travel under the main NAMM radar. They are hoping to release by the end of the year via Kickstarter. Check out the SonicState video below for all the details.
More information
Video
Image Sources:
Gamechanger Audio Motor Piano with motors inside: Sonicstate
gamechanger-motor-piano-synth: synthanatomy