NAMM 2016: Fender take the Strat to The Edge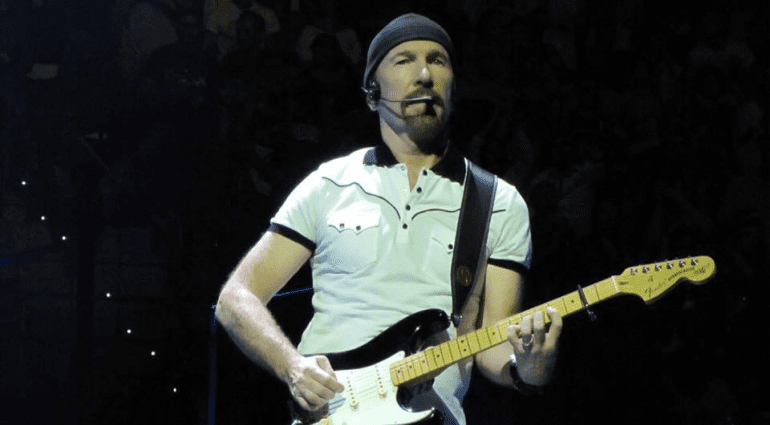 Playing live U2s The Edge with his new Fender Signature Stratocaster NAMM 2016 · Source: http://forums.fender.com/viewtopic.php?f=6&t=99667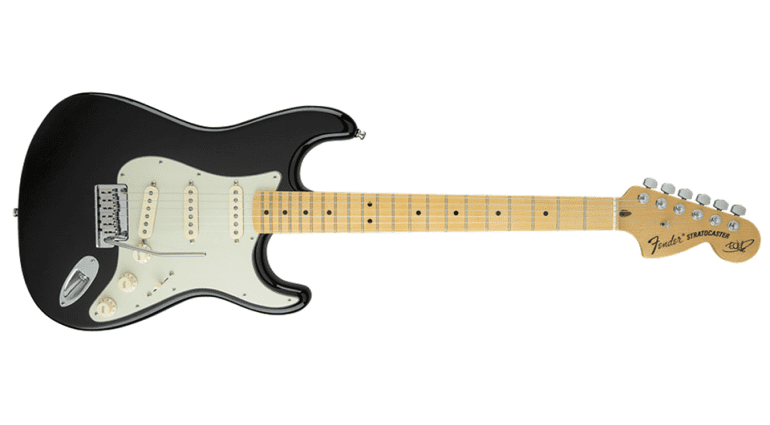 Fender The Edge Signature Stratocaster NAMM 2016 · Source: http://intl.fender.com/en-GB/guitars/stratocaster/the-edge-strat-maple-fingerboard-black/
Fender have presented a new The Edge signature Strat at their NAMM Show booth, which featured a big display featuring U2's guitar player wearing his trademark wooly hat.
I couldn't possibly speculate on how he might have got a signature guitar. I'm sure it had nothing to do with him and Bono being on Fender's board of directors. But you have to admit he plays in a pretty well known band and that he has toured the world a few times over. He is known for his effect-laden guitar sound, which is usually drenched in delay. So whatever guitar he chooses to plays ends up sounding like him.
The Edge has been seen playing everything from Gibson Explorers to Epiphone Casinos. He played a '73 Strat a lot in the early days of U2, though, and is still seen playing one live today. Edge's new signature model isn't the most visually exciting guitar to look at, and if anything it looks a little boring to me. Another black and white Stratocaster with a maple neck isn't exactly going to set the world alight.
This is a classic Strat with some modern features, including a two-point trem system, a 9.5" radius maple quarter sawn neck fitted with medium jumbo frets and a large '70s headstock that is loaded with Fender's locking tuners. The guitar also incorporates a pair of special Custom Shop Fat 50s single-coil pickups with flat-staggered pole pieces; a DiMarzio FS-1 pickup is fitted at the bridge position.
This new signature model is a pretty safe bet for Fender, and should sell well to the legions of U2 fans that will no doubt lap up this new signature guitar. The Edge can be seen using the guitar on the current U2 tour and he is said to be playing the same exact guitar that is for sale with no hidden tweaks or extras. This seems to suggest that it will a road-worthy guitar.
RRP GBP £1208 including hard case
http://intl.fender.com/en-GB/guitars/stratocaster/the-edge-strat-maple-fingerboard-black/