MOD Devices to launch Kickstarter for Dwarf, a "no limitations" multi-effects box
Among the myriad new products announced in the last few weeks is the Dwarf, touted by MOD Devices as a multi-effects unit with "no limits". A bold claim indeed! The project is still at its early stages, with MOD planning a Kickstarter campaign to fund its new product.
No Limits!
So what's the Dwarf all about, then? So far, details are scant. The company's website only gives a rough indication of the Dwarf's feature set. But according to MOD, it's going to be extensive!
The Dwarf offers no limitations on the number of units you can use at the same time. Would you like three delays, four pitch-shifters, four distortions and two amplifiers in the same patch? No worries. Your patches, your rules.

…

The modular DNA of the Dwarf is more flexible than any other guitar product ever launched.
MOD Dwarf
We're looking at some kind of multi-effect box, à la Helix. Although no specifications are available yet, there are some renders of what it will look like. These include an image with lots of pedals and amps all wired up with virtual connections. The putative rear panel has a lot of I/O, including MIDI, Ethernet and stereo ins and outs. Whether or not these connections will all be available on the production model is uncertain. But it all looks interesting.
I'm guessing the platform will be Arduino-based, perhaps running a bespoke OS with some type of VST/AU plug-ins or their equivalents. We suspect it will offer modelled pedals, multi-effects and amp simulations.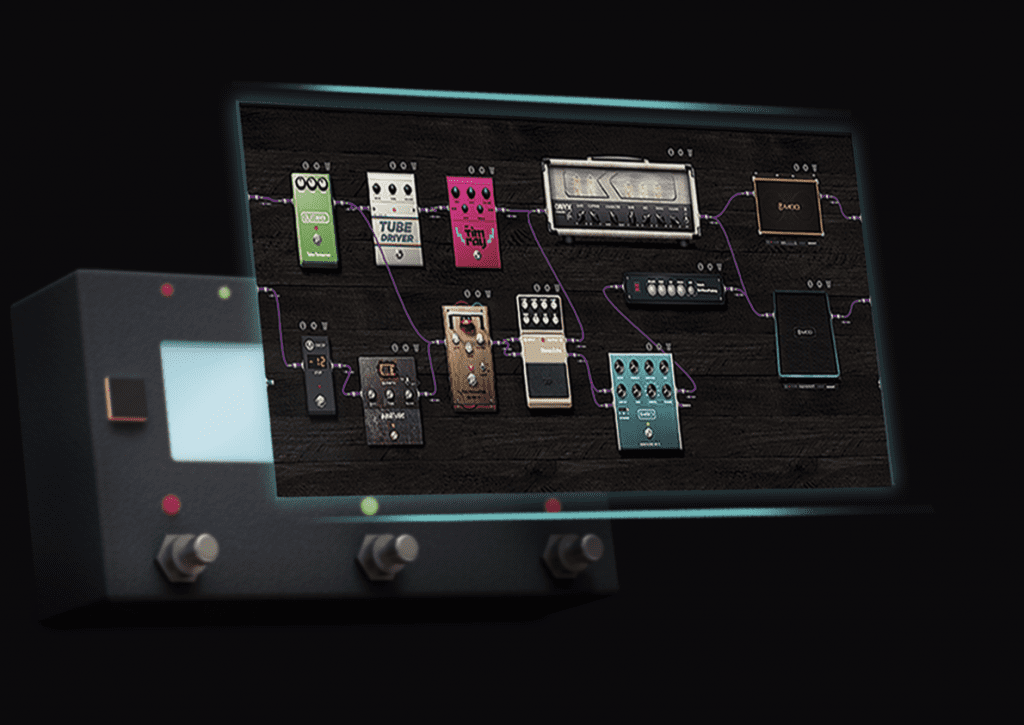 MOD Dwarf – Unlimited effects?
Graphical Interface
The images of the Dwarf show graphical user interface we think might turn out to be a touchscreen, potentially OLED or similar. But that's pretty much all we know right now. You can register your interest from the link below. I hope we'll see the Dwarf in all its glory sometime in the future, when the full Kickstarter campaign kicks off.
RRP – TBC
More Information
Image Sources:
MOD Dwarf - Unlimited effects?: MOD Devices
MOD Dwarf rear panel: MOD Devices