Mike McCready's 1959 Les Paul guitar: Yet another Gibson limited run…
Pearl Jam's axe man gets a Gibson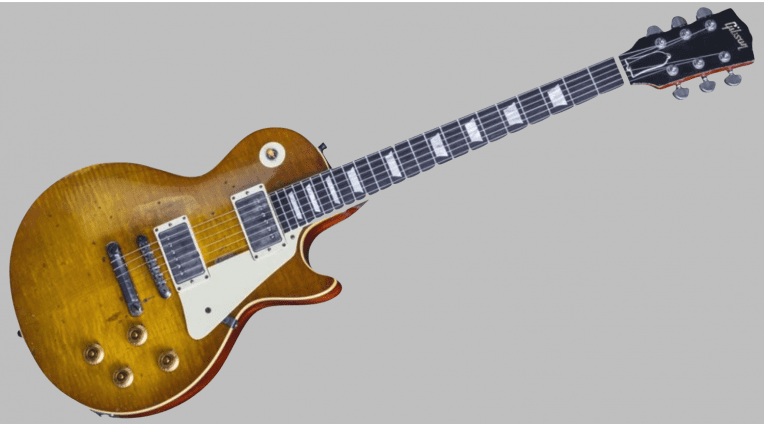 Gibson True Historic Mike McCready 1959 Les Paul. · Source: http://www.gibson.com/Products/Electric-Guitars/2016/Custom/Mike-McCready-1959-Les-Paul-Standard-Aged-VOS.aspx
Mike McCready's 1959 Les Paul is the latest guitar to be recreated by Gibson. The limited edition runs of guitars belonging to famous owners are being released pretty frequently at the moment, what with the new Pete Townsend model being announced only a few days ago.
Pearl Jam
Mr McCready has had around 25 years of collecting old vintage guitars and it seems that all those Pearl Jam records helped to fund his guitar buying habit. This '1959' recreation is based upon one of his favoured vintage instruments and the original guitar was previously owned by one of Van Morrison's band members, and the paperwork for the instrument points to it being bought in Ireland when new.
Two Versions
You can either buy the guitar in a very limited edition version which is an exact copy of every dint and knock of Mike's original '59 Les Paul or a slightly cheaper version which just recreates the general specification and colour.
I have to admit that I am not a huge fan of either Pearl Jam or these two instruments and I think you would need to be a fan to even contemplate buying one. For me, Mike isn't exactly known for just playing Les Paul models and I find this whole marketing approach a little off-putting myself. If it was someone who is predominantly known for playing Les Pauls like Slash, Randy Rhoads or Paul Kossoff, then I could understand it.
Originality…?
The problem here for me is that Gibson has already done all those reissues and it would appear that the company is scraping the bottom of the barrel a little, looking for Gibson players to recreate guitars for. It seems to be yet another expensive '59 Les Paul reissue with some faked dents and worn-in finish, which is a bit of a hard sell to someone like me.
Gibson Mike McCready 1959 Les Paul Standard True Historic – RRP USD $11,499 – Limited to 50 guitars worldwide
Gibson Custom Standard Historic version  – RRP USD $6,699
Full specifications on the Mike Mcready's 1959 Les Paul limited edition models here 
Image Sources:
Gibson True Historic Mike McCready 1959 Les Paul. Back & Front: http://www.gibson.com/Products/Electric-Guitars/2016/Custom/Mike-McCready-1959-Les-Paul-Standard-Aged-VOS.aspx