Mike Matthews owner of Electro Harmonix says no more Russian vacuum tubes in 2022
Are vacuum tubes about to become more scarce?
Due in part to the Russian invasion of Ukraine, it looks like there could well be a worldwide shortage of vacuum tubes/valves. This would affect anyone looking to buy or use valve based music equipment.
Electro Harmonix
The world is about to experience many shortages and the cost of this war is already unfathomable to the majority of the planet. The Ukrainian people are being attacked by Putin's army and the loss of life on both sides of the conflict are terrible. Putin's war with Ukraine has resulted in Russia now sanctioning the export of 200 goods, in response to the sanctions imposed on Russia from the West. And it looks like the guitar world is about to be heavily affected by this ban of goods.
Yesterday, a statement appeared online, allegedly from Mike Matthews, the owner of Electro Harmonix, which states:
Yesterday, Russia imposed a ban on the export of some 200 goods in response to the sanctions imposed on it over the current conflict in Ukraine. We have confirmed that the ban applies to our seven brands of Russian tubes. Currently, the ban is set to remain in effect until the end of the calendar year.

Given this export ban, we will not be receiving any further tube inventory for these brands. A myriad of pressures — including continued strains on the supply chain, escalating internal expenses, mounting inflation, and an ever-evolving legal landscape (particularly in light of the Ukraine conflict) — have created a very fluid and ambiguous environment. Until we can properly assess the impact of these factors, we will not honor any new orders or ship any more Russian tubes on back order.

Rock & Roll,
Mike Matthews
Founder & President
Brands now affected by the export ban
Since the EHX family of tube brands includes: Tung-Sol, Electro-Harmonix, EH Gold, Genalex Gold Lion, Mullard, Svetlana and Sovtek, this could a bad year for manufacturers looking to build valve amps, and valve-based effects.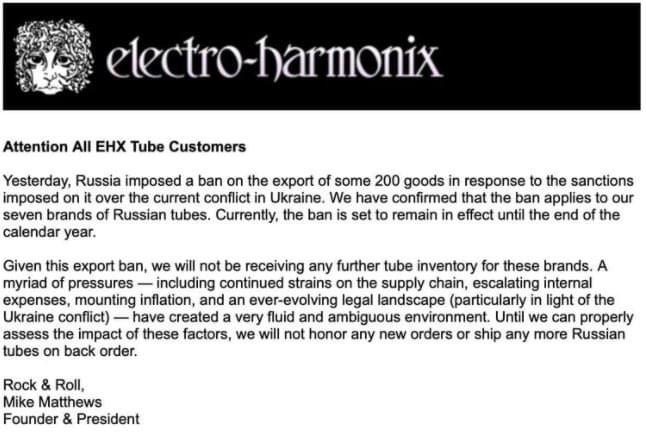 Electro Harmonix Vacuum Tubes made in Russia
Russian Factory
Electro Harmonix bought a Russian factory that manufactured vacuum tubes in 1998 and since that date, it has had a relatively steady supply of tubes, with the odd bump in the road here and there. I've added a few videos of Mike talking about the subject at the bottom of the article, so you can hear the full story.
"Russia collapsed in the early '90s and the factory that made these tubes was a conglomerate, they made integrated circuits, clocks, optical devices… and they broke up their factory into several parts, and I was continuing to sell the tubes. But they borrowed a lot of money from a Russian bank, and they couldn't repay it, and they came to me, and said, 'We've got to either close or sell the company to you or Groove Tubes. At that time, selling vacuum tubes was by far the biggest part of my business, so I bought the factory!"  – Mike Matthews
Chinese Tubes?
This potentially leaves the world with access to vacuum tubes manufactured in China, but that may also get disrupted, as the country has close links with Russia which could potentially affect the sale internationally. I have already seen forum posts discussing the ban of Russian made vacuum tubes, so it's possible the guitar world may soon see price hikes for all valve equipment.
There aren't many vacuum tubes made outside Russia and China, and so prices could sky rocket throughout 2022. The only USA manufactured tubes I could think of are Western Electric, for example, and JJ tubes in Slovakia. Which, means a lot of valve based amplifiers, especially at the cheaper end of the market, may see significant price rises very soon. And as for the boutique-end of valve based gear, well I'm sure they will get hit hard as well.
UPDATE
I have closed the comments section and deleted all the comments on this article, as they were going "off topic" and becoming abusive. Sorry, to anyone that had something sensible to add to the discussion.
More Information on EHX
Electro Harmonix Video
Image Sources:
Russian manufactured EHX vacuum tubes: EHX
Electro Harmonix Vacuum Tubes made in Russia: Electro Harmonix