Midweek Modular: Trolley Bus, Kicks, Snares and 3D printed cases
Befaco gives us more power than we need, Blue Lantern has percussion covered and a modular 3D printed case for making your modular more modular.
This week is the calm before the storm. At the weekend, America's biggest synth show, Knobcon, will kick off in Chicagoland USA. I anticipate that we are going to see a lot of new products, prototypes and fresh releases. Noise Engineering has gotten ahead of the game with the Xer Mixa mixing module. It features analogue mixing with digital control and will be officially released at the convention. You can read more about it here.
Midweek Modular
Meanwhile, in the space lanes and alien planets of modular, here are the modules worth teleporting onboard this week.
Befaco Trolley Bus
Now, I know that doesn't exactly sound like the most exciting thing, but this is about power, and power is important. The Trolley Bus is a new Eurorack power supply from Befaco that first appeared in its 7U case. You can now run it inside your own case and it will conjure up rock-solid power for all the most power-hungry modules. It has a whole 5 amps of power over 28 slots from four high-quality DC-DC converters. If you've ever encountered the weirdness that happens when modules are not receiving enough power, then you'll know why you might need this.
It's also really easy to install because the connections for the power supply appear on a 4HP module – so no drilling holes for you. I like the fact that the power comes from a laptop power brick so you're not having to deal with mains power. While losing 4HP might seem like a sacrifice, Befaco has added a pair of very useful USB sockets for charging things or powering devices like lights or a MIDI controller. You also get some reassuring power LEDs and a satisfyingly large and illuminated power button.
Blue Lantern Gimme Some Kick and Snare
Two new modules from Blue Lantern designed to fill the rolls (!) of Kick and Snare drums in your rack. The Gimme Some Kick Drum is described as being an ultra-generic analogue kick drum, which perhaps means that it will sound exactly like you imagine it will. It's a triangle core VCO and OTA VCA-based mini synthesizer that's brilliant at producing the thumb, tone and drag of a solid analogue kick. It's got shaping, tuning, overdrive, punch, pop, pitch and decay. All you need is a trigger.
Gimme some Snare follows a similar vibe but has a bit more going on. It's a fully analogue snare synth that combines two triangle core VCOs with a pair of shapers, a bunch of envelopes, a tone and high pass filter, two VCAs and a mixer. It's almost twice as dangerous as the kick. You'll find both in the video below.
Both modules look like a lot of fun and give you the opportunity to craft some very uniquely familiar sounds. The Snare appears to be available now; no sign of the Kick just yet.
3D-printed modular modular cases
This is an interesting solution to the nature of modular being a bit annoyingly modular and wouldn't it be nice if it wasn't quite so much of a faff to rearrange your modular problem. Geert Bevin, who is many things including Director of software development at Moog, maker of things and a Kung-Fu master, has been experimenting with 3D printed enclosures for individual modules. Each module gets a case which can then be rearranged with a minimum of fuss. The cases snap back together without the need for a screwdriver or messing around with floating nuts or Knurlies.
A power bus ribbon is rather cunningly fed in and threaded through from the back via a 4MS Row Power power module. You can also remove the backs to access any hidden ports or features.
For a while, I was confused by the patch points at the bottom of each case. But these are simply holes that are there as potentially useful patch cable holders. I'm not convinced they are particularly necessary.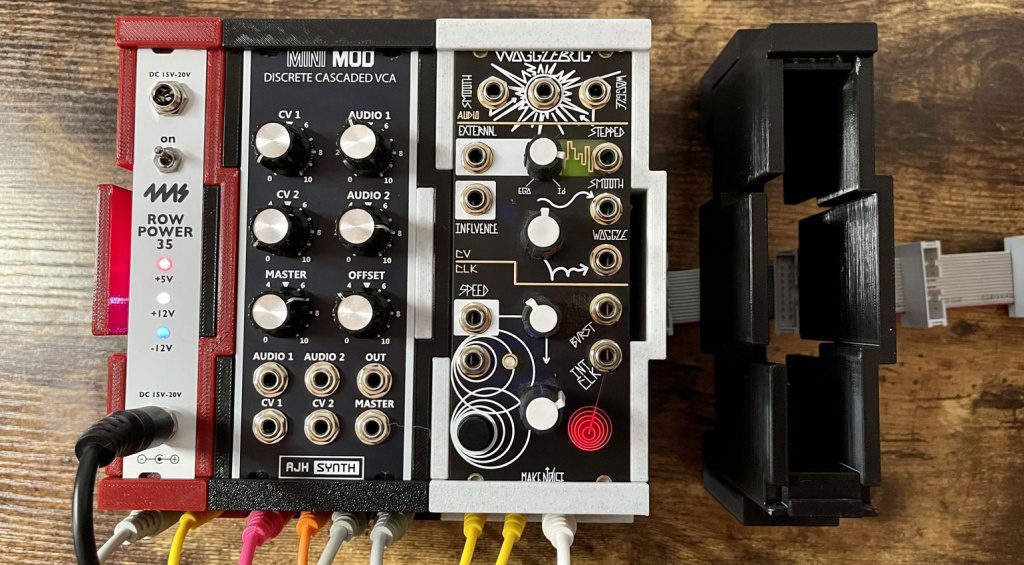 As someone who is always rearranging their modular, these little boxes really appeal to me. They are really elegant. Currently, Geert is considering what the next stage could be and is gauging reactions. It's possible they could become a thing or at the very least, get released as open-source, 3D printable templates.
Image Sources:
Befaco Trolley Bus: Befaco
Geerts Bevin case: Geerts Bevin
Geerts Bevin case: Geerts Bevin