Mesa Boogie Subway D-800 head and matching Subway Ultra-lite Cabs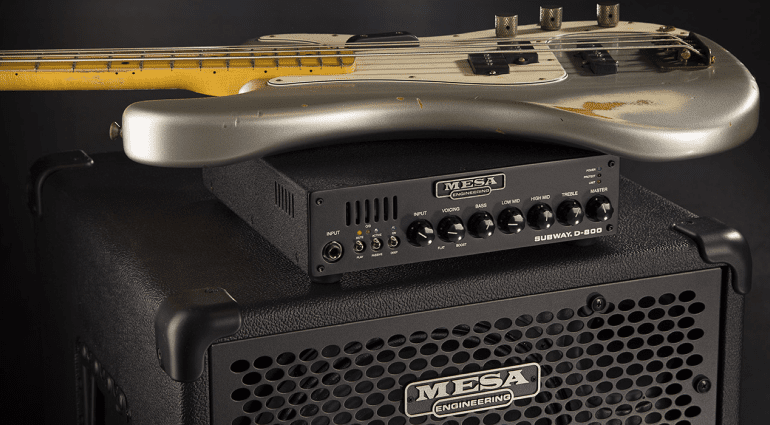 Subway D-800 head and matching Ultra-lite 1x12 cab. Class-D 800 watt powered bass rig. · Source: http://www.mesaboogie.com/amplifiers/bass/subway-series/subway-d800/index.html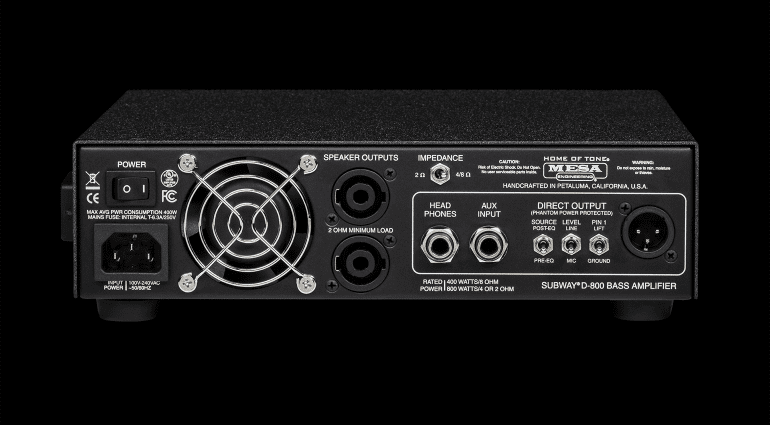 Subway D-800 head rear panel with plenty of options for most players. · Source: http://www.mesaboogie.com/amplifiers/bass/subway-series/subway-d800/index.html
Mesa are pretty famous for making some great guitar amps and have a long history in amplifier manufacture. They started out as one of the first 'boutique' builders and have a solid reputation for making both valve heads and combos. They also have bass amplifiers in their product range, and the recently released D-800 is a new small-format bass head for those that play low.
The D-800 head is tiny and very neat-looking. It's a Class D amp rated at 800 Watts with an output operating at either 4 or 2 Ohms, with an additional option of running 400 Watts at 8 Ohms. I really like the clean look and I think a lot of players will appreciate its tiny footprint. The D-800 comes in its own gig bag, is light weight and therefore very gig friendly. The matching Subway cabs are also very neat, small enclosures that have plenty of power and are designed to handle the D-800 with ease.
Features include a passive/active input switch that lets you choose the correct level for you bass's pickups. A four-band EQ action allows you to shape the sound to suit your needs. The amp also has an XLR DI output, as well as a headphone jack. There's also an Aux input jack, making this a versatile rig with a decent set of I/O options. Two Speakon connectors for the main outs complete the rear panel.
The elegant front panel houses a Mute switch, an Active/Passive selector switch, a Deep switch (for enhancing the low end), knobs for Input and Voicing, and then your 4-band EQ controls, namely Bass, Low Mid, High Mid and Treble. A Master level control rounds off the functions on the front.
The package was announced end of last year and is just starting to appear in dealerships around Europe about now.
RRP Subway D-800 GBP £780 and Ultra-lite 1×12 Cabs GBP £639 each 
Mesa Subway D800 Specifications