Leak! Tracks and Rhythm: New Circuits from Novation?
An online store accidentally published photos of what looks like two new Circuits inbound from Novation: Circuit Tracks and Circuit Rhythm. The pages have since been pulled from Muziker.sk but the photos have now started to spread around the internet.
New Circuits
Novation was probably getting ready to reveal them in the New Year but we've got an early glimpse of these intriguing new takes on the Circuit format. Very exciting! We haven't caught any details but let's look at what the photos tell us.
Circuit Tracks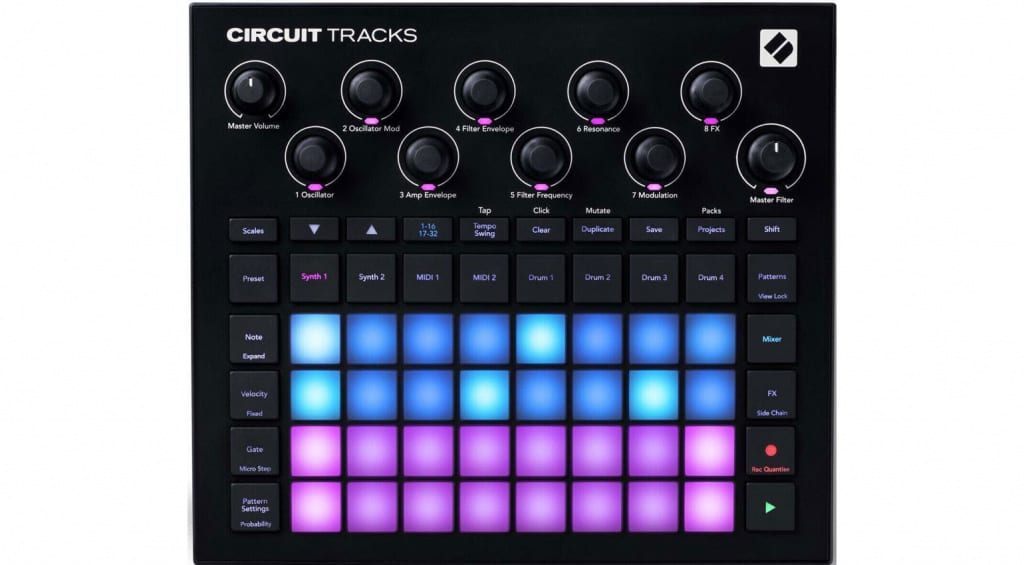 The form factor is very familiar and remains close to the original. The number of knobs, pads and buttons remains the same with just some stylistic changes. Digging around the button labels we find the two synths but also two MIDI tracks along with the four drum tracks. There's also mention of probability, micro-steps and Mutate which I hope is a take on the Mutate function on their LaunchKey MIDI controllers.
Circuit Rhythm
The Circuit Rhythm is perhaps more of a departure. It seems to be aimed at beat making and sampling. The big giveaway being the "Sample" button and the pads labelled One Shot, Loop, Reverse and Choke. So no synth sounds on this one, it is all about the drums.
This is also backed up by the presence of audio inputs in the photo of the rear of the unit, although the same photo was used on both the Rhythm and the Tracks page so it's possible that they both share this sampling facility. Also note the microSD card slot for saving samples. Always good to see proper old school MIDI ports and a MIDI Thru!
It's entirely possible, knowing how awesome Novation is at manipulating firmware, that these machines could share the same internal engine and external hardware and swap between being one or the other. It's also likely that the photo is just of the back of the Rhythm and Tracks has simpler connections without the audio inputs.
Either way the Novation Circuit is a massively popular and fun groove box production machine and this looks like a fabulous evolution and cool direction. I'm looking forward to the full details when they arrive. The price, according to Musiker.sk will be €415.
More information
Original Posts
Image Sources:
Circuit Tracks : Musiker.sk
Circuit Rhythm: Musiker.sk
Circuit Tracks and Rhythm connections: Musiker.sk
Original google-cached source: Musiker.sk
Original google-cached source: Musiker.sk