KHDK Electronics launches SGT D boost/preamp for Scott Ian of Anthrax!
Anthrax guitarist launches new signature preamp/boost pedal
KHDK Electronics has designed its new Scott Ian signature SGT D boost/preamp pedal to give your riffs the crushing weight of a wrecking ball. And to show you this pedal means business, a cigar smoked by a skull lights up when it's engaged! After all, the Anthrax guitarist is known for hard hitting tone, so we'd expect nothing less from his new signature stompbox.
KHDK Electronics SGT D boost/preamp
The new KHDK Electronics Scott Ian signature SGT D boost/preamp pedal has some pretty wild graphics designed by Kurz Daniel. With those bold orange control knobs and a depiction of a cigar-chomping skeleton, it certainly stands out form the crowd. The SGT D pedal is designed to push amps hard into distortion by overloading the preamp, giving you a shed load of gain.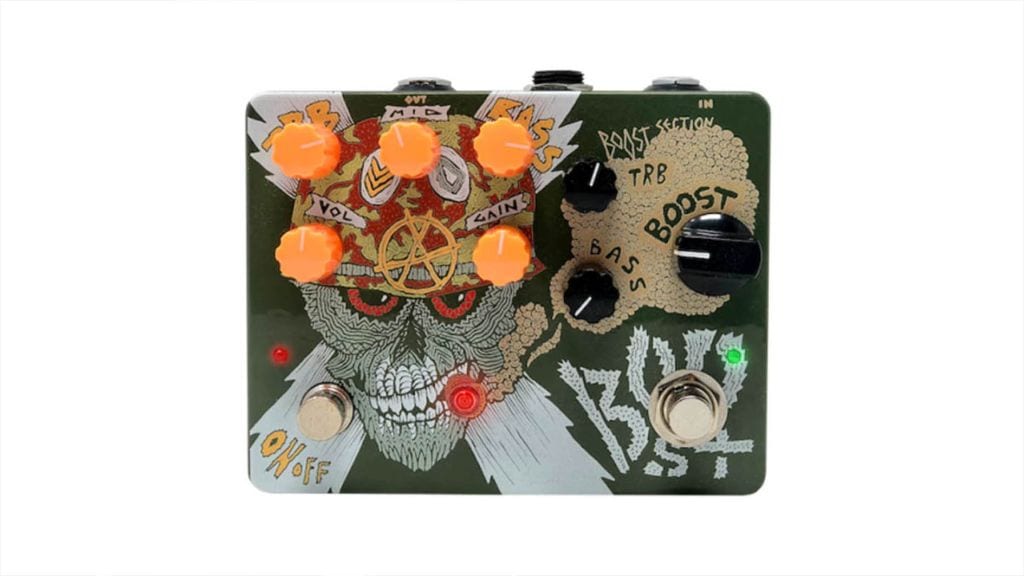 KHDK Electronics Scott Ian SGT D boost:preamp
Two Sides
The SGT D pedal consists of two sections, Boost and Amp. The boost section has Treble, Bass and Boost controls. The amp part is powered by an analogue circuit, with Volume and Gain nobs along with an onboard three-band EQ. Each side of the SGT D has its own footswitch, so you can use the two circuits individually or go full bore and engage both side for full-on gain tones.
All gone
It looks like a pretty heavy sounding pedal, but then it is a signature pedal for Anthrax's Scott Ian, so it bloody well should be! KHDK has produced this box in a limited edition of only 250 units. Unfortunately, it appears they have already sold out at launch, but you may get lucky and find one somewhere. On the KHDK website, SGT D is quoted as follows: "If I see you flipping this on eBay I'll stab you in the liver." OK then.
You can hear it in action in the demo video below and read the full details on the KHDK site. If the initial production run has sold out, I hope we may see another run sometime soon.
RRP – USD 249
More Information
Video
Image Sources:
KHDK Electronics Scott Ian SGT D boost:preamp: KHDK Electronics