Kernom RIDGE: An Augmented Analog overdrive pedal
Unlimited clipping options in one analogue circuit
The new Kernom RIDGE pedal on Kickstarter is being billed as "the first Augmented Analog overdrive pedal". But what does that mean, and do you even need one?
Kernom RIDGE: Augmented Analog overdrive pedal
The Kernom RIDGE Augmented Analog overdrive project comes from Paris, France, and is currently seeking to get off the ground via a Kickstarter campaign. It offers unlimited clipping options and runs internally at 30V for greater headroom. Plus, apparently, the Kernom products are being made in a state-of-the-art factory in France that works on medical projects, so I'm expecting great build quality.
It also has an adaptive input gain that should allow you to use it with not just guitars, but also bass, keyboards, and vocals, which would potentially make it a useful studio tool as well.
Mood
It has both Pre and Post EQ sections, plus Mid, Volume, and Drive controls You also have MIDI capabilities, and an expression input, and a Mood knob that selects from, what Kernom describes as, the ultimate clean boost to a fully compressed overdriven sound. In theory, this control could give you access to symmetric, asymmetric, high headroom, and compressed drive tones. That's a lot of useful overdrive tones in one pedal.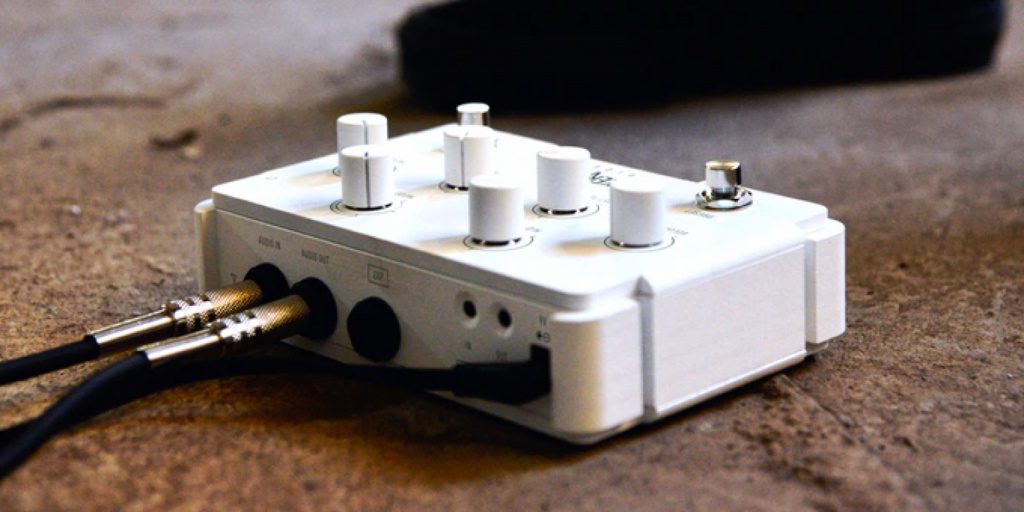 Presets
The MIDI allows you to recall up to 128 presets, or you can use a single internal preset that can be stored on the pedal without MIDI via the Preset footswitch, giving you access to two sounds at any one time.
Summit White or Blood Rust?
The RIDGE will come in a Summit White finish. However, the company has also made a limited amount in Blood Rust, which is a more brown rust/red colour and will be made available to Kickstarter backers.
Pricing
Various prices will be available for early backers, with a projected full RRP of USD 299, which puts it slap bang in the middle of pricing for many boutique overdrive pedals. You can follow the project and also back it from the Kickstarter link below. It will be interesting to hear what users think of this new unlimited clipping overdrive once it goes into production.
RRP  – USD 299
UPDATE
They got 100% funded in only 2 hours, so certainly one to check out once players get their hands on them.
More Information on Kernom RIDGE
Kernom RIDGE Demo Videos
Image Sources:
Kernom RIDGE Augmented Analog overdrive pedal: Kickstarter/Kernom
Kernom RIDGE Augmented Analog  rear panel: Kickstarter/Kernom
RIDGE which colour would you choose?: Kickstarter/Kernom