iZotope Trash 2 deal: buy Trash 2+Expansions for $13 until October 20
Expired
Holy smokes! Our affiliate partner Plugin Boutique has one of these exclusive deals – an iZotope Trash 2 deal (+ Expansions) – where a modern classic is discounted to a little more than a tenner! I don't know how they do it, but they pulled the same stunt with Native Instruments FM8 and people ate it up. Anyway, head here for the iZotope Trash 2 deal or read my thoughts below first…
iZotope Trash 2 deal
Trash 2 is still a distortion plug-in I love and use. It's the elder statesman of modern digital distortion. There are more sophisticated, more advanced effects available today, but Trash 2 always feels like home. I wish iZotope puts together the resources to make version 3. That, or a brand-new distortion plug-in with all kinds of algorithmic, spectral, and machine learning badassery going at once.
Like full-on unlimited gobs of the stuff, more than my speakers can possibly output or measuring equipment can read. I'd love that but the MA company is focusing its strengths in other areas while leaving distortion leadership to the likes of Fabfilter, Minimal Audio, and Arturia. It's never too late to have some of that back!
Anyway, here's the deal: Trash 2 + the Classic Textures and Edge expansions are on sale at Plugin Boutique for what appears to be EUR 13 / USD 13 / GBP 11.38. While I remember Trash 2 being sold as part of inexpensive (around USD 50) bundles of older iZotope products before, I don't remember seeing it go that low.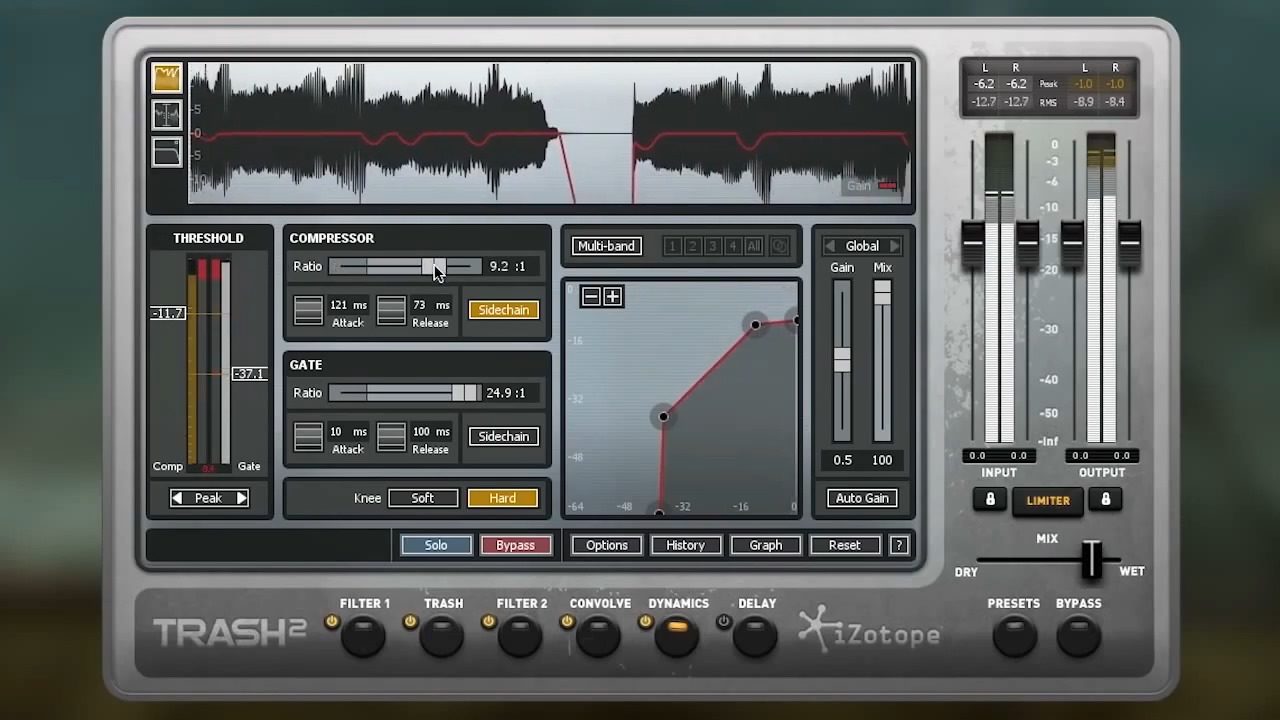 At that price, it's a mighty distortion plug-in that's still maintained in good shape. It works under macOS 10.8.5 up to macOS 11 Big Sur, and from Windows XP up to Windows 10. It is available in 64-bit AAX, AU, VST, VST3, and 32-bit RTAS.
I'm not sure how well it works through Rosetta 2 on new Apple Silicon Macs, but you can try the Trial version and see for yourself. The offer is valid until October 20, 2022.
As for functionality, Trash 2 offers multi-band, dual-stage distortion with rather deep post-filtering options. You can chain two distortion algorithms in each of the four frequency bands to end up with 8 distortion modules tearing through your audio tracks like buzzsaws.
You can also use a convolver with a library of 100 IRs, add Delay and Dynamics, and choose from 20 filter types. If you haven't, just go give Trash 2 some love right now by clicking the banner below

Learn more
Video
* This article contains affiliate links to help us fund Gearnews. If you buy something through these links, we will receive a commission. Don't worry, the price for you always stays the same. Thank you for your support!
Image Sources:
iZotope Trash 2 deal: iZotope