iConnectivity PlayAUDIO1U: Live interface that saves a computer crash
The iConnectivity PlayAUDIO1U builds upon the massive reputation of their PlayAUDIO12 live interface. Using auto redundant switching this audio and MIDI interface saves your show from computer crashes. Are the new features worth the significant price increase…
Redundant Failover
Before heading any further into this news article, I should declare my own (very minor) involvement in the PlayAUDIO1U. Before I took on the editor's seat at Gearnews, I worked with iConnectivity as their marketing/sales manager. iConnectivity very quickly became one of the go-to companies when it came to professional MIDI interfaces and audio interfaces. In particular, their PlayAUDIO12 interface was a revolutionary piece of kit.
If you play live and rely on a computer for backing tracks or MIDI program changes then you'll know the potential fear. What if my computer hangs or crashes during my set? Playback professionals have relied on some form of redundant switching systems for over a decade. Two computers, synchronised, with a switching system to move to a backup machine if the main machine hangs or crashes.
The problem is that these systems used to be very heavy, very costly and very complex. That is until the PlayAUDIO12 arrived; one small box which performed all the switching via USB connection. It was light, easy to use, affordable and switched both audio and MIDI. Live techs ditched their racks of interfaces and switching boxes almost overnight; however, there were criticisms…
PlayAUDIO1U – Built for Pros
I don't think the guys over at iConnectivity would mind me saying that the success of the PlayAUDIO12 took them by surprise. Quickly adopted by demanding techs, some of the cost-saving choices were not appreciated. A whole cottage industry popped up reworking and re-housing the PlayAUDIO12 into flight-cased rigs with complex break-out panels and power supplies. Now, with the PlayAUDIO1U, it seems those criticisms have been addressed.
Finally, we have a 1U rack mount unit that looks truly professional and has the features you'd expect in a piece of touring gear:
24-bit/96kHz AD/DA conversion

Balanced XLR outputs with +48v protection

OLED screen for instantaneous status information and precise control

100-240v switching power built-in with Industry-Standard IEC Power Connection

Integrated DIN-MIDI port and USB-MIDI host port
On top of this, there are sensible modern upgrades such as the shift to USB-C connectivity, and a wonderful, bright OLED display with a rotary encoder. The screen shows real-time information on MIDI data, audio levels, and current faults. Additionally, iConnectivity RTP-MIDI networking over Ethernet is present and correct; a real boon for running MID setups over long distances.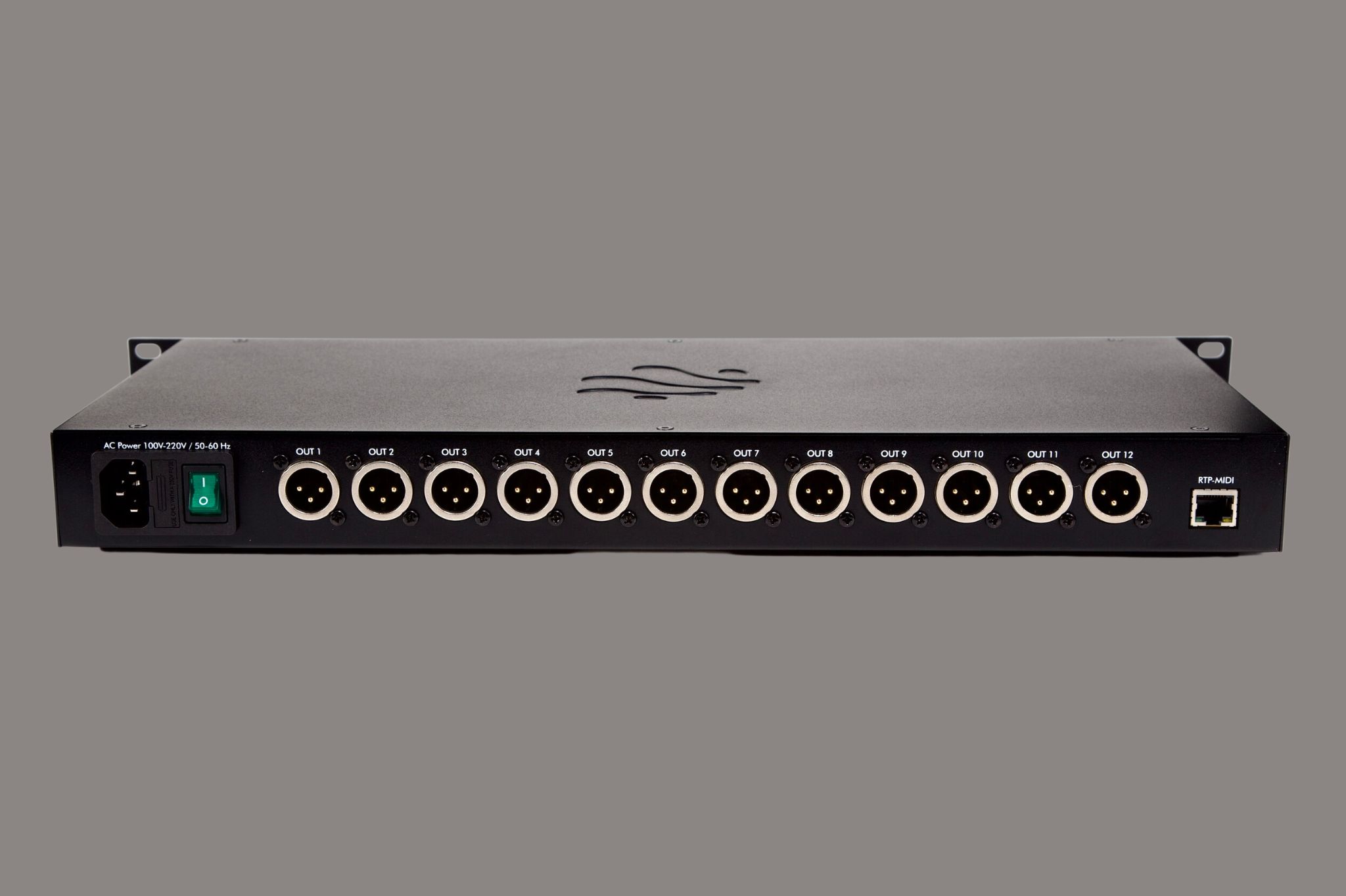 Protection Built In
As I mentioned earlier, the PlayAUDIO1U offers numerous levels of live show protection. PlayAUDIO1U fail-proofs your show with iConnectivity's multi-computer redundancy. It listens to your software and when issues occur it automatically switches computers. It does this by listening to either (or both) MIDI or audio coming from your computer. In my time at iConnectivity, I was at shows where this technology kicked in; it was genuinely flawless and undetectable!
Additionally, iConnectivity has introduced a new type of protection system. In addition to listening for software or computer failure, PlayAUDIO1U listens to the audio streams coming from your computers. At the slightest hint of an audio problem, it can mute the audio and provide diagnostic information to you via the display. It seems that this is a sort of "emergency stations" protection should there be a truly catastrophic audio failure.
Worth the extra money?
PlayAUDIO1U lists at an MSRP of $ 1399 USD; viewed as an 8-channel audio interface, that's a lot of money, but to see it like that would be to miss the point. PlayAUDIO1U saves you the cost of two 8-channel interfaces, two MIDI interfaces, a redundant audio switcher AND all the cabling and casing. Yes, it's almost twice the price of the PlayAUDIO12 but for touring professionals, these new features will be well worth it.
With cymatic being out of the game, it leaves the PlayAUDIO1U as the only realistic, affordable playback option for live touring professionals.
More information
Image Sources:
iConnectivity PlayAUDIO1U Rear: iConnectivity
iConnectivity PlayAUDIO1U Screens: iConnectivity