Cymatic Audio Closes: What Options Exist for Playback Techs?
Cymatic Audio Closes its doors after the parent company, Reidel, winds up the business. What options now exist for the playback techs who so loved their UTRACK24 and LP-16 multi-track players? We give you the facts and the alternative products that could fill the void.
Cymatic Audio Closes
If you play out live and use backing tracks, or you're a playback tech, then you'll likely be familiar with Cymatic Audio's products. For example, their UTRACK24 and LP-16 multi-track players/recorders had a strong following amongst playback techs.
I happened across the news, on the Cymatic Audio user's group where user, Ashley Hills, reached out directly to the company's CEO who confirmed the company's closure.
The business climate has been difficult lately and has lead to reorganisation rounds at our mother company, REIDEL. Following this, it was decided to stop the sales activities and devlopments of Cymatic products late last year.
Obviously, this has raised concern amongst playback techs; for many, the UTRACK24 and LP-16 were the perfect units for their requirements. So what alternative products exist if you're looking for a multi-channel, live playback solution?

Cymatic Alternatives
JoeCo Blackbox
Perhaps the closest product to the UTRACK24 you can buy brand new is the JoeCo Blackbox. Just as the UTRACK24 allowed you to playback multi-track audio without a computer/DAW, equally you can do the same with the Blackbox.
Additionally, multiple variants give you the option of output on balanced analogue connections, Dante, Madi etc. Admittedly, this comes at a cost with a JoeCo Blackbox coming in at around £2000 per unit.

Price – £2000 (approx)
Redundant DAW-Based solutions
We're now into the realms of playback solutions that require the use of DAWs and, as a result, are no longer standalone solutions. You'll find an additional benefit with these following suggestions, however, and that's Redundancy.
Obviously one of the biggest worries about using computers for live playback is the worry that your laptop might crash during a show! With this in mind, a redundant playback system allows you to sync two computers through a switching system. If one machine drops out during a show, then the switcher defaults to the backup machine.
Radial SW8
The Radial SW8 was one of the original redundant playback solutions; built like a tank, these relay based switchers have been the backbone of live playback for years. There's one significant issue, however, and that's the requirement for two additional audio interfaces as well!
Consequently, in recent years Radial released the SW8 USB; a redundant switcher with a built-in audio interface. It should be noted that each unit only gives you 8 channels; however multiple interfaces can be employed to build your channel count.
Undoubtedly a high-quality option, the SW8 doesn't come cheaply; if you need 24 channels this option gets expensive, quickly!

iConnectivity PlayAUDIO12
If the size, weight and cost of the Radial SW8 make you wince, then you should take a close look at the iConnectivity PlayAUDIO12. You'll undoubtedly like its low cost, light weight and versatility. Consequently, you'll find it used on a lot of live shows from clubs to arenas.
Where the PlayAUDIO12 really scores is that it's also a redundant MIDI switcher in addition to offering multi-channel audio. It should be noted that it also handles networked MIDI over Ethernet. Clearly, this is a powerful unit that blurs the lines between being a multi-channel live interface and a show control hub.
Each PlayAUDIO12 offers 12 analogue audio channels, along with 12 virtual MIDI ports. Furthermore, you can easily connect additional PlayAUDIO12 units for massive channel counts.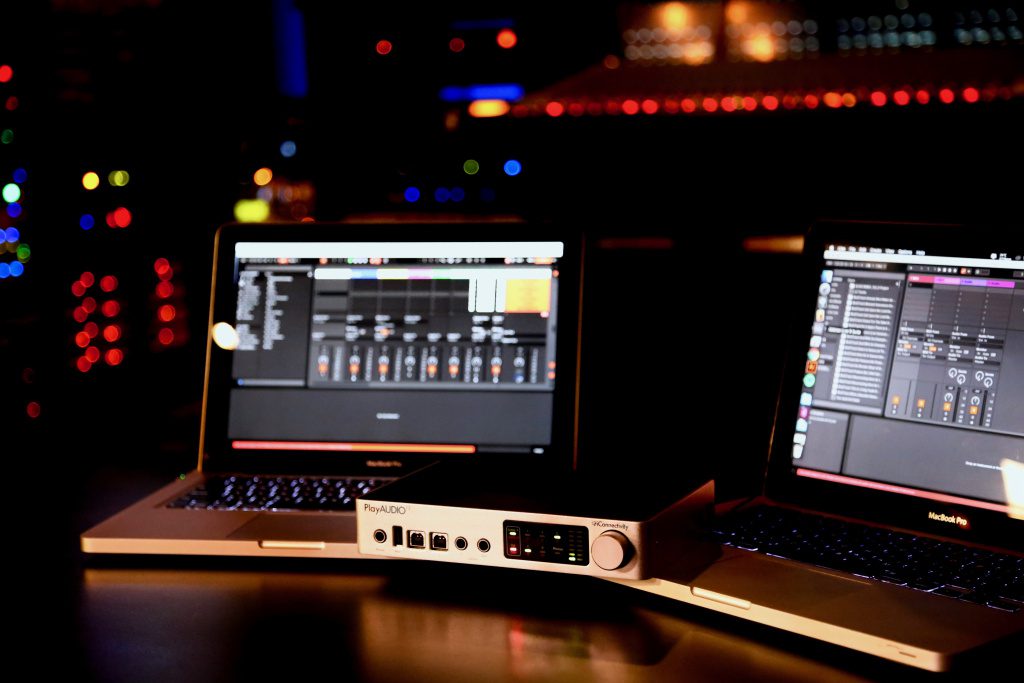 Options for Cymatic Audio Users
I hope this short list provides some comfort if you've been a long-term Cymatic user. Clearly, there aren't any products that directly offer the same price/feature set as the UTRACK24 or LP-16. All the same, you should find credible alternatives here that will assist you in solving your live playback needs.
Are you a Cymatic user? What will you do after Cymatic Audio Closes its doors? What will you use for live playback, moving forward? Let me know in the comments!
Image Sources:
Cymatic Audio UTRACK24: Cymatic Audio
Radial-SW8-front: Radial
PlayAUDIO12 with 2 Computers 1b: iConnectivity