Hyperion: Multi-layer Modular engine from Tracktion
Hyperion offers up to 10 layers of complex polyphonic modular synthesis with macro control and intermingling modulation and audio signal paths.
Hyperion
Tracktion Waveform has a deeply modular environment hidden away inside for plugin chaining and sound design. Hyperion appears to be the evolution and development of that idea into a synthesizer all of its own. And it's pretty darn deep.
Update: Turns out that Hyperion is actually by Wavesequencer Virtual Instruments, a separate entirely from Tracktion and is only part of that party for sales and marketing reasons. 
You can treat each layer as an individual synthesizer built up of unlimited interconnected nodes which can be anything from oscillators and sound sources to modulation, effects and systems of logic. There are multiple forms of synthesis at play like monophonic simple waves, wavetables, samples, Soundfonts, physically modelled and 4-operator FM. You can also add wave sequencing with up to 32 steps of waveform chaining and push polyphony up to 16 voices.
All the other synthesis building blocks are there like envelopes, multiple types of filter, LFOs and then you have a suite of stereo effects to drop into the party at any point.
The range of available modules, modulation and processing is massive and there appears to be no limit to the complexity you can build up within a single layer.
Multilayer interaction comes in the form of MIDI control. You can create MIDI nodes in one layer that can be mapped to parameters in another layer via internal MIDI connections. FX buses can also cross the divide between layers. Save the whole lot as an instantly recallable combi patch.
How you play Hyperion is a mixture of step-sequencing nodes, arpeggiators, chord nodes and good of fashioned sequencing from your DAW or playing from a keyboard. You can automate the macro controls you create through your DAW for spice and movement.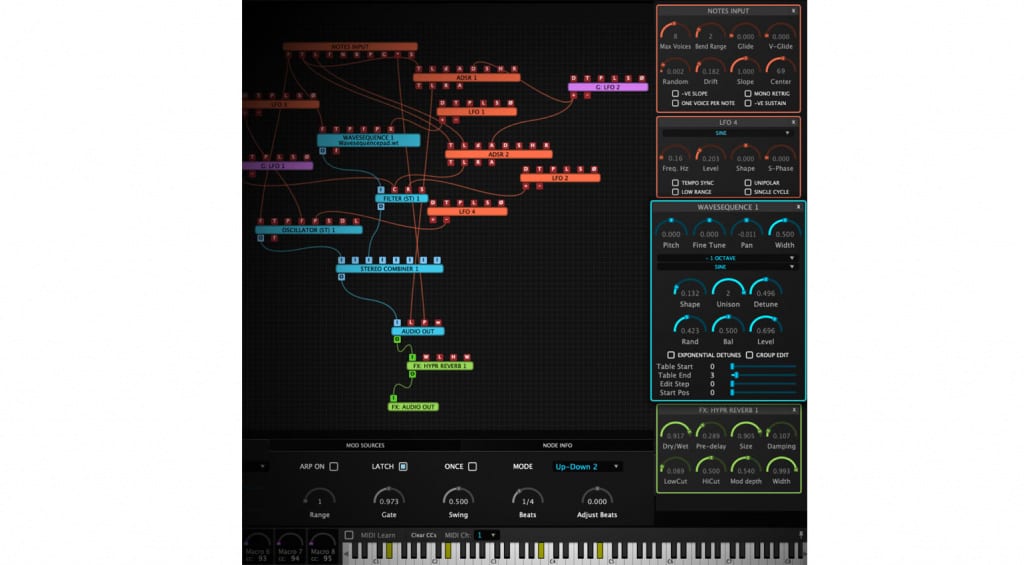 It looks complex and a bit daunting. Tracktion says that this is "Digital Modular for the Masses" but I'm not entirely sure that the masses are into this level of deep diving modular. It's a bit like Reaktor before Native Instruments thought it would be a good idea to wrap up the modular in a nice looking and more accessible interface. However, for the more adventurous then this is a stunning playground of synthesis and sound design that will have you get lost in the interconnectivity of nodes for the rest of your life. Listening to the demos it does sound amazing and could be a real alternative for people who find Reaktor a bit fiddly. Tracktion never treat you like an idiot, they expect to step up to the challenge of their software and I've found in using Waveform and their other software that it's always worthwhile and immensely rewarding. So, don't be afraid, this is going to be awesome.
Hyperion is available now for macOS and Windows for an introductory price of $99.
More information
Video
Image Sources:
Tracktion Hyperion: Tracktion
tracktion-hyperion-notes: Tracktion