Guitar Gear Gems: Diamond are back, plus the Wylde Audio Thoraxe
Diamond are back!
This week on Guitar Gear Gems we check out the newly relaunched Diamond pedals, which sees the effects brand now owned by SolidGoldFX back from the brink of extinction. Then we take a look at the latest Wylde Audio Thoraxe model, designed for players that want extreme tone and looks.
Diamond
The Diamond brand is now owned by SolidGoldFX and was essentially saved from going under. These are being built in the SolidGoldFX facility in Montreal, but are retaining their independence.
Their new pedal lineup consists of the Diamond Compressor, Diamond Bass Comp/EQ, Diamond Drive, Diamond Memory Lane Delay and the Diamond Tremolo.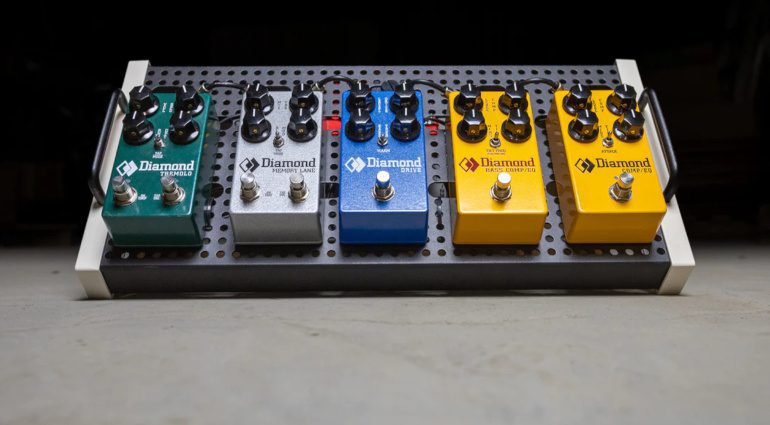 Updated
Each pedal is now available in a smaller format with top-mounted jacks which will suit cramped pedalboards and essentially gives guitar and bass players all the old classics. There have been a few tweaks here and there to the original designs, that bring them up to date and will make them more flexible,
It is great to see the name back up and running and hopefully, there will be new designs going forwards. Check out the newly redesigned models in the video below.
Wylde Audio Thoraxe
The new Wylde Audio Thoraxe looks like it is based on the BC Rich Mockingbird, especially with that extreme body curve and horns.
They feature a mahogany body, paired with a three-piece maple set neck that has a  Zakk-C profile and an ebony fretboard with 22 jumbo frets, a 14 ′′radius and mother-of-pearl runes for fret markers.
They are very Zakk Wylde in appearance and style, so perfect for that hard-rocking pentatonic thing that he does.
Extreme Finish
It comes in two finish options Transparent Black Burst over a quilted maple veneer and the more extreme-looking Tortoise Psychic Bullseye Gangrene. The latter one is certainly a little vomit-inducing and wild. Think of the film Vertigo, but on acid and it evokes that perfectly.
EMG
The electronics and hardware consist of a set of active EMG humbuckers, with an 81 on the bridge and an 85 in the neck position. These are controlled by three, speed knobs (volume/volume/tone) on the lower body side along with a three-way pickup selector switch.
In addition, there is hardware from TonePros (TOM and Tailpiece), plus a set of  Grover tuners and a Graph Tech XL Ivory Tusq nut.
The Wylde Audio Thoraxe is built by Schecter and retails for USD 1399
This post contains affiliate links and/or widgets. When you buy a product via our affiliate partner, we receive a small commission that helps support what we do. Don't worry, you pay the same price. Thanks for your support!
Image Sources:
Diamond are vack!: Diamond
Wylde Audio Thoraxe: Wylde Audio
Wylde Audio Thoraxe: Wylde Audio