Guitar Gear Gems: Charvel Marco Sfogli, Gibson Digital Amp and more
Purple signature guitars signature pickups, digital amps, wireless pedals and farts in a can?
Guitar Gear Gems this week checks out the latest Charvel signature Marco Sfogli model and takes a brief look at the newly updated Gibson App, which now features a built-in amp and the latest Boss wireless footswitch. Plus we check out some new signature gear for MonoNeon and J Mascis. 
Charvel Marco Sfogli
The new Charvel signature model for Marco Sfogli is based around a Pro-Mod So-Cal Style 1 and comes with active EMG pickups in an HSS layout. This EMG SA/89 HSS configuration gives you plenty of tonal options and lots of useful in-between/split tones as well.
Pickups & Hardware
Those tonal options come via a push/pull tone control for the EMG 89 bridge pickup, and it has the standard master volume and five-way pickup selector. A black Floyd Rose 1000 locking trem system, Luminlay side dots and heel-mount truss rod adjustment wheel all come as standard. It also has matching black hardware throughout and a black pickguard.
It is finished in a Transparent Purple Burst that covers a quilted maple cap on an alder body with shedders cut heel for better upper fret access. Then you have a graphite-reinforced caramelised maple neck and fretboard with a 12"-16" compound radius.
MSRP – USD 1599.99 *
Fender J Mascis Signature Jazzmaster Pickups
These Fender J Mascis Signature Jazzmaster Pickups supposedly get you close to the Dinosaur Jr frontman's favourite Jazzmaster tones. This is a bit odd, as he is known for using Seymour Duncan Antiquities in his guitar's live.
Alnico 2
These use Alnico 2 rod magnets for what is described as a warm, sweet output by Fender. They are also wax potted to keep the noise down.
MSRP – USD 129.99
Gibson Digital Amp
The Gibson App now features a built-in Digital Amp so you can plug in and play along. Currently, it is only for Apple iOS devices, but they state that a version for Android should be available next year.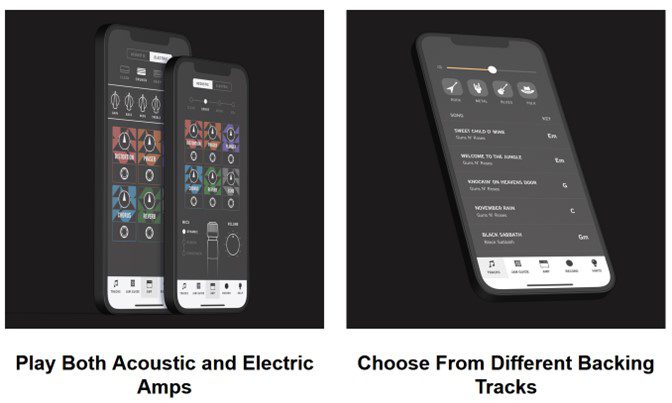 This handy little amp comes with 3 acoustic mic presets, 4 electric amp presets and 6 effects pedals. It allows you to play along with your favourite backing tracks and practice.
You can download the iOS version here and this version has the new Digital Amp feature. Or the Android version from Google Play here
Boss FS-1WL
The new Boss FS-1WL is a wireless footswitch that not only switches certain Boss amps via Bluetooth but can also control things in the DAW. For example, YouTube videos. Or you can turn pages over at tab or Notation software.
It will run from two AAA batteries or you can use a standard 9-volt power supply.
You can order one for 129 euros*
MonoNeon Fart Pedal Signature
There is now a MonoNeon signature version of the Fart Pedal.  The sounds in the pedal are "inspired by MonoNeon" … whatever that means.
Wouldn't be the first time famous people sold farts for a lot of money. I would guess that his recent signature Fender bass may be more useful to most musicians though.
Sealed in a can
Available for 200 USD directly from the manufacturer, in addition to the pedal with its custom paint job, there is also an aluminium can as packaging, a pick and a sticker.
Probably an unopened collector's item in years?
* This post contains affiliate links and/or widgets. When you buy a product via our affiliate partner, we receive a small commission that helps support what we do. Don't worry, you pay the same price. Thanks for your support!
Image Sources:
Transparent Purple Burst: Charvel
 Fender J Mascis Signature Jazzmaster Pickups: Fender
Acoustic and Electric Amps: Gibson
Boss FS-1WL: Boss
MonoNeon Fart Pedal Signature: Fart Pedal