Guitar Gear Gems: Audiosingularity Neurontube offers a free Soldano SLO for your DAW
New and old guitar tones. Both modern virtual ones and 1960s Hendrix-inspired effects pedals
This week on Guitar Gear Gems we check out the new Audiosingularity Neurontube software, which offers two classic guitar amps, cabs and effects for your DAW. Best of all though, it is completely free of charge. Plus, Thomas McRocklin has just launched his own plugin company, PolyChrome DSP and so we take a peek at that. Finally, we have a quick peek at the new Dunlop Authentic Hendrix '68 Shrine mini pedals.
Audiosingularity Neurontube
The Audiosingularity Neurontube plugin works in your DAW or standalone and it offers both the Soldano SLO-100 and Laney TF300 virtual amps. Along with matching virtual cabinets and a selection of built-in virtual effect pedals.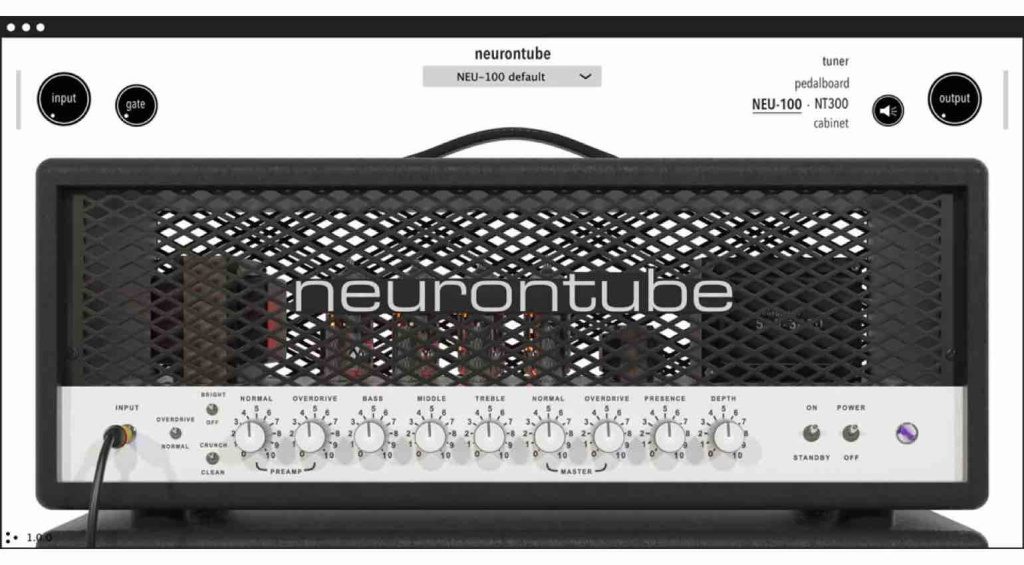 Virtual Cabinets
It includes a  4×12 Vintage 30 Marshall 1960 Lead A cabinet model and a 4×12 Vintage 30 Modern American cabinet. The Laney TF300 combo comes with a 1×12 HH Invader speaker.
Effects List
COMPRESSOR: a compressor pedal, BURN: distortion/fuzz pedal. CHORUS: chorus pedal, TIME MACHINE: delay pedal and  THE ROOM: a studio room reverb pedal.
It also contains a tuner, input/output level control, input/output level metering, noise gate control, preset editor, amp selector, a pedalboard section, amp section, cabinet section and mute button.
The software is being developed in Brazil and you can download it for free by registering at the site.
Formats
64-bit VST3 / AU (macOS only) / Standalone app. Works on: Windows 10
OSX 10.12 to up-to-date macOS versions
Linux Debian distros (tested on Linux Mint and Ubuntu
PolyChrome DSP
PolyChrome DSP is the new plugin company launched by Thomas McRocklin and it features practically everything you need to get a tone like Mr McRocklin. These days he has a very successful YouTube channel, though you may remember him as the kid that used to hang out with Steve Vai.
He famously appeared as a young Vai in The Audience is Listening video during the Passion and Warfare period.
Introductory Price
The plugin comes with nearly 400 presets and offers built-in effects to complete your guitar tones. It includes four basic amp types labelled clean, acoustic, edge and gain voicings. Plus it has  15 speaker chains, three reverb algorithms and four drive pedals to help you craft your tones.
Super Low Latency
The McRocklin Suite runs at a very low latency of just 0.045ms. That's zero point zero milliseconds, which is practically negligible and could make for an amazingly reactive playing experience.
PolyChrome DSP is available to download now for the introductory price of $99 down from the regular price of $149.
Formats VST, AU, CLAP or Standalone. Windows or MacOS versions are available on launch.
Dunlop Authentic Hendrix '68 Shrine mini pedals
The Dunlop Authentic Hendrix '68 Shrine mini pedals are the latest new paint job for the Hendrix-inspired effect series. These four new Hendrix-inspired compact pedals are due out around the 1st of March.
New Art
The set of four includes a Fuzz Face, Uni-Vibe chorus/vibrato, Octavio fuzz and a Band of Gypsys Fuzz. Each comes with new artwork inspired by John Van Hamserveld.
Essentially, they are just the same pedals as before. Though, there have been a few versions of artwork over the years, including the one below* from the last limited edition run.
Just now they come in a new psychedelic paint scheme based on the Shrine Auditorium concert poster, which was designed by John Van Hamserveld and was first published way back in 1968.
One for collectors?
MSRP – USD 149.99 each
* This post contains affiliate links and/or widgets. When you buy a product via our affiliate partner, we receive a small commission that helps support what we do. Don't worry, you pay the same price. Thanks for your support!
Image Sources:
audiosingularity-neurontube-debut: Audiosingularity
Effects: Audiosingularity
PolyChrome DSP: PolyChrome DSP
Dunlop Authentic Hendrix '68 Shrine: Dunlop