Groove Synthesis Introduces 3rd Wave Desktop Wavetable Synth Module
Groove Synthesis expands their 3rd Wave offering with a new desktop version for those of us with a little less space (and budget!).
It's barely a year since new kids on the block, Groove Synthesis, unleashed the 3rd Wave on an unsuspecting synth world. An unashamed homage to the mighty PPG Wave of the 1980's, 3rd Wave was an instant smash. It garnered amazing reviews from all corners. Not only was it a hit sonically, its style, build quality and functionality were hugely impressive. And now we have a desktop version for a more compact wavetable experience. It also had some brilliant brains behind it, with a team led by Bob Coover, a veteran programmer with a resumé that includes Sequential, AVID and Apple. Let's check the specs of the new Groove Synthesis 3rd Wave Desktop…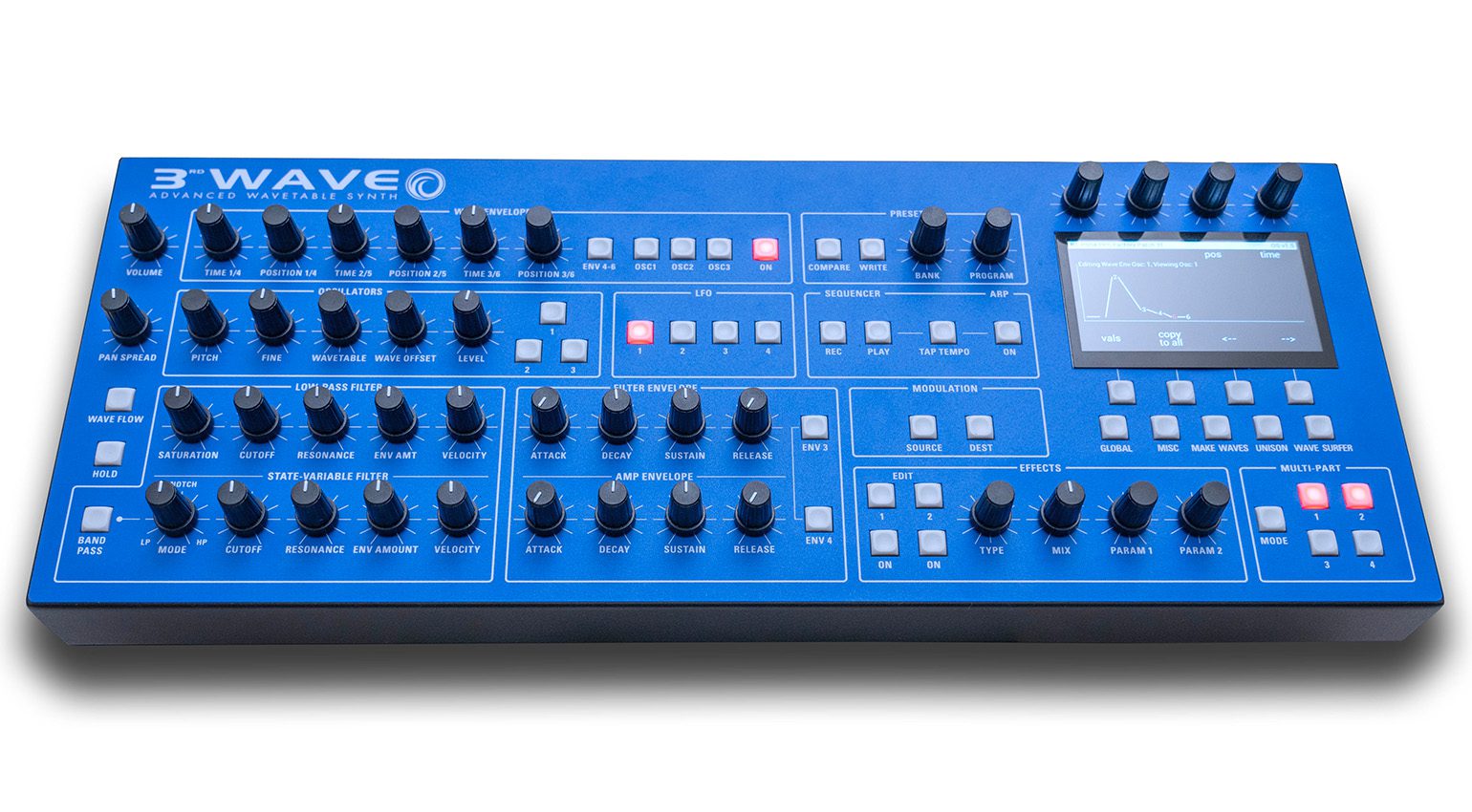 Features
This new compact unit eschews the keyboard whilst retaining all the features we have come to love about the 3rd Wave. All the connections remain too. It seems the only compromise is a few knobs and buttons. In case you've forgotten, 3rd Wave has 3 oscillators per voice, analogue low pass filters, a digital state-variable filter and multi-stage wave envelopes per oscillator. It also replicates and expands on the original PPG feature of allowing users to create custom wavetables using their Wave Maker™ tool.
As we already know, the 3rd Wave is MUCH more than a PPG Wave replica. It has way more wavetables and filters, boasting a Dave Rossum-designed 2140 analogue low pass filter. There's also a second SEM style state-variable filter which can also be used in series with the other filters. The desktop version retains the keyboard version's 24 voice, 4-part multi-timbral capability and all of its other sound shaping features. More recently, the 3rd Wave firmware was updated to include MPE compatibility when connected to an MPE capable controller.
More Information
The 3rd Wave Desktop delivers all of the sonic power of its larger sibling but with a reduced footprint and lower price. If you have been hankering after one, this might just tip the balance for you! The 3rd Wave Desktop will be available in November 2023 and has an MAP of $3,495 USD. It will be available globally via their global network of international dealers.
Image Sources:
Groove Synthesis 3rd Wave Desktop: Groove Synthesis