Gretsch Double Platinum Collection: 140 years of "Great Gretsch Sound"
Gretsch seems to have been making great guitars for what feels like forever. Almost! To celebrate their 140th birthday, six new guitars arrive in the Gretsch Double Platinum Collection. Are these just hyped-up birthday presents, or worthwhile axes? Lets's have a look…
G6136T – 140 LTD 140th Double Platinum Falcon
Introduced in 1954, the Falcon looks timeless. This Double Platinum guise captures that 50s flare with a Solid Adirondack Red Spruce top and maple back and sides.
What isn't so 50s, are the all-new FT-67 Filter'Tron humbucking pickups; A welcome addition for modern playing.
G6134T-140 LTD 140th Double Platinum Penguin
Similarly, the Penguin gets those new FT-67 Filter'Tron humbuckers. However, this time they accompany a chambered mahogany body. With the two-tone nitrocellulose paintwork, you get unmistakable Gretsch looks and sounds.
G6118T-140 LTD 140th Double Platinum Anniversary
Breaking the theme here, this G6118T comes in a cold shade of white. This time, we also have 22 medium jumbo frets and an Adjusto-Matic bridge for maximum versatility. Also sporting the String-Thru Bigsby.
G5420T-140 Electromatic 140th Double Platinum Hollow Body
Here's another Jet Hollobody, but this time in Two-tone Pearl Platinum and Stone Platinum. Bigsby? Check! FT-5E Filter'Tron pickups? Check! Snazzy limited edition aesthetics? Why of course…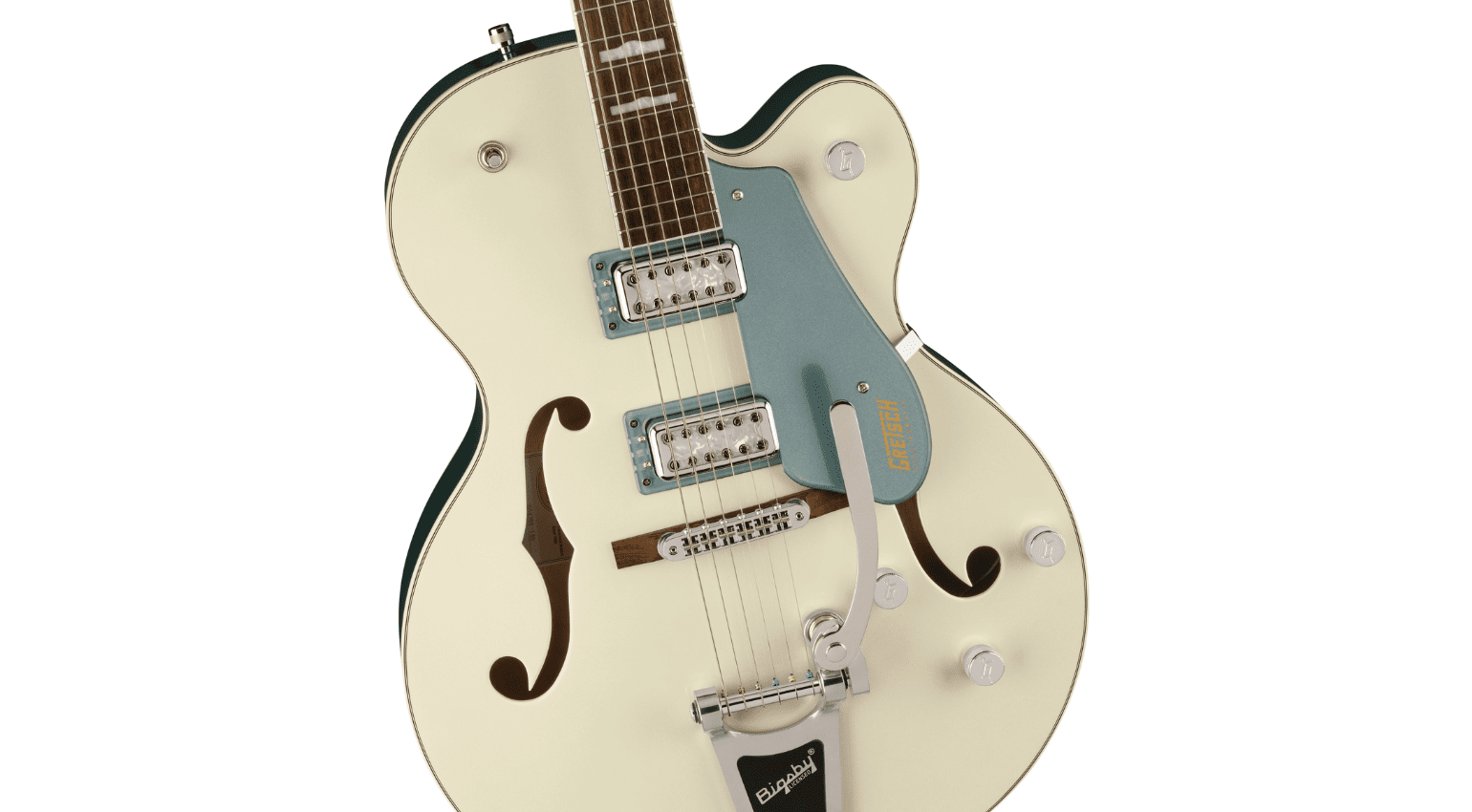 G5622T-140 Electromatic 140th Double Platinum Center Block
Bringing back the blues with this one. Twin F holes with white binding contrast some of the other models. On offer this time are:
Double Cutaways
Spruce Center Block
12-inch radius laurel fretboard
My personal favourite of the Gretsch Double Platinum Collection, this model features a pair of Broad'Tron humbuckers, which will pack a real punch as well as cleaning up effortlessly.
G5230T-140 Electromatic 140th Double Platinum Jet
Originally, the Jet was a solid-body contemporary to Gibson's Les Paul. Today, you can bag yourself a cool revision of a classic design at a reasonable price. Offering the obligatory Bigsby with a maple top should give a similar tonal bite as other classic singlecuts.
You'll find a pair of the new FT-5E Filter'Tron pickups here, whose medium/low output should make this a versatile guitar.
140th Double Platinum Collection
Aesthetics are, of course, a matter of taste; however, I personally think the Gretsch Double Platinum collection looks superb! All models come with Gretsch's iconic String-Thru Bigsby; rockabilly shimmies are just a "Duane Eddy" away!
There's a nice cross-section of solid-body, Jet Style guitars, along with semi and fully-hollow-body designs. It's also nice that there are more affordable, Electromatic versions available. You don't need a platinum credit card to buy a Platinum edition, Gretsch!
Video:
For further information on Gretsch:
https://www.gretschguitars.com/
Image Sources:
G6136T-140 LTD 140th Double Platinum Falcon: Gretsch
G6134T-140 LTD 140th Double Platinum Penguin: Gretsch
G6118T-140 LTD 140th Double Platinum Anniversary: Gretsch
G5420T-140 Electromatic® 140th Double Platinum Hollow Body: Gretsch