Gretsch Electromatic Jet BT and Baritone get a refresh for 2022
The Electromatic Series gets a refresh for 2022
These Gretsch Electromatic Jet models are wallet friendly and now come in a range of new colours for 2022, along with a baritone model. Offering classic styling at and vintage looks, these are certainly worth a look for any budget conscious guitarists.
Gretsch G5220 Electromatic Jet
The Electromatic series is Gretsch's budget line of guitars. Made in the Far East and therefore cheaper than the US or their high-end Japanese models. We recently saw their Classic Hollow Body Series get an update for 2022, and now we have more colours and a baritone for the Jet models.
2022 New Colours
There are three new colours this year: Bristol Fog, Midnight Sapphire and Jade Grey. Furthermore, the G5220 receives the well-known, chambered mahogany body with a maple top and a set of  Broad'Tron pickups. Another visual special feature is the  V-stoptail which suits the aesthetics of these models nicely.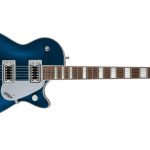 Gretsch G5220 EMTC Jet BT Mid.Sapphire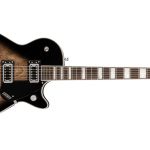 Gretsch G5220 EMTC Jet BT Bristol Fog
Left Handed
There is also a left handed option. It's a pity that it is only Jade Grey though.  Plus there is an up-charge of around 100 USD more. I'm not a fan of left-handed models with price increases, especially when they are knocked out by a factory and are machine cut.
Baritone
Finally, there is the Electromatic Jet baritone, which is equipped with a mahogany body, a screwed instead of glued maple neck with 12′′ Laurel fretboard and 22 frets. In total, it comes to a 29.75′′ scale. In addition, two in-house mini humbuckers and the reduction of the controls to master tone and master volume. However, the control for bass contour is once again missing. Especially with a model that is made for low tones, this is a bit of an oversight surely?   The baritone is now available in Bristol Fog, Midnight Sapphire and Imperial Stain.
More Gretsch Information
Gretsch Demo Video
Image Sources:
Gretsch Electromatic Jet BT Midnight Sapphire: Gretsch
Gretsch Electromatic Jet BT Bristol Fog: Gretsch
Gretsch G5220 Electromatic Jet in Jade Grey: Gretsch
Gretsch Electromatic Jet BT left handed in Jade Grey: Gretsch
Gretsch G5260 EMTC Jet Baritone BF: Gretsch