Godin Stadium HT: A modern T-style with a vintage feel
The new Godin Stadium HT is the latest model from the Canadian guitar maker. This new model manages to blend modern playability with a certain vintage feel. 
Godin Stadium HT
The Godin Stadium HT comes factory fitted with two single coil pickups, a Custom Godin Cajun in the bridge, and a Godin GGS-3 in the neck position. Switching between pickups is via a slanted three-way pickup selector, which should feel more natural and follows where your hand would land naturally. You get the traditional master volume and tone controls on the vintage-style control plate, so it feels like a T-style guitar straight away.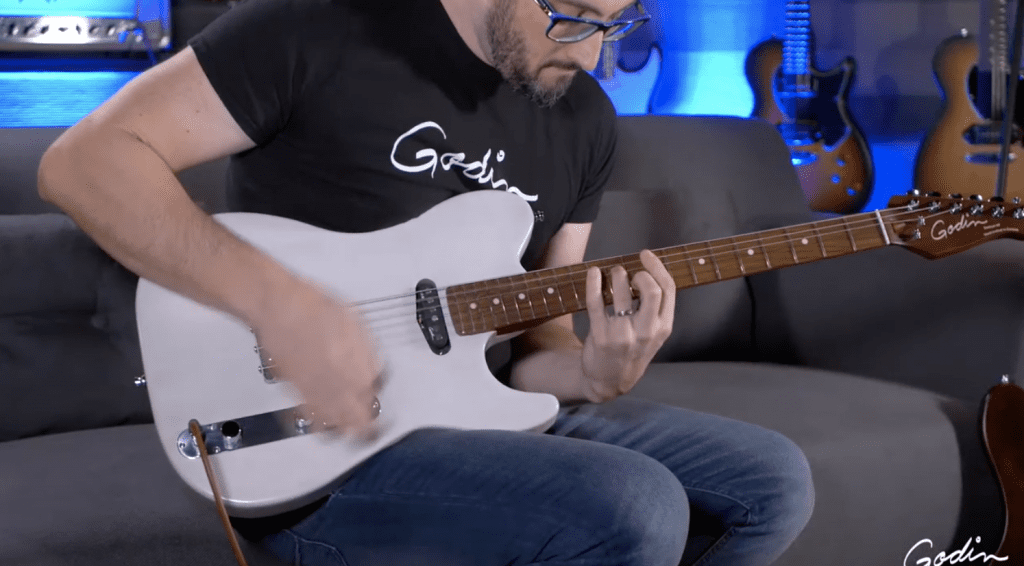 String Through
The guitar has a traditional ashtray type bridge that you might associate with a Tele. It is a string-through body with three brass saddles, so it should sound like one too. Again, the bridge is a modern design, cut nicely to allow easy fingerpicking and shouldn't get in the way when you are playing.
Canadian Laurentian Basswood
The body is made out of super lightweight Canadian Laurentian basswood and the neck is made of hard rock maple. You can order the guitar in either Trans White with a rosewood fingerboard, or Matte Black and Havana Brown with a maple fingerboard. All the finishes look classy and understated.
I think the lightweight basswood is a good choice for a T-style singlecut, and with Godin you can expect a high level of build quality. All these details should make these new models very good indeed.
In my opinion, the Stadium HT manages to straddle both modern and vintage territories quite well.
RRP – EUR 799
More Information
Video
Image Sources:
Godin Stadium HT Trans White: YouTube/Godin
Godin Stadium HT Trans White: Godin Guitars
Godin Stadium HT Matte Black: Godin Guitars
Godin Stadium HT Havana Brown: Godin Guitars