Give your Fender Stratocaster the 'Gilmour' mod with 7-way switching!
Get 7-Way Gilmour wiring on your Stratocaster with this easy modification
Ever wanted to make your Stratocaster more versatile tonally? How about modifying the switching on your guitar to give you new pickup combinations? The simplest of these is the 7-way switch, also known as the "Gilmour mod". This adds more tones to your guitar with minimal modification. Even if you've never used a soldering iron before, you'll be able to accomplish this quickly and easily.
The Gilmour Mod
Back in 2011, Fender Custom Shop released a David Gilmour model that used his 7-way wiring and a recessed mini switch positioned between the Volume and Tone controls of the guitar. And you can modify your Strat to get the same tones! It's easy to do. The "neck and bridge on" setting is very similar to a Telecaster's middle position, which is something a Strat won't do as stock. All three pickups on in parallel is also a useful tone, too!
Switches
My first tip would be to upgrade your guitar's switches, especially if they use those cheap Chinese plastic covered versions, as it will make them more reliable and less prone to cracking/noise. Companies like Oak Grigsby make great quality switches that I would recommend. Because they are so well made, they are easy to maintain and often used by Fender on their USA-built guitars.
If you have never used a soldering iron, then I would suggest you read my article here on the basics of soldering. You may also want to check out my article here on upgrading your potentiometers.
The neck pickup modification
This modification is so simple because it requires no rewiring of the original circuitry. All you do is add a tiny switch to the hardware that's already there. This simple mod will keep all of your Strat controls as they are and keep your stock wiring. But it will give you seven pickup combinations instead of the standard five.  The two new pickup combinations are 1) neck/bridge and 2) all three pickups engaged simultaneously in parallel.
To add the mini-switch to your guitar, you need to drill a small hole to accommodate it on your pickguard. Just like David Gilmour did on his famous Black Strat. Then you'll have to decide which one. There are three different mini-switch types you you can use.
First is the SPST (single-pole single-throw switch). This uses just two terminals. With a SPDT (single-pole double-throw switch), you use the centre terminal and either of the outer terminals. Last up is the DPDT (double-pole, double-throw switch). This will also work if you wire it in the same way as the SPDT switch but only use the terminals along one side.
Wiring
The wiring itself is simple. All you need to do is follow the simple diagram below. You can see the extra wires (red) that you must solder to add this extra neck pickup option to your existing wiring. No need to remove any of the wiring already in place, just add these extra wires to complete the modification.
With the centre pin off the mini switch, you can solder it either directly to the switch or the Volume pot lug. Because they are both ends of the same connection. The outer pin on the mini switch is wired to the neck pickup lug on the five-way switch (the red wire at the bottom top the diagram).
This mod adds your neck pickup to any of the other pickup combinations. You are essentially taking one wire and soldering it to the neck pickup contact on your five-way switch and the other wire is going to the outer lug on the same switch.
Video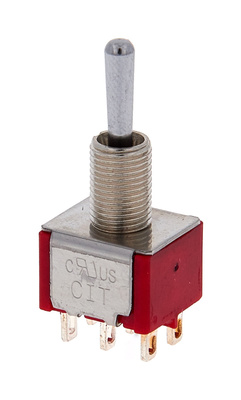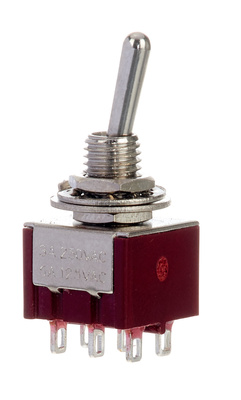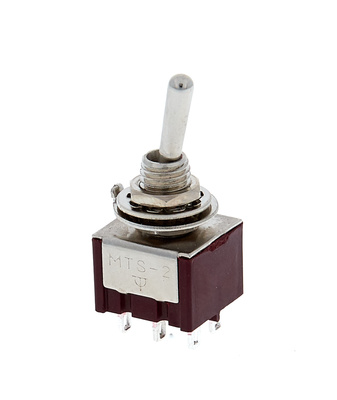 Harley Benton Parts On-Off Mini Switch S/W
Video
Here's a video by S&S Customs that takes you through the mod step by step. In this video they wire the middle red wire to the opposing lug on the 5-way switch, which is actually the same as in our diagram, above, but soldered at the other side of the switch. If you follow the 'circuit' you will see that the two opposite sides of the switch are actually wired together, so it will work on either of those lugs. Or as I mentioned earlier, you can just attach it to the Volume pots outer lug instead, as it too is part of the same connection. So you have three points of possible attachment to choose from.
Running into problems doing the mod? Drop me a line on the comments below.
Note: This article contains advertising links that help us finance our site. Don't worry: The price for you always remains the same! If you buy something through these links, we will receive a small commission. Thank you for your support!
Image Sources:
Göldo EL11C Mini Switch SPDT: thomann
Dave Gimour Mod Circuit Diagram: gearnews.com