First look: Tonesturm SPCTRL EQ makes equalizer plug-ins fun again
Most equalizer plug-ins are strictly corrective tools and are very good at that. Developers exploring the equalizer's creative potential are much rarer. Tonsturm turned that into a specialty of theirs. Before they went all out with SPCTRL EQ, they made FRQ Shift – not an equalizer, but a dual frequency shifter with modulation and feedback effects. If shifting frequency ranges around is that much fun, why not create a whole equalizer like that? That's the line of thinking behind SPCTRL EQ.
A sound designer's EQ
SPCTRL EQ lets you shape up to 4096 individual frequency bands using a very flexible curve editor, then twist them around with modulation and DAW automation. If you think filter sweeps are cool, SPCTRL EQ unlocks the other 90% of frequency correction's creative possibilities.
The plug-in uses a modern user interface that's dark and uncluttered. The top section has settings, presets, and four user modes. In Vector Edit mode, there's the vector curve editor where you can freely draw custom EQ curves over the frequency spectrum. You can add anchor points, change the scaling algorithm (Linear, Logarithmic, Custom Logarithmic) and adjust the input signal gain. It is also possible to draw separate EQ curves for the left and right audio channels by simply unlinking them.
In Shape mode, you can start from four preset shapes and edit them to your heart's content. Editing options include curve bend, duplicate, and skew. The shape can be tweaked further in Vector Edit mode.
Transform mode combines Shape mode with real-time modulation controls. The Amount parameter lets you interpolate the EQ shape. The Shift parameter moves the curve left or right similar to a phase offset. The Stretch control widens or narrows the curve, thereby extending or reducing the shape. Skew bends the curve to the left or right. When the stereo channels are unlinked, Spread phase offsets the curves of the individual channels.
Mode four is the Modulation section which is borrowed from the developer's FRQ Shift plug-in. The modulation engine is powerful, to say the least. The available modulators are LFO, Random, Custom LFO, and Envelope Follower. They can modulate almost all plug-in parameters, animating the controls so the filter shapes dance along to your track. The modulators can modulate each other, too.
If DAW automation is more your thing, you'd be happy to know that all modulation parameters can be assigned to a host automation slot of your choice. Parameters that are not part of the modulation section are already found in the host automation list. This way, setting up automation is a breeze.
Below the top section are the DSP settings where you can change the number of FFT band and adjust the Clean and Response parameters. The former is like a noise gate that removes frequencies when they are lower in volume than others. The latter changes this noise gate's response time to prevent pumping or excessive smoothness. The section is complete with Low and High cut filters for the output signal. Below, you'll find input level, dry/wet mix, Mid-Side toggle, Soft Clip toggle, and output level controls.
Verdict
SPCTRL EQ is the most fun I've ever had with an equalizer. The freedom to mess with and animate EQ shapes is astounding, yet the plug-in is quick and intuitive so it never feels daunting. The DSP and user interface work is exemplary, making for a cutting-edge sound design tool that's easy to grasp. I wonder if Tonesturm can do something along the same lines with dynamics processing. Modulated compressors might turn a track into a mastering engineer's nightmare, but it could be worth it!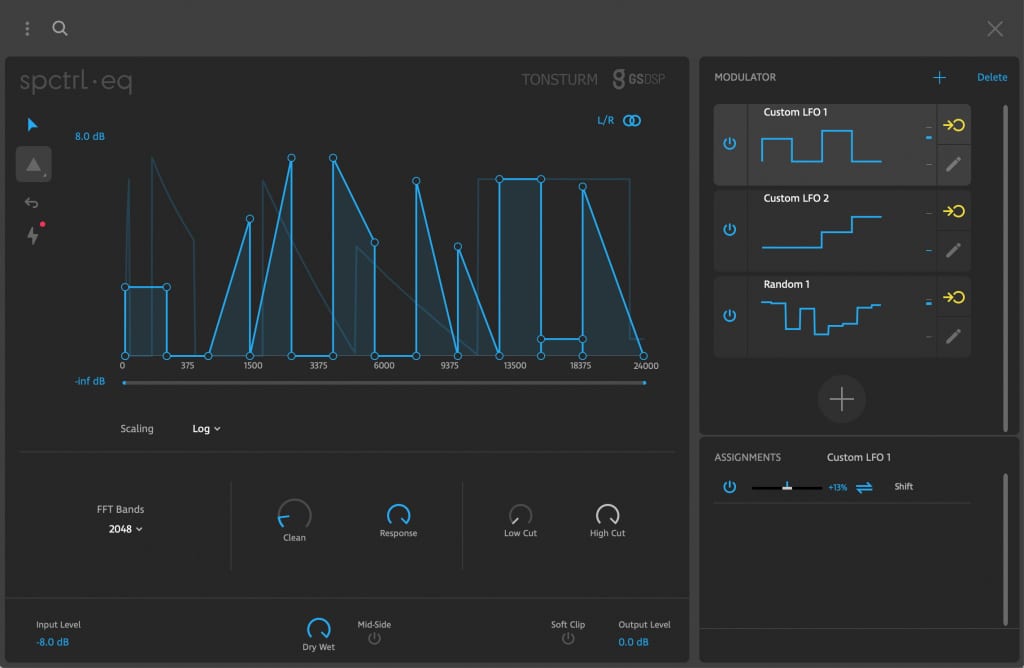 Price and availability
SPCTRL EQ costs USD 99 and is available in 64-bit VST, VST3, AAX, and AU formats for Windows 10 and macOS 10.11+ computers. It uses iLOK for authorization with machine and USB dongle license options. A free 14-day trial version can be downloaded from the developer's website.
More information
Video
Image Sources:
SPCTRL EQ Edit Mode: Tonsturm
SPCTRL EQ Shape Mode: Tonsturm
SPCTRL EQ Transform Mode: Tonsturm
SPCTRL EQ UI Screenshot: Tonsturm