Dreadbox Murmux V2 Limited Edition desktop analogue synth – The Beast is back
Hand-built desktop synth to be produced in exceedingly low numbers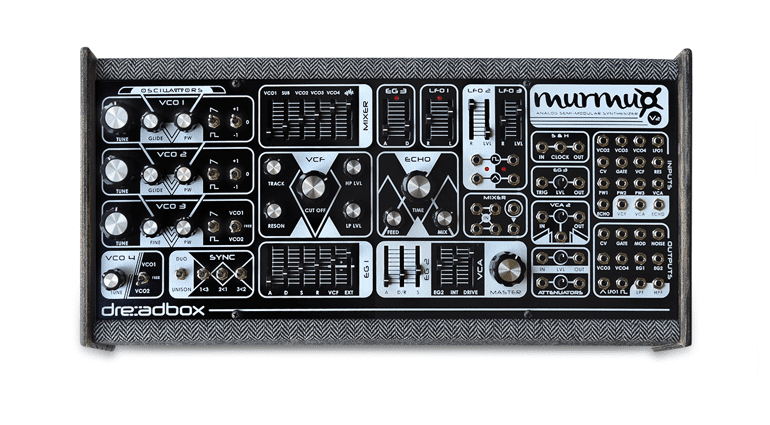 Murmux V2 desktop analogue paraphonic eurorack synth · Source: http://www.dreadbox-fx.com/synthesizers/
Murmux V2 desktop analogue paraphonic eurorack synth · Source: http://www.dreadbox-fx.com/synthesizers/
Dreadbox has released a very limited edition version of the discontinued Murmux. This new Murmux V2 is limited to 50 units worldwide, each hand built and sporting a beastly black finish.
The Beast
Each Murmux V2 is hand wired, soldered and the wooden enclosures are each handmade by Black Science, which are described as 'pieces of art' on the company website. Not sure I would go that far with the description, but the images on the website do look very good.
The Murmux V2 is an analogue paraphonic synthesiser which geared towards aggressive synth tones, according to their description, although they do also mention it can do more than just these. Make of that what you will, as there are currently no audio demos on the page, making it hard to judge their statement.
Specifications
Below I have listed the specifications from the site, to give you an overview of what you can achieve with the Murmux V2.
50x eurorack patchpoints for an ultimate modular experience
3x standard VCOs + 1x Sub Oscillator
1x hyper VCO (consisted of 6 sawtooth vcos)
White Noise Generator
The classic 4-pole Murmux VCF improved with 1V/oct tracking.
High Pass and Low Pass or Notch function
3x  Envelope Generators (2x ADSR and 1x AD)
3x LFOs (one of which is voltage controlled)
2x VCA (one patchable)
OTA Drive circuit
Hybrid Voltage Controlled Delay
Sample and Hold circuit
2x Passive Attenuators
2x 2 in 1 or 1x 4 in 1  Mixer
Audio Inputs and Outputs in various stages
Boutique Synth
To me it looks like an interesting synth. I do like eurorack style layouts as it's fun to use patch cables and you can easily see what you are doing. It's so much better than fiddly menus and navigating your way around on-screen plugins. My only gripe is the limited production run, but I can understand why as there is a lot of work involved building synthesisers like these.
RRP USD $1499 limited to 50 units worldwide
Murmux V2 limited edition details here
Image Sources:
Murmux V2 desktop analogue paraphonic eurorack synth: http://www.dreadbox-fx.com/synthesizers/
Murmux V2 desktop analogue paraphonic eurorack synth: http://www.dreadbox-fx.com/synthesizers/