Defeat Corona depression with these 10 online music collaboration tools
Making music with other people over the internet is easier than ever!
Yes, I know: Coronavirus is the only thing in the news, everything has been canceled, the music industry is headed for difficult times, and you've probably come here to read about something else for a change. That's why we've put together some tips on how to keep doing what you love, even in quarantine or self-isolation. After all, there's no better cure for Corona depression than music!
We've compiled a list of ideas for making music together in times of COVID-19 and self-isolation. Social distancing doesn't have to mean musical distancing! These tips can help you to stay in touch with your bandmates, get some much-needed distraction and prevent cabin fever. Cheer up and make some tunes!
Making music in times of self-isolation
Under normal circumstances, making music together is very much a face-to-face kind of activity. There's no doubt that getting creative is much easier when you're in the same room together. But we'll have to look for alternatives for the time being, as Coronavirus forces us to stay within the confines of our own home. Sadly, going out, meeting people and jamming together is not only an irresponsible thing to do right now, it may even be illegal, depending on where you are.
So what can we do? True, we could all just sit in our basements and home studios by ourselves, and for some, that may spark a burst of creativity. If that's what you intend to do, here's a list of 5 synths to take with you. Or we could fire up our video calling software and screen sharing tools, like Teamviewer (which is free to use right now), Skype or Facetime. Some of my colleagues are experimenting with giving music lessons online. But there are many more options for collaborating on the internet. Here are a few ideas, in no particular order.
Blend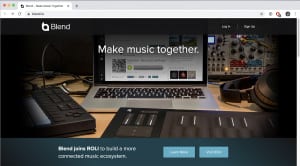 Blend lets you back up your DAW projects online and share them with friends or the community. Members can 'pull' each others DAW projects or stems to collaborate or remix. Project management and uploading/downloading is handled by Blend's dedicated desktop app. It works with most popular DAWs, including Ableton Live, Cubase, Logic Pro, FL Studio, and more. Blend also runs its own record label, which can help to get your tracks published once you've built a following in the community.
Splice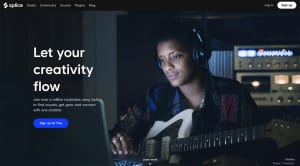 Splice Studio backs up your DAW projects in the cloud, where you can share them with others and collaborate. The platform also offers a huge library of royalty-free sounds, including exclusive artist packs, and you can browse, download and purchase plug-ins or enter one of their regular remix contests. Signing up is free, and there are various subscription plans for different types of content. Splice Studio currently works with Ableton Live, FL Studio, Garageband, Logic Pro and Studio One.
Kompoz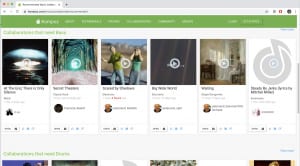 Kompoz is an open collaboration platform. Members can upload audio files of their ideas and invite others to add their own. The site lets you search for collaboration opportunities based on musical styles and instruments. You can also set up private collaborations with your friends or bandmates. When a collab is finished, you can share it with the community and publish it on SoundBlend. The basic plan is free, and there are various premium options that unlock additional features.
Soundstorming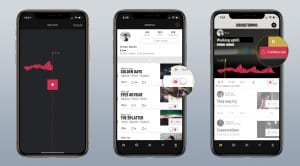 Soundstorming was founded by former Apple creative director Arnau Bosch. The app is like a musical social network, designed to connect artists from around the world. Soundstorming lets you record ideas, store them in the cloud and make them public or private. You can discover others' ideas and record on top of them, and others can add to your recordings. The idea is to spark collaborations through mutual inspiration. As of now, Soundstorming is free. It's currently only available on iOS.
Apple App Store: Soundstorming
ProCollabs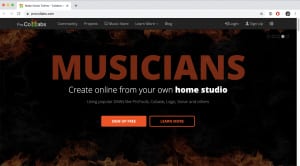 ProCollabs is slightly more focused on professional musicians. Applications are screened by staff to make sure that members are actually musicians. Once you're in, this means that you'll likely find many talented people to collaborate with. The site's project management features help to keep your collabs on track. ProCollabs also supports work for hire, meaning that producers can hire session musicians on ProCollab and you can make some money. Membership tiers range from free to USD 95/year.
Steinberg Cubase 10.5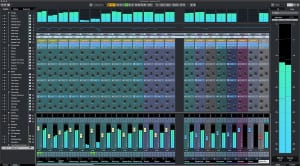 Now is the time to experiment with features which you may not have known existed. Cubase has had built-in collaboration tools for many years. The DAW  lets you work together remotely using VST Connect and VST Transit, no matter where you and your collaboration partners are waiting out the virus. Get together online and finish that track! Getting the settings right can be a bit tricky, but then it works quite well and there's even a video chat option.
BandLab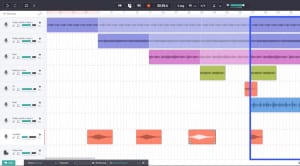 The online DAW BandLab is a free alternative. BandLab lets you collaborate with others over the web and work on tracks together. One of BandLab's major advantages is that it works on macOS, Windows, iOS, Android, even Chromebooks. This means that everybody can join in, and exchanging ideas is part of the concept. BandLab includes virtual instruments, effects, and even mixing and mastering tools. A great way to pass the time and get creative.
Bounce Boss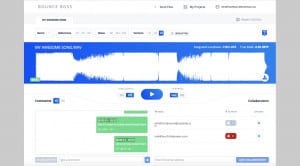 If you work with audio files and stems, Bounce Boss could be the platform for you. The service makes it easy to exchange audio files with others over the web. There's no collaboration in real time, but you can exchange feedback and suggestions with your bandmates or writing partners. Bounce Boss also lets you archive different versions of the same track and offers level-matched listening for easy comparison. The service isn't free, but there's a 30-day free trial.
Soundation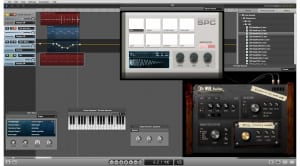 Soundation is a browser-based online studio that runs in Google Chrome. Even the free version offers many inspiring features to get you started, like royalty-free loops, virtual synthesizers, sample players, effects and DAW-style editing tools. If you decide to purchase one of their various subscription plans starting at USD 1.99/month, you get access to additional features like live audio recording and additional sounds. Soundation also offers a large online community for connecting with other users.
Beat.School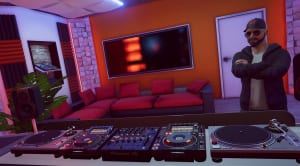 Here's one for the DJs. While you can of course join the live streaming wave and broadcast your mixes to an online audience via Facebook, Instagram or YouTube, you can also use your quarantine to sharpen your skills. Beat.School is an online DJ school and simulator, where you can learn the ins and outs of CDJs, DJMs and more in virtual training sessions. Beat.School not only teaches you how to use the hardware, but also trains your DJ ear. And that's what really matters! Beat.School runs on Windows, Mac and XBox. It's available on Steam and still in open beta on Steam Early Access. This means that you can join now for USD 19.99, which is 60% off the proposed price of USD 50.
More ideas
Finished your track? Or need some help with mixing and mastering? While it's a questionable idea to head to a physical studio right now, there are online options for that, as well. Services like Landr, Schnalz and Matchering offer online mastering of your tracks within seconds. For mixing, check out Analog Access for online access to actual analogue studio gear (yes, they have robots!). And of course, you can always browse our freeware plug-in archives, where you'll find lots of great free plug-ins to keep you busy during these strange times. Stay healthy and in good spirits, make some great music, and we'll make it through this.
Videos
(*affiliate link)
Image Sources:
blend-01: Blend
splice-01: Splice
kompoz-01: Kompoz
soundstorming-02: Soundstorming
procollabs-01: ProCollabs
steinberg-cubase-10-5-mixer: Steinberg
bandlab-01: BandLab
bounce-boss-02: Bounce Boss
Soundation_Studio_Google_Chrome: Soundation
beat-school_virtual_dj_school_1: Beat.School