Crazy Tube Circuits Unobtanium: Dumble + Klon
Combing two classic sought after circuits in one compact pedal
The new Crazy Tube Circuits Unobtanium combines two legendary circuits, the Klon Centaur and a Dumble. This must be such an unattainably good sound that the pedal immediately got the right name. But will it live up to all that hype?
Crazy Tube Circuits Unobtanium
The Crazy Tube Circuits Unobtanium has two sides, divided into "Dumble" and "Klon", two very popular, but not necessarily rare circuits. However, you don't see it in this particular combination every day. And it has a few added extras that make it really interesting.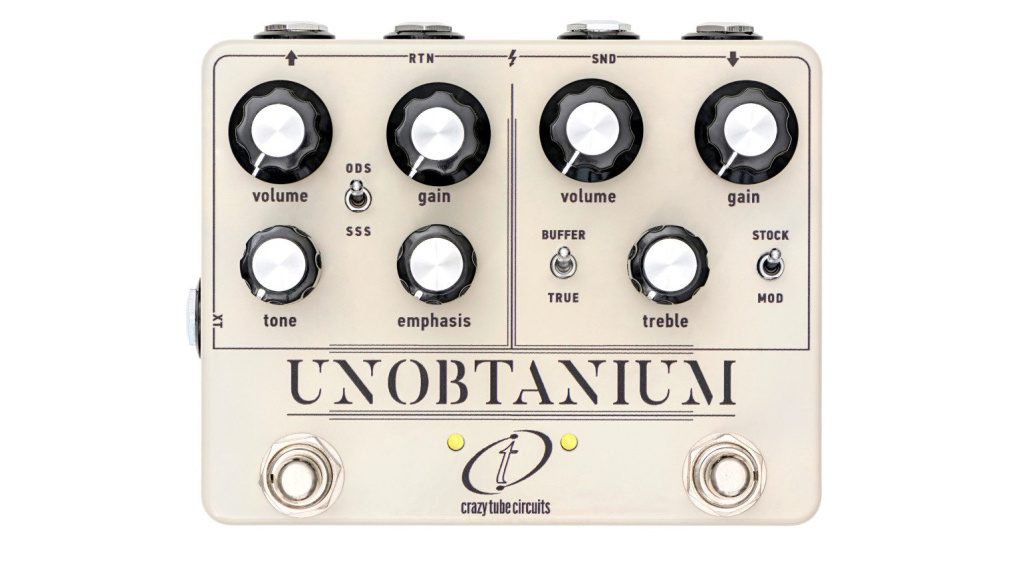 Dual overdrive
Both sides can be used individually or combined in series. On the left side, it has controls for the Dumble, gain, volume, tone and emphasis, as well as a toggle switch that switches between the overdrive circuits SSS (transparent, slightly cleaner) and ODS (more gain, more mids and overtones).
Inside the housing, EQ, volume and voicing can be adjusted more precisely via trim pots.
Klon
The right side is a Klone-style overdrive based on germanium diodes. With the three classic controls Gain, Volume and Tone. In addition, there are two toggle switches, one for the bypass mode between True and Buffer, as well as another for Stock/Mod, which influences gain and compression.
FX loop
There is also an effect loop with which you can loop in your own effects (such as modulation effects) between the two sides. This makes it more versatile, especially for more complex effect setups.
Internally it works at 18 V for more headroom using a conventional 9 V power supply. All the pedal connections are on the top of the unit. In addition, the effects are activated via relay footswitches, which should avoid any pops.
Also, it has an external footswitch input to select amplifier voicing and this bypasses the onboard toggle switch.
The Crazy Tube Circuits Unobtanium can now be ordered from the dealer of your choice for EUR 289 * (RRP). Delivery time is currently stated as 3-4 weeks.
More Information
Videos
* This post contains affiliate links and/or widgets. When you buy a product via our affiliate partner, we receive a small commission that helps support what we do. Don't worry, you pay the same price. Thanks for your support!
Image Sources:
Dumble meets Klon?: Crazy Tube Circuits
Extra controls inside: Crazy Tube Circuits