Chor'X 2.0 plug-in by Xils Lab: 4 flavors of vintage chorus with extra stereo width
Deal
Approximate reading time: 2 Minutes
Developer Xils Lab is going all in on chorus effects with its latest plug-in, Chor'X 2.0. It combines four kinds of vintage chorus effects with sophisticated bucket-brigade delay emulation and a True Stereo Dynamic Spatializer. Oh, grandma, what thick and wide vintage choruses you have!
Xils Lab Chor'X 2.0
Chor'X 2.0 lets you switch between Legacy and Advanced views depending on your needs. Do you prefer a quick set-and-forget workflow, or feel like really pushing the envelope with chorus effects? With the latter, Advanced mode lets you do things like moving the outputs in the stereo field, adjust LFOs, and change many of the internal chorus parameters. Still, the plug-in's main offering is four "patiently and accurately" modeled vintage choruses: Synthex, CS-80, Dim-D, and V+ 330. If you are a chorus freak, you know darn well what these stand for. Me, maybe not so much. Anyway, Chor'X lets you blend any of the four circuits together for sounds as subtle or freaky as you want them.
As vintage choruses sound particularly wide and are often applied for larger-than-life results, the plug-in puts you in control of a True Stereo Dynamic Engine where you can position audio sources within the stereo field – left and right, but also front, and back. This is how Xils is pushing old-school choruses into stereo widening territory. Other interesting features I'm pretty sure aren't present in chorus plug-ins are Impulse Threshold and Dynamic Modulations. The former lets you leave transients unaffected while adding chorus to only the tail of the instruments. The latter lets you add automatic dynamic changes to the rate and amount parameters of all delay lines.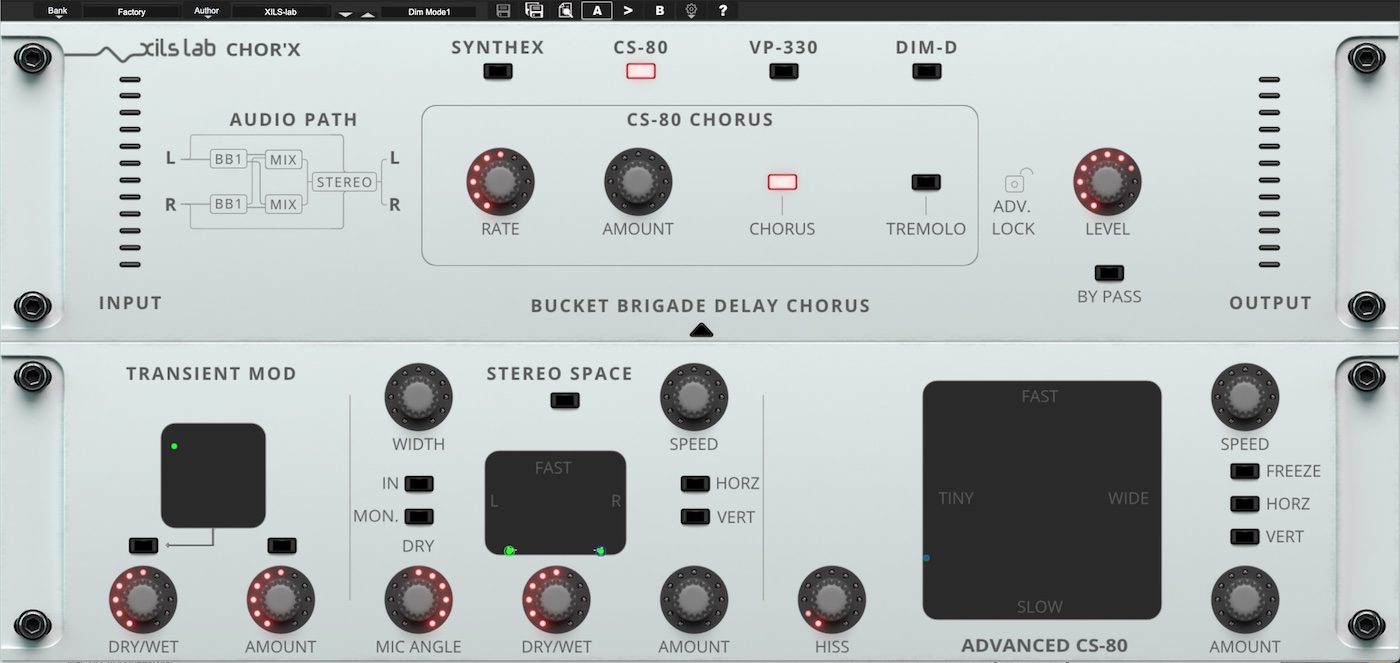 What can I tell you, Xils doesn't muck around with its extra finessed plug-ins, and Chor'X 2.0 is no exception. The introductory price is killer, so if vintage chorus is what you fancy, better not overthink it.
Xils Lab Chor'X 2.0 – Price and availability
For a while, Chor'X 2.0 is being sold for EUR 29, down from EUR 59. It works in the following formats:
Mac OSX 10.9 and later (64-bit only): VST, Audio Unit, AAX (native)
Windows 7, 8, 10 (32 & 64-bit): VST,  AAX (native)
More information
Video