Caelum Audio Schlap: A cool, aggressive hardware-inspired compressor plug-in
Expired
In 2020, developer Caelum Audio threw a pleasant surprise at us with its Tape Pro plug-in – a very in-depth tape saturation plug-in with really cool features. The same guys are starting 2021 on the right note with the release of Schlap – a hardware-inspired compressor plug-in.
Caelum Audio Schlap
Caelum describes Schlap as a "characterful, colorful and aggressive-sounding" compressor. It's a modern take on vintage program-dependent compressors with a user interface that looks unabashedly "digital" yet hides an analog soul. A program-dependent compressor automatically adjusts its attack and release settings through RMS peak detection of the input audio's average loudness level. This way, sudden short peaks and early transients are left uncompressed and make up for a punchy, hard-hitting sound.
Schlap's clean-cut GUI features Input level, Threshold, Ratio, and Knee controls for the compressor section. Another set of controls is dedicated to the sidechain signal – you can choose the internal filter or feed external audio, then apply variable high and low-pass filters. Auto-Gain and Stereo Link options are available above the sidechain section. An output level knob and three visualizers complete the interface.
The Ratio control operates in four ranges: 0.1:1 to 0.9:1 for expansion and gate effects; 1:1 to 20:1 for standard compression; ∞:1 for infinite limiting compression and -20:1 to -1:1 for characterful over-compression. Better know what you're going for in there!
All in all, this is an interesting compressor with a fresh take on old concepts and plenty of versatility. It probably won't be your thing if you are looking for a transparent compressor or an identical emulation of a particular unit, but Schlap does aggression and does it well!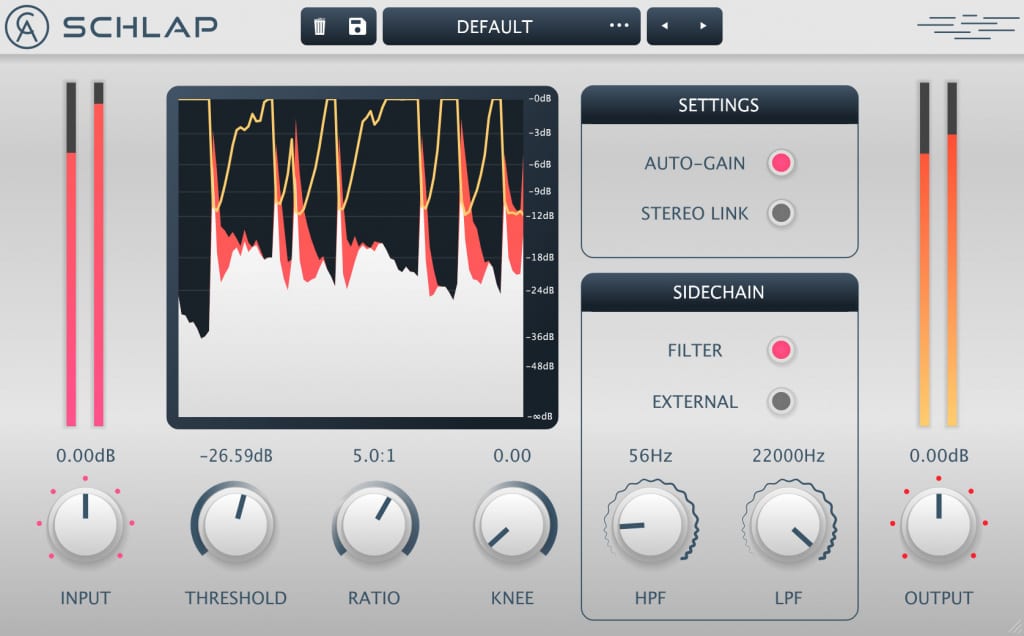 Price and availability
Normally GBP 15 on desktop and GBP 3 on iOS, Schlap is being sold for GBP 12 (desktop) and GBP 3 (iOS) until Jan 15. A free demo version and user manual are available for download – a Caelum Audio account is required. The plug-in is available in AU, AUv3 and VST3 formats for Windows, macOS and iOS devices.
More information
Video
Image Sources:
Caelum Audio Schlap GUI: Caelum Audio