Caelum Audio Flux Pro: new multi-fx modulation plug-in
Expired
Caelum Audio Flux Pro wants to prove a point – modulation is king! To that, it has 4 FX slots, 10 modulation effects, 48 modulation shapes, and 115 presets to get started. All that for the intro price of GBP 30 is a compelling offer!
Caelum Audio Flux Pro
Flux Pro features 3 customizable graphs for modulation. You can draw your own graphs or drag 48 pre-built shapes onto them. You can also adjust the effects parameters inside the 4 effects slots where 10 effects are available. The choice includes 2 filters, 2 delays, Width, Phaser, Chorus/Flanger, Rate and Ring Modulation, and a Utility effect. That's plenty to get something going!
The plug-in gets even more creative when its MIDI possibilities come into play. It can be triggered via MIDI in either One-Shot or Retrigger modes. It can also output modulation graphs as MIDI CC or CV to trigger external plug-ins and synths. That's gotta sound crazy, and here are some more possibilities as advised by Caelum Audio:
Try shaping the Ring Modulation's frequency and harmonic amount to add mechanical flavors to your bass. Or maybe create some ethereal vocal delays by programming audio reverses an octave up with Fixed Delay's sample control. Then, apply a slow sine to the other Delay's time and feedback controls to create more movement.
A particularly interesting and creative use is the case where Flux Pro is used as a mix tool to fix instrument masking. I'm actually writing this one down as a production concept for future use:
Setup Flux Pro on the piano track with a boosted high shelf filter, some gentle chorus, and additional width. Then, set Flux Pro's MIDI Input to the Synth, so that every time the synth plays the piano is given a little push to stand out in the mix.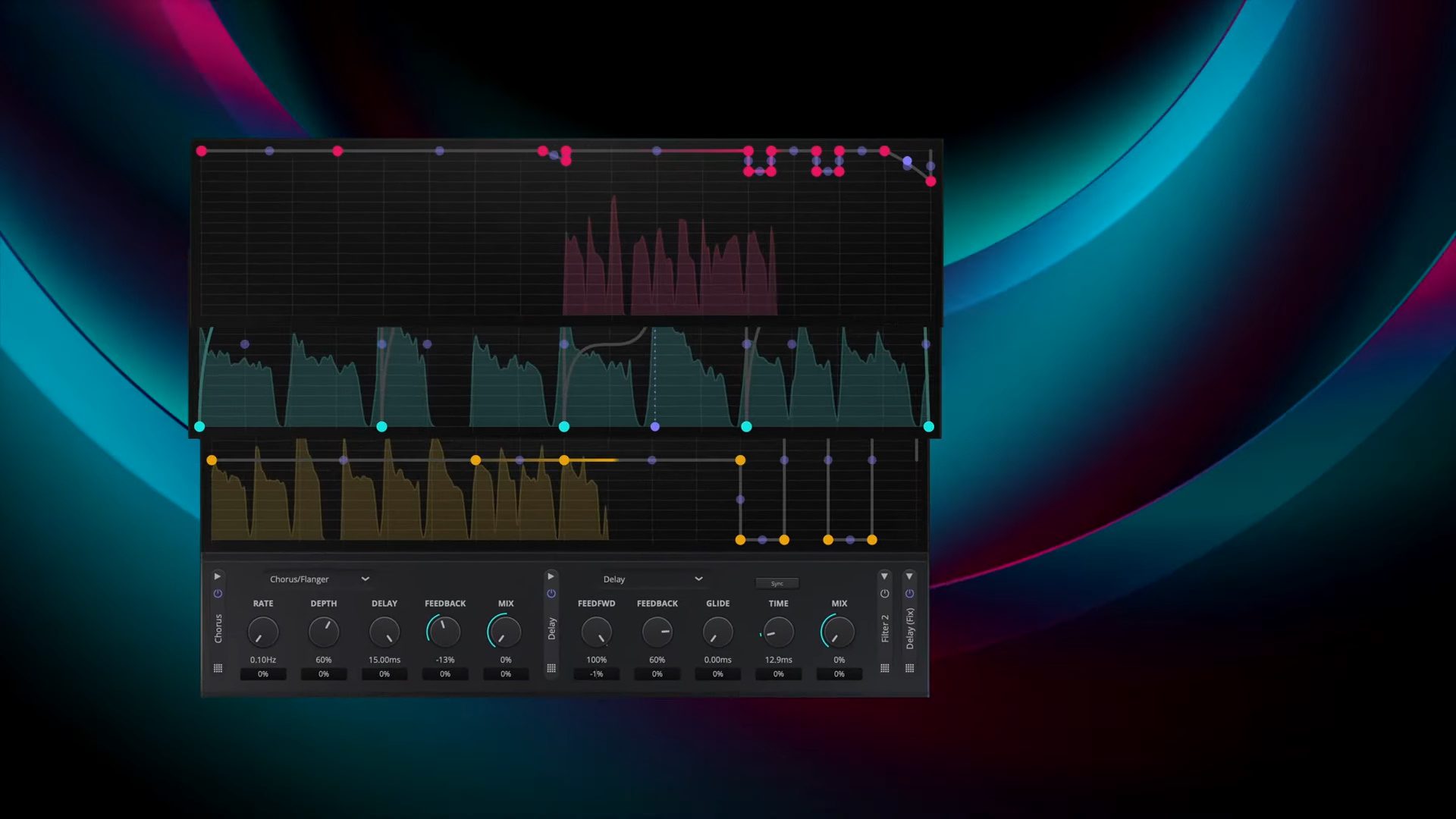 Then, here's how Flux Pro can really bring the weird:
Vary the formant filters' cutoff and resonance as if your music is flowing through someone's throat. Why not set the Fixed Delay to repeat every other bar at an octave lower so you can moodily duet with yourself on those lonely nights. Lastly, have quick oscillations of Rate Modulation to add percussive texture to your audio, and more importantly, save yourself the humiliation of recording a shaker track.
Finally, after all these years… shaker tracks have been banished into obsolescence! Praise be!
Price and availability data
Caelum Audio's shaker track-murdering plug-in is on sale for GBP 30, down from GBP 50. The offer is good until May 21, 2022. Flux Pro requires macOS 10.11+ or Windows 7+ and works in 64-bit AU, VST3, and AAX formats. It's also available for iOS devices running version 11 or later as standalone and AUv3. You can purchase Flux Pro from our affiliate partner Plugin Boutique:

Learn more
Caelum Audio Flux Pro Video
Image Sources:
Caelum Audio Flux Pro: Caelum Audio