BLEASS Slow Machine: the bargain plug-in leading the tape stop revival
Expired
Who remembers the "tape stop" effects that (almost wastefully) graced so many mid-2000s electronic tracks? Developer BLEASS helps relive the recent past with Slow Machine, a very affordable plug-in for macOS, Windows, and iOS. There's plenty of room for nostalgic (even dated) sounds in modern production, and Slow Machine is a quick, reliable fix for tape stop effects. It also doesn't lack depth in any way.
BLEASS Slow Machine
With this plug-in you can make drastic effects and subtle pitch changes alike. Therefore, the creator describes Slow Machine not only as a tape stop effect, but also as one for tape slowdowns. You can automate it, trigger it live during performance, or control it from the integrated sequencer.
In the slow down section, you get access to rhythmic pitch-shifting effects with parameters for loop size, playback speed, and quantization. You also get a filter and the ability to create crossfades between loops.
In the time stop section, you can decide the tape stop effect's intensity with four modes. The speed parameter regulates the playback speed and the large trigger button applies the effect immediately. If you activate the hold function beforehand, the effect will hold audio until you switch this mode off again.
The sequencer section enables rhythmic variations in speed. In addition to parameters for Length, Resolution, or Grid Snap, you get four different modes for the FX curve and you can also set crossfades between each step. The randomize function lets you mix things up and search for happy accidents.
While Slow Machine doesn't present anything groundbreaking, it does what it says on the tin remarkably well. The interface is super neat and the plug-in's affordable price is very appealing.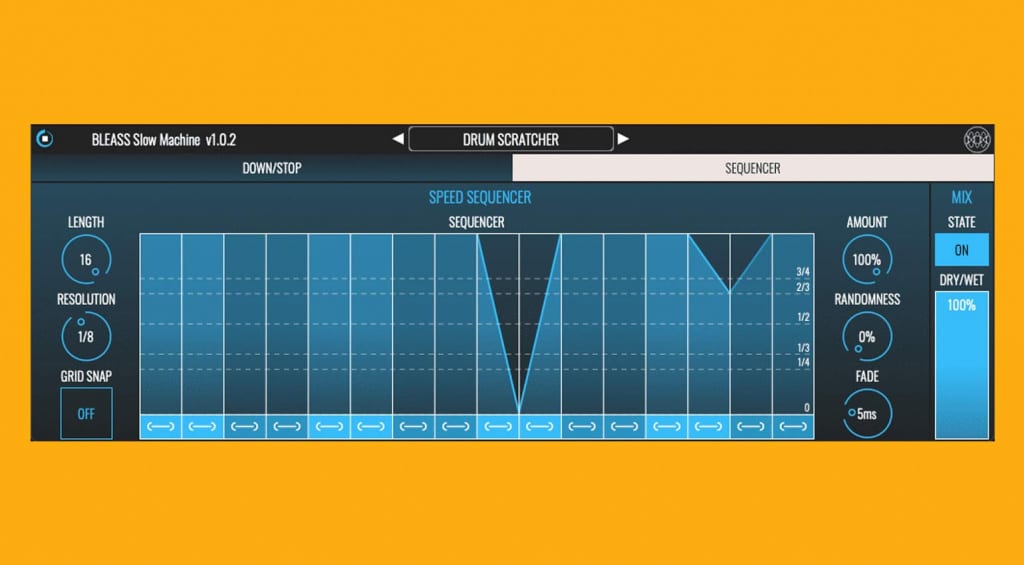 BLEASS Slow Machine – Price and availability
BLEASS Slow Machine is available in VST3 and AU plug-in formats for 64-bit macOS (10.9 or newer) and Windows (8 or newer) computers. Until July 11, 2021, you will pay EUR 12 (the regular price is EUR 15). You can get a free demo version from the developer's website.
You can also buy the plug-in from Plugin Boutique (affiliate link). When you buy it, you can get the Fat Channel XT plug-in from PreSonus free of charge.
The iOS version requires a device running iOS (or iPadOS) 11 or later. The price is EUR 8.99.
More information about BLEASS Slow Machine
BLEASS Slow Machine – Video
Image Sources:
BLEASS Slow Machine - sequencer: BLEASS