Best free plug-ins this week: Luxon, DeeMute, Goblyn
This week's collection of free plug-ins starts off with the Luxon analog modeling synthesizer. DeeMute lets you use MIDI notes to mute or duck audio tracks. And finally, Goblyn is a "nasty guitar plug-in" for true metal heads.
Check out our archive for many more free plug-ins!
SynthIV Luxon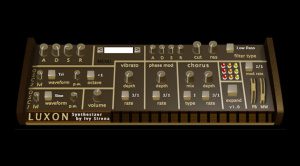 Luxon by SynthIV is a nice-looking polyphonic analog modeling synthesizer with a tried-and-true architecture. It offers two oscillators with various waveforms and pulse width modulation, which are mixed into a filter and amplifier. In addition to two envelopes and a filter LFO, Luxor offers three types of stereo pitch modulation, as well as tempo-synced vibrato, chorus, and phase modulation. That's plenty of ways to add movement to your sounds.
Luxon is a VST3 plug-in for Windows.
Dotec Audio DeeMute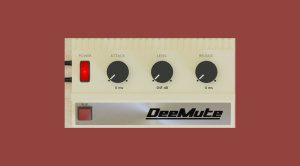 The concept is simple: DeeMute by Dotec Audio allows you to use MIDI notes to mute or unmute audio tracks. This makes it easy to create gate and stutter effects and turn an audio track into a rhythm. You can dial in the amount of gain reduction with the level knob, and set the desired attack and release. This means that DeeMute can do more than just hard muting: you can also use it to create ducking effects that reduce the level rather than muting it completely. A very nice little tool!
DeeMute is available for macOS and Windows in VST, VST3, AU, and AAX formats.
Aurora DSP Goblyn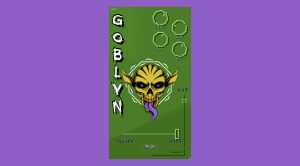 Aurora DSP says that this scary-looking guitar amp sim is based on the sound of the EVH 5153 head paired with a bunch of classic overdrives and "true analog toys". In addition to a 3-band EQ and an Air knob, Goblyn features a slider that lets you dial in the desired tone from "nasty" to "rude". It also offers a built-in IR loader and even comes with two custom-made impulse responses. "Simple Metal Madness" with a choice of "heavy or heavier", as Aurora DSP puts it.
Goblyn is available for macOS and Windows in VST3, AU, AAX, and standalone formats.
Videos about free plug-ins
Image Sources:
synthiv-luxon-01: SynthIV
dotec-audio-deemute: Dotec Audio
aurora-dsp-goblyn: Aurora DSP