Beetronics Zzombee Filtremulator a boutique analogue multi effect
Analogue effects with digital control
The Beetronics Zzombee Filtremulator combines a modulated filter, tremolo, wah, fuzz and more into one very good-looking boutique compact stompbox.
Beetronics Zzombee Filtremulator
This new Beetronics Zzombee Filtremulator is an analogue "multi-effect device" and offers filters, wah, LFO, randomized filters, tremolo, swells, overdrive, fuzz, low-octave and the completely new cross ("X") tremolo effect. The latter is a tremolo that alternates between the basic tone and a deep octave.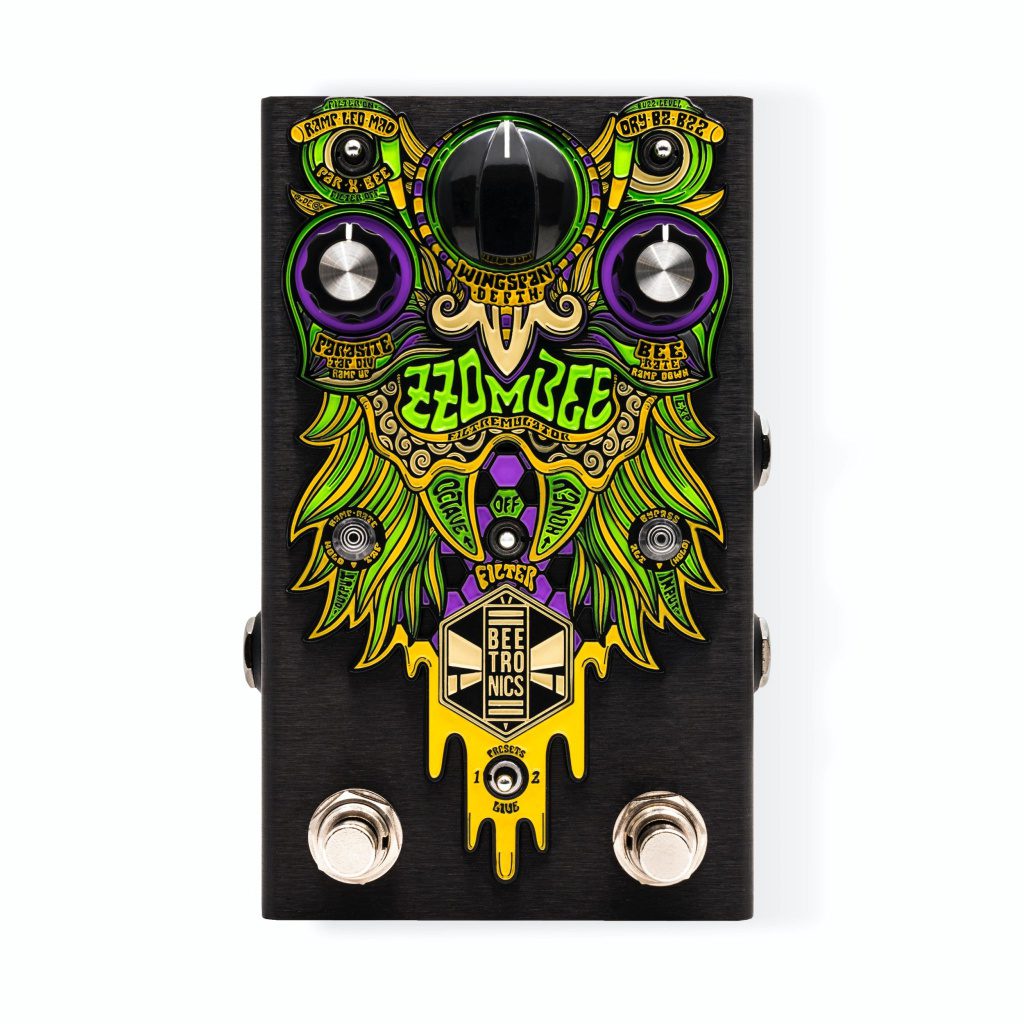 Ramping, Momentary and more
The analogue sounds with digital control can be controlled by innovative and versatile functions of the footswitch (ramping, momentary) and allow for a very expressive pedal. Be sure to watch the video.
Otherwise, the resulting sounds can only be realized through complex effect combinations. An example: The signal can be provided with a 4-stage fuzz and in parallel with a deep octave. The filter can be applied to the "normal" or downwardly octave signal component.
Wah Wah, LFO modulation
Three different modes of modulated filter types create wah-like effects. According to the manufacturer, your old Wah pedal could soon collect dust in the corner. Creamy LFO modulation or over 65000 random musical patterns (someone meant well) provide you with unseen possibilities. Three types of amplitude modulation lead to cross-tremolo, traditional tremolo, or volume swells.
Presets, CV and more
You also get tap speed, CV control, external tap, 5 presets and the use of an expression pedal. And all this in such a small housing. That is pretty impressive.
MSRP – EUR 459 *
More Information
Video
* This post contains affiliate links and/or widgets. When you buy a product via our affiliate partner, we receive a small commission that helps support what we do. Don't worry, you pay the same price. Thanks for your support!