Allen & Heath Avantis: 64 channels of 96kHz digital mixing goodness
Allen & Heath has unveiled a new large-format digital mixer based on the manufacturer's proprietary XCVI FPGA processing platform. The Avantis is a 64-channel console loaded with technology, including dual 15.6-inch 1080p-resolution touchscreens, a multitude of connectivity and effects expansion options, and a full metal chassis.
206 square inches of screen space
The dual touchscreens and physical mixer controls are connected so as to dynamically provide both control and the information you need. The faders react on touch to highlight the active channels, while the channel rotaries adjust gain and pan – then, the display adapts dynamically to show EQ or compressor parameters, for example. Additionally, both screens have FastGrab tabs on the right-hand side for quick access to freely-assignable parameters, such as aux sends, effects controls, and so on.
Mix Configurations
Avantis does 64 audio channels, 42 configurable buses, 16 DCA groups (with spill functionality) and 8 mute groups. A&H's Automatic Mic Mixing of up to 64 microphone sources can be distributed to 4 zones and run in either classic gain sharing mode or as NOM (number of mics) algorithm. Mix configurations, including input and output channel processing and parameters can be saved as presets for recall, sharing and archiving. Users can also save and recall up to 500 Scenes, which can be cued in a master list with 20 seconds of adjustable crossfade.
A&H Expanders
The SLink connection on the Avantis allows connection to the entire range of Allen & Heath expanders. The manufacturer is marketing the GX4816 XLR I/O module and DX012 analogue/AES modules as go-to choices for the mixer. The GX4816 is loaded with 48 dLive mic preamps and 16 XLR line outputs, in addition to 2 DX ports for connection to DX Exapdners and a DX2 socket for connecting to a ME Personal Mixing System. The DX012 features 12 configurable outputs, which can be 12 line outs, 8 line outs + 4 stereo AES outs, or 4 line outs + 8 stereo AES outs.
Adding to the 12 XLR inputs, 12 XLR outputs, and AES (Stereo In, 2x Stereo Out), the Aventis has two I/O Ports to house any of A&H's dLive option cards – Dante (64 x 64 or 128 x 182), Waves V3 (for interfacing with Waves' SoundGrid platform), gigaACE (for digital splits and point-to-point connections), superMADI (multiformat for broadcast/recording feeds), and fibreACE (for large-scale events and long cable runs up to 500m).
dPACK FX
That's customizing the outside of the console. For the inside, A&H is selling an optional Avantis dPack with low-latency FPGA effects, such as vintage compressors, dual-stage valve preamp, and the Dyn8 dynamic EQ/multiband compressor. You can run up to 16 instances of that on input and mix channels to get a grip on whatever audio you have there. Further effects include reverbs, delays, and modulation. All future updates are free of charge for dPack owners.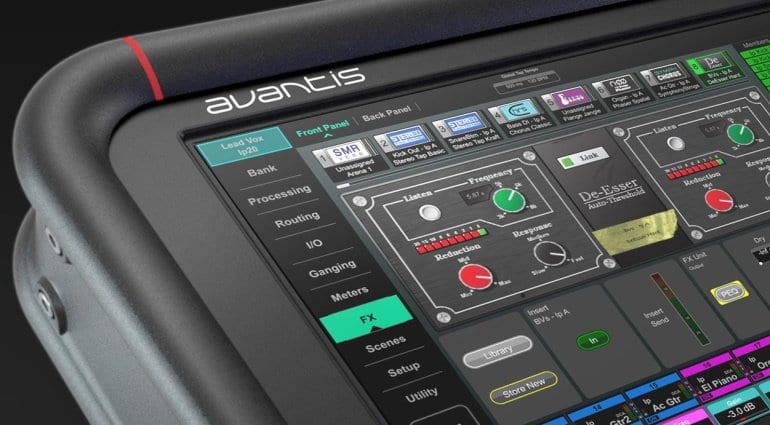 Tubular chassis
The Aventis has an interesting construction with its chassis inspired by the tubular frames of latest-generation superbikes. A&H says it's all metal, with a rugged yet lightweight construction. The mixer weighs 57 pounds / 25 kilos and measures a reasonable 36.1 x 24.7 x 10.6 inches.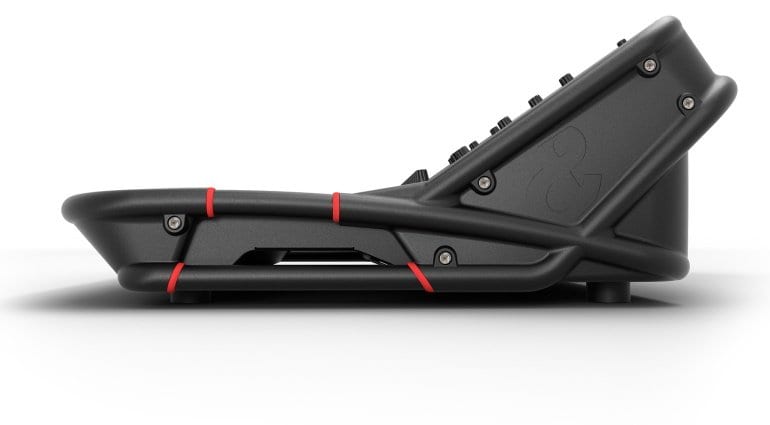 Price and release date
The Avantis is priced as follows. For availability, ask your nearest A&H dealer.
Mixer only: USD $9,999 MSRP / EUR €9,699 MSRP
dPack add-on: USD $1,499 MSRP / EUR €1,499 MSRP
GX4816 Remote Expander: USD $3,999 MSRP / EUR €3,499 MSRP
More information
Video
Image Sources:
AV-GX4816 expander module: A&H
AV-DX012 expander module: A&H
Aventis AV-FX: A&H
AV-Side-Right-300: A&H