Acustica Audio Sienna: frequency correction and virtual studios for headphones
Expired
Acustica Audio is trying something different! Instead of another emulation of very rare studio hardware, Sienna is a headphone correction plug-in for monitoring. Headphone and speaker correction is an area that is becoming increasingly popular, so it's nice to see a developer like Acustica give that a try.
Acustica Audio Sienna
Quite a few plug-ins lately use your headphones to place you in a different listening environment. It's a bit like virtual reality for acoustics, where the plug-in recreates the listening rooms of the kinds of studios many of us won't ever set foot in. Throw in frequency correction that promises uber-accurate monitoring, regardless of where you are, and it's understandable why plug-ins by Sonarworks, Slate Digital, dSONIQ, Waves, and IK Multimedia are popping up like shrooms after rain.
The Acustica Audio Sienna is a suite of three plug-ins: Sienna Reference corrects the frequency response of your headphones. As a result, you should be able to assess your audio better. This version comes with 150 profiles of different headphones already included. If yours aren't listed, there's Sienna Guru which lets you create and customize your own profile.
Finally, Sienna Rooms is the one that puts you in virtual listening environments. The goal is to place you right in the virtual studio control room's sweet spot and provde a realistic hearing impression. The virtual rooms are available in different packs. The base package (Vol. A) offers two studio rooms (Acustica's own 'ideal' control room and the control room of HOG Studio) and four sets of unspecified high-end monitors. Sienna Vol. B and Vol. C have already been announced as paid extras which must be purchased separately.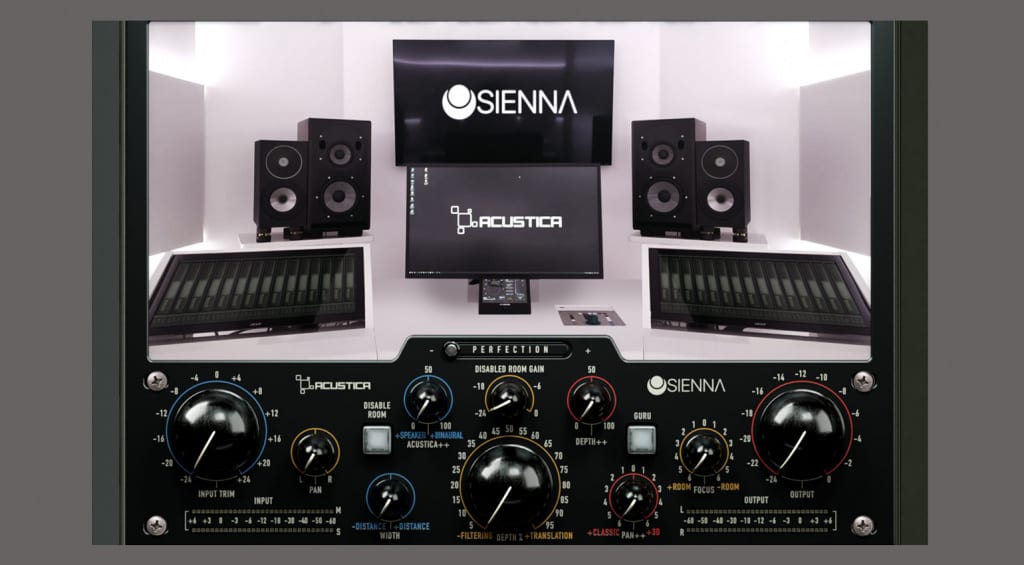 Price and availability
Until March 25, 2021 Acustica Audio Sienna is available from the manufacturer's website at a price of EUR 89 (down from EUR 149). The plug-ins run under macOS 10.14 or later and Windows 10 or later in VST, AU and AAX formats. A demo version and a PDF user manual is also available for downloaded. Acustica's in-house Aquarius plug-in manager handles the installation and licensing.
More information
Videos
Image Sources:
Acustica Audio Sienna: Acustica Audio