2B Filter Friend: A quick creative filter plug-in with distortion and tempo sync
Deal
Developer 2B Played has lined up interesting takes on creative effects with its 2B series of plug-ins. The latest addition to the collection is 2B Filter Friend, designed for quick yet pleasing filter effects. Let's dive in.
2B Played Music Filter Friend
Filter Friend is reasonably elaborate for an effect described as 'quick'. The plug-in features 4 filter types with cutoff and resonance controls, 5 waveforms, a distortion filter, tempo sync with 20 modes, and other quirks. You can also change the strength of applied filter waveforms and use the position option to make the effect follow the DAW playhead. While timing can be adjusted manually with the rate knob in free mode, you can also sync the filter to parts of your track using classic sync. The rate knob's range is determined by the set tempo.
There are 4 filter types currently available in Filter Friend – Low Pass, High Pass, Band Pass, and Band Reject. There are the classic sine and saw waveforms, as well as triangle, ramp, and pulse. The plug-in also features a low cut knob and a distortion parameter. So if the audio gets too rowdy after distortion, you will be able to tame the low frequency build-up without reaching for an external EQ.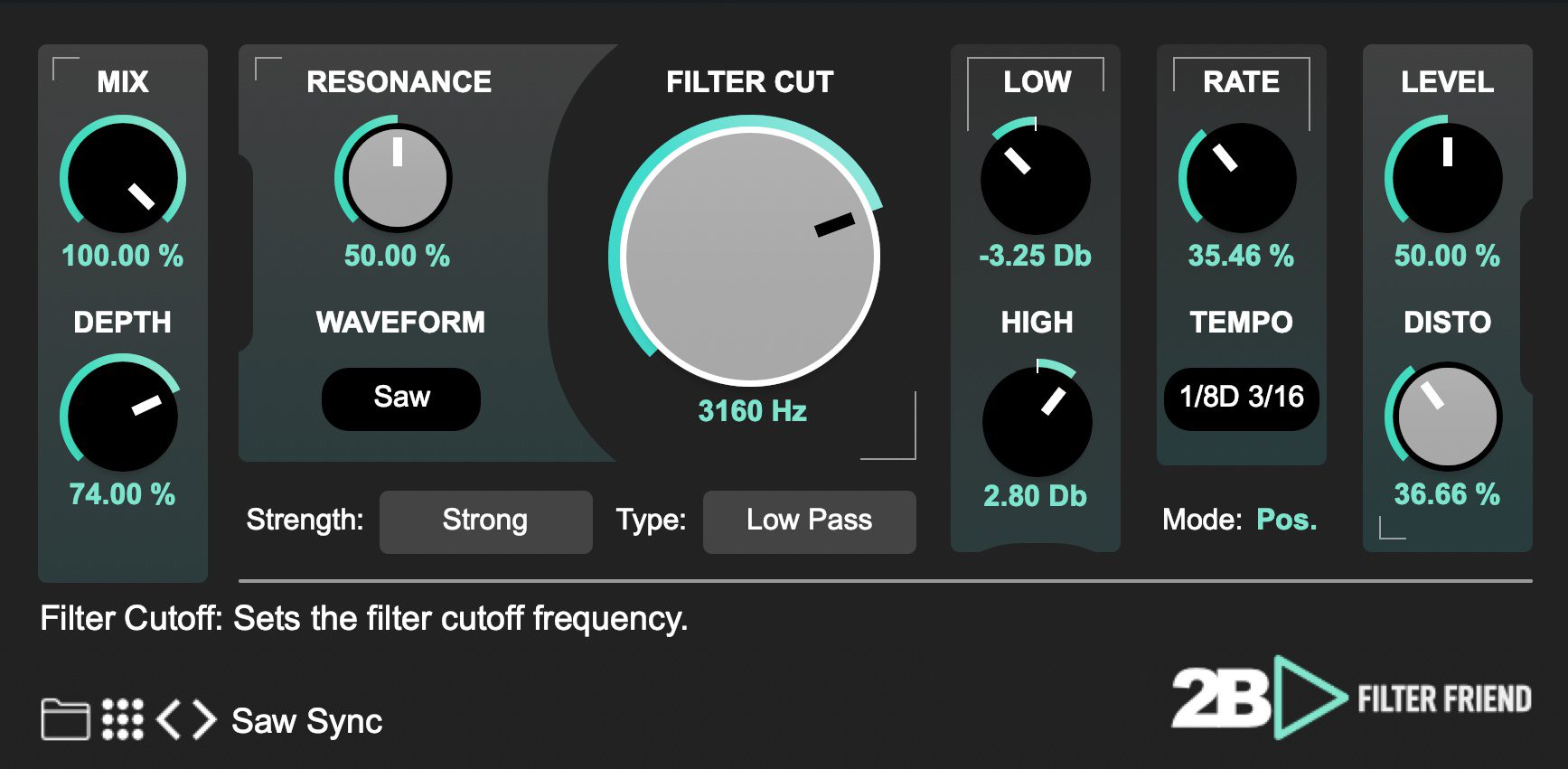 All in all, Filter Friend is a fun 2B plug-in that's sold at a very affordable price.
2B Played Music 2B Filter Friend – Price and availability
2B Filter Friend is on introductory sale, priced EUR 14.92 (excl. EU VAT) down from EUR 21.31 (excl. EU VAT). The plug-in works under Windows 7 / macOS 10.14 or later in 64-bit VST, VST3, and AU formats. No demo version is available, no user manual either. 2B deems the manual unnecessary because there are explanations for everything when you mouse-hover parameters inside the plug-in.
More information
Video
Image Sources:
2B Played Filter Friend: 2B Played